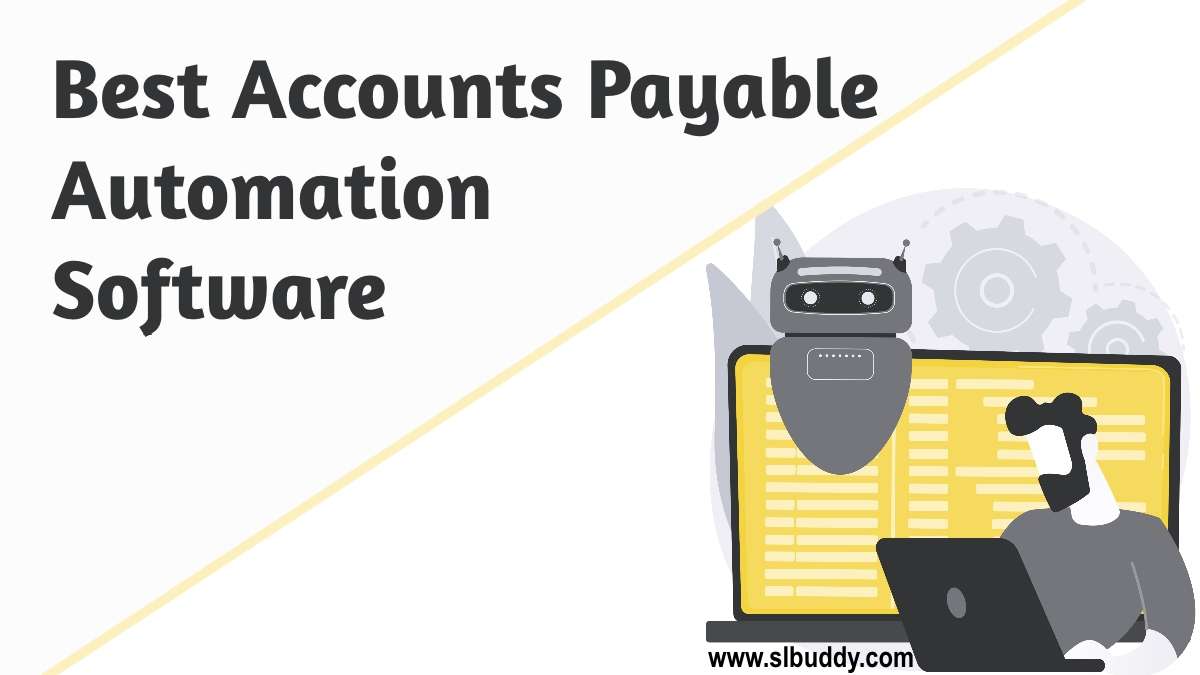 Accounts Payable is the account in accounting that corresponds to money owing to a vendor or supplier by a company.
On the balance sheet, AP amounts are shown as liabilities. AP totals are credited to Accounts Payable and debited in double-entry accounting systems to the associated expenditure account.
For the easier, let's categorize it into the two categories such as,
# Accounts payable software for large business
# Accounts payable software for small business
Read more: Best and Free Accounting Software for Small Business
About the Accounts Payable Automation
Accounts payable (AP) automation software helps businesses handle massive numbers of invoices and financial transactions with their suppliers. While most accounting software has AP capability, many cannot handle complicated AP procedures.
AP automation software is used by businesses to decrease manual labor and eliminate human mistakes. Accountants and personnel of the accounting department in charge of accounts payable utilize AP automation software.
Managers and executives may use it to keep track of AP processing activity. This sort of software helps accountants handle enormous numbers of supplier invoices by simplifying complicated AP procedures.
AP automation boosts the AP department's productivity and accuracy while assisting with other accounting tasks like financial close.
AP automation software may be purchased alone or as part of accounting suites that contain AR automation, billing and invoicing, and payment processing functions. ERP systems' accounting solutions or modules are coupled with this software.
Best Accounts Payable Software For Large Business
Accounts payable automation examples vary based on the supplier invoices processed.
Accounts payable automation software will automatically collect, code, and distribute indirect expenditure invoices to the relevant approver inside the business. 
To pay an invoice, an automated system compares invoice data to a purchase order and sends it for payment if they match. This is the purpose of touchless invoice processing and automation in accounts payable.
So, let's see what accounts payable software is for large businesses.
Medius
Your one-stop shop for expenditure management services If you're looking for high-quality, simple-to-use spend management solutions, Medius is the best place, and click here to go. 
Select how much or how little you need to provide control and compliance to your organization's spending. Please choose from their expenditure management options, or implement them all for optimal efficiency and control.
Procurement, Accounts Payable Automation, and Medius Spend Management is available via Medius.
Medius Sourcing, Accounts Payable Automation, and Medius Supplier Management is all available through Medius. Spend management software that is both comprehensive and adaptable in design.
Medius Spend Management is a modular software package that allows you to regain control over your spending habits.
Their easy-to-use system automates time-consuming procedures, allowing you to be more productive across the procurement and financial operations life cycles. Finally, acquire insight into your expenses to make more informed spending selections.
Medius Spend Management will assist you with procurement to your vendors' payment. You may use as little or as much of our solution as you need.
Also, integrate with your ERP system and other third-party applications.
FreshBooks
FreshBooks is accounting software designed specifically for large businesses. To assure accuracy and compliance, the platform uses double-entry accounting methods.
Accountants use FreshBooks because of its simplicity of use and accessibility. Users may handle Accounts Payable quickly and simply using FreshBooks.
Users may keep track of every bill payment (even basic monthly recurring fees like internet or wifi), make quick payments, and conduct vendor interaction reports.
FreshBooks also makes it simple to produce and download reports like Profit & Loss and Cash Flow Statements, which may be used to assess financial health and prepare for tax season.
Sage Intacct
Sage Intacct is a cloud-based financial management software that provides company owners with several tools and services. Sage Intacct's Core Financials product suite includes Accounts Payable automation.
Sage users may save the time it takes to process invoices by up to 65 percent. A high degree of interactivity and remote flexibility is possible with expanded access and visibility from any device (including mobile devices).
Sage Intacct also includes an aging vendor report, specialized reports, and thorough analytics.
This feature, among many others, gives you a bird's-eye view of the whole Accounts Payable process. For businesses of every size, automated insights lead to smarter business choices.
Plate IQ
Plate IQ is a standalone Accounts Payable automation program that streamlines the receipt, approval, and processing of transactions. Plate IQ is known for managing the full AP life cycle.
This involves receiving and managing invoices, paying bills, and analyzing expenditure. Plate IQ also assists consumers in maximizing benefits and identifying untapped savings opportunities.
Plate IQ encourages financial savings wherever feasible, whether it's via 1 percent cash back on paid bills or collecting specific data from invoices and suppliers.
MineralTree
MineralTree is an alternative to examine if you seek a standalone AP automation solution. MineralTree, unlike other systems, is entirely focused on the Accounts Payable process.
Its mission is to assist companies in lowering processing costs and increasing cash flow or profit.
MineralTree's software follows a four-step process: invoice capture, approval, authorization, and payment execution. The automation technologies replace time-consuming components of each procedure with more intuitive solutions at each phase.
MineralTree also connects to Enterprise Resource Planning (ERP) systems to better understand a company's business and financial models.
Best Accounts Payable Software For Small Business
Specifically, AP automation enables you to submit and approve purchase orders and invoices online, rather than depositing them physically in in-trays.
Some systems will read invoices and extract information autonomously, which means no data input for anybody on your team. Now, let's see what accounts payable software is for small businesses.
Stampli
Stampli is likely most recognized for its outstanding real-time invoice processing. Primarily, it can automatically capture invoices for processing. But this program is so much more.
It has one of the most significant user interfaces of any AP automation software available today. Easy to use and access from anywhere software.
It gives businesses a consolidated communication center to interact with everyone using the app. The program also facilitates auditing of all invoice processing processes.
The platform also allows corporate organizations to use standard and customized permissions to impose internal controls. Also, it reduces the danger of fraud.
Tipalti
Tipalti sets itself apart from comparable programs by offering a cloud-based solution for automating accounts payable. It has other straightforward features that make a competitive AP automation solution.
The product is an end-to-end payment solution for small businesses yearning for expansion. 
Its sophisticated features include invoice automation, automatic approval procedures, and self-service supplier on-boarding for efficient accounts payable administration.
It also supports worldwide mass vendor payments by giving numerous payment options in many currencies.
Beanworks
Beanworks knows the complexities of effective AP administration. Thus, it enables customers to process invoices quickly and pay suppliers remotely while substantially decreasing AP expenses.
Custom rules in Beanworks provide users additional flexibility over their AP process.
The application enables managers to quickly allocate POs, invoices, and payment approvals to the right team member.
You may also review invoice data and learn more about your vendor spending at any moment. Beanworks streamlines the AP process with simple approvals, consolidated AP for various locations, and fast document retrieval.
Basware
Basware, formerly Verian, provides organizations with the accounts payable automation solutions they have expected.
It's a program that enables you to capture invoices from suppliers, regardless of their format electronically.
It's also a solution for automating the complete invoicing process, including automated processes and matching. The program accepts invoices in more than 70 electronic forms and complies with VAT laws in over 50 countries.
The program is simple enough to guarantee all the invoicing information you need. It is critical to assist you in making strategic choices based on correct invoice data.
Xero
Budget-conscious firms might choose Xero. The low-cost plan starts at $9 per month and allows you to send five invoices and input five bills. The technology will enable 20 monthly bank reconciliation transactions.
Primarily, it provides multi-currency, full-service payroll, time tracking, and limitless invoicing for a charge. Xero offers a free 30-day trial of their software.
Read more: Free Accounting Courses Online with Certificates
Conclusion
Companies wishing to automate their accounts payable processes should carefully investigate the most acceptable information to uncover various AP automation solutions to guarantee the most significant match for their business.
To achieve full automation of accounts payable and challenging time and cost savings, it's vital that the accounts payable automation software was chosen can handle every Automated invoice processing scenario. 
It's also crucial to understand how the new AP automation solution works with the old ERP to enable data synchronization and a simplified process that eliminates manual activities and automates accounts payable.

MUST SEE
Navigating the hustle and bustle of office life while maintaining good health can be...

The article delves into the often-overlooked importance of hearing health in the healthcare industry,...

From GPS units to emergency kits, this article outlines essential tools that every professional...