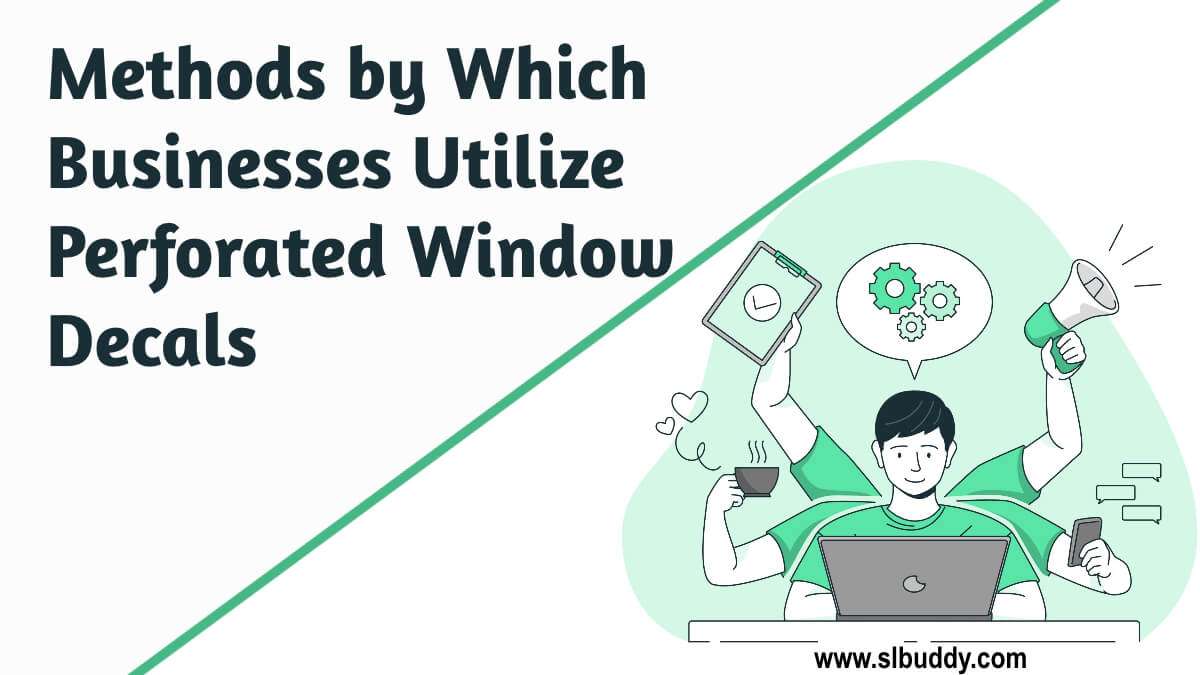 Businesses today are always looking for creative ways to improve the aesthetics and curb appeal of their storefronts, and the realm of window decals is one of the most useful in this regard. There are several window decals and design formats that can make a huge impact on your business for a relatively low cost, and one that's exploding in popularity in recent years is the realm of perforated window decals. 
When you source these products through quality, reputable vendors like Signazon, who offer not just perforated decals but a huge selection of various window decal products, you know you'll be getting great materials that will stand the test of time. What exactly are perforated window decals, and why are they ideal for infusing into various storefronts and other marketing campaigns? Here's a basic primer. 
Basics on Perforated Window Decals
When you hear about perforated window decals or related perforated vinyl products (most industry leaders like Signazon use a perforated polyvinyl chloride, or PVC, product), what's being described is a type of vinyl decal that has small holes cut out of it in a pattern. The idea behind this is to allow for one-way visibility; from the inside looking out, those in your store or office will see clearly through the decal to the other side.
However, passersby on the street or sidewalk will only see the decal itself, not what's behind it. This is due to the fact that, when installed properly on glass or another clear surface, the decal appears opaque from the outside while still allowing for an unobstructed view from the inside. It's this one-way visibility that has made perforated window decals so popular in recent years.
Read more: Best Accounts Payable Automation Software
Benefits of Perforated Window Decals
This one-way visibility offers a bevy of benefits for businesses, both small and large. First, it's an excellent way to add privacy to your office or storefront without making it feel like a closed-off space. You can still see out, but those walking by can't see in, which is ideal for everything from "coming soon" teaser campaigns to simply keeping prying eyes away from your work area.
Additionally, perforated window decals are great for security purposes. In high-crime areas or those with a lot of foot traffic, it's not uncommon for store or office windows to be broken in an attempt to gain entry. However, if you have a perforated decal in place, would-be thieves will be thwarted by the fact that they can't see what's inside, making your business a less attractive target. 
Finally, perforated window decals are also an excellent way to add branding and marketing elements to your storefront without blocking the view or making it feel overly commercialized. You can still have a sleek, professional look while incorporating your logo, contact information, and other key marketing details.
How Businesses Use Perforated Window Decals
So, how can businesses put perforated window decals to good use? There are a huge variety of ways:
Launching new marketing campaigns: For many businesses, the key to success is continuous marketing and promotion. You can use perforated window decals to launch new marketing campaigns in a variety of ways, whether it's adding them to existing storefront windows or using them as standalone decals on other surfaces like sidewalks or benches. This can often be done quickly, or even overnight — customers who were at your store one day can come back the next to see what's new.
Adding privacy: If you're looking for a way to increase privacy in your store or office without making it feel closed off, perforated window decals are an excellent option. You can still see out, but those walking by can't see in, providing an increased sense of security and privacy. This not only adds physical privacy but also increases the allure of your business by making it seem more exclusive and less commercialized.
Security: As mentioned above, perforated window decals can also be used for security purposes. By making it difficult (or impossible) for would-be thieves to see inside your store or office, you can deter them from even attempting to break in. This is especially useful in high-crime areas or those with a lot of foot traffic.
Establishing a strong interior: For businesses with large windows or glass walls, perforated window decals can also be used to establish a strong interior design scheme. By using decals that incorporate your branding, you can create a cohesive look that ties your whole space together and makes it more memorable for customers.
Show off seasonal promotions: A common use for perforated window decals is to show off seasonal promotions. This could be anything from a holiday sale to a summertime clearance, and it's an excellent way to draw attention to your business. You can also change out the decals as often as you like, so you're never stuck with the same design for too long.
Creating light and sun control: In some cases, businesses may want to use perforated window decals to create light and sun control. This can be useful in areas where glare is a problem, or if you simply want to reduce the amount of sunlight that comes in. By using a darker film or tinting the decal, you can achieve this without sacrificing visibility.
Encouraging brand uniformity: Finally, perforated window decals are an excellent way to encourage brand uniformity. If you have multiple locations, you can use the same decals at each one to create a cohesive look. This not only makes your business more recognizable but also instills a sense of trust in customers, they know they're getting the same level of quality and service no matter which location they visit.
Read more: Best Payment System for Small Business
Perforated window decals offer a huge range of benefits for businesses, from increased privacy and security to improved branding and marketing. If you're looking for a creative way to improve your storefront, perforated window decals are an excellent option. They make passers-by more likely to take notice of your business, and they can be used in a variety of ways to achieve different goals. So why not give them a try? You may be surprised at the impact they can have.

MUST SEE
Navigating the hustle and bustle of office life while maintaining good health can be...

The article delves into the often-overlooked importance of hearing health in the healthcare industry,...

From GPS units to emergency kits, this article outlines essential tools that every professional...