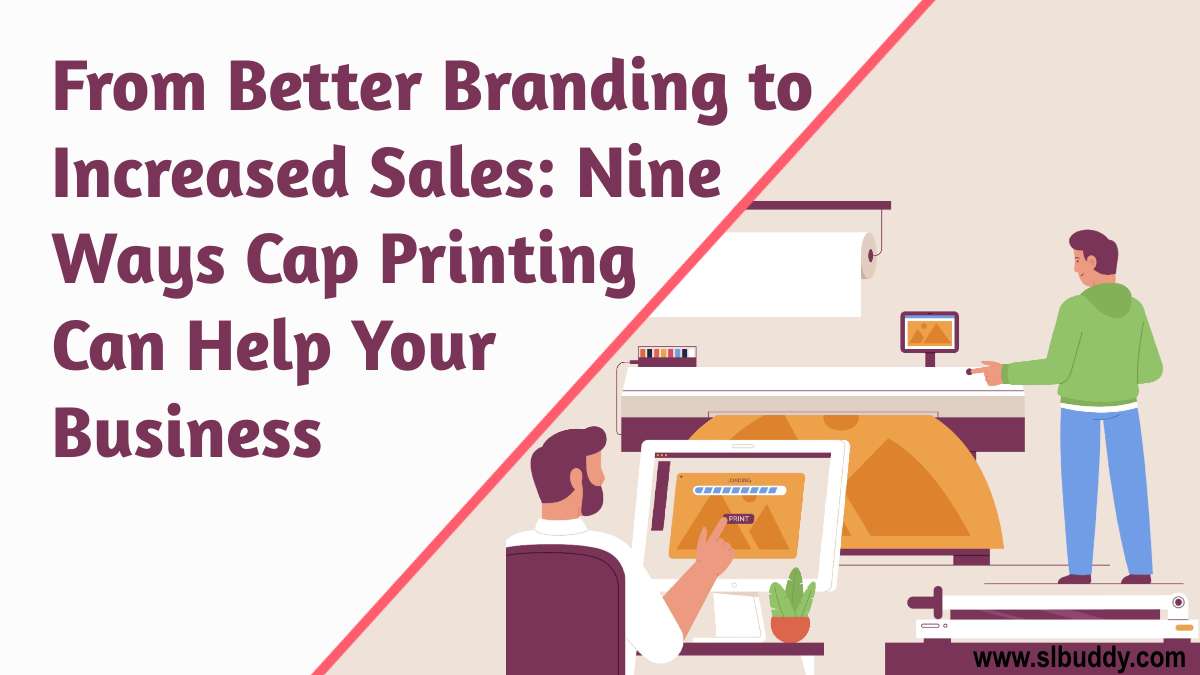 A well-designed and printed baseball cap can do wonders for your business. For starters, it can help you better connect with your target audience and promote your brand. And as a bonus, it can also lead to increased sales. Here are nine ways that cap printing can help your business:
1. Improved Branding 
A baseball cap is one of the most popular types of headwear, which makes it an ideal canvas for promoting your brand. When you invest in professionally designed and printed caps, you're getting a powerful marketing tool that can help improve your business's branding.
Potential customers will see your logo and company name every time they see someone wearing one of your caps, which will help increase brand awareness and recognition.
Furthermore, by giving away caps to employees and customers, you're showing that you're invested in promoting your brand. Whether it's at a trade show, corporate event, or simply around town, people will be happy to wear a stylish and well-made cap that represents your company.
2. More Customers
As any business owner knows, generating interest in your company is essential for success. There are many ways to go about this, but one of the simplest and most effective is to wear a baseball cap with your company's logo or name on it.
People will be curious about what you do and may even be inspired to check out your website or social media pages to learn more.
In today's world, where people are constantly bombarded with marketing messages, wearing a baseball cap is a great way to cut through the noise and get people interested in your company.
3. Free Advertising
As any business owner knows, marketing is essential for driving sales and growth. While there are many different ways to market a business, one of the most effective is word-of-mouth marketing.
This form of marketing relies on customers sharing their positive experiences with others, who then become interested in your products or services. One way to encourage word-of-mouth marketing is to give away promotional items such as caps, t-shirts, or mugs.
Whenever someone wears or uses one of these items, they're effectively acting as a walking billboard for your business. This free advertising can help you reach a wider audience and promote word-of-mouth marketing.
4. Improved Customer Loyalty
One way to show your customers that you appreciate their business is by giving away baseball caps with your company logo. This simple gesture can go a long way in improving customer retention rates.
Not only will your customers feel appreciated, but they'll also be more likely to continue doing business with you in the future. In addition, they'll be more likely to recommend your company to others.
5. Enhanced Professional Image
First impressions are important, and nowhere is that more true than in the business world. When potential customers meet your employees, they should see people who are proud to represent your company and who have a polished, professional appearance.
One way to help achieve this is by having your employees wear well-designed caps. The right cap can help give your employees a more confident and put-together look, making them more likely to close sales and build relationships with potential customers.
Read more: Best Payment System for Small Business
6. Competitive Edge
Offering custom baseball caps to employees and customers can give you an edge over the competition by making you appear more organized and cohesive as a company. Wearing a uniform not only makes your staff look more professional, but it also makes your business look more pulled together.
Customers will take notice of a business that takes the time to brand itself with matching apparel, and they'll be more likely to remember your company when they need your products or services.
Cap printing is an easy and affordable way to make your business look its best, so don't hesitate to take advantage of this opportunity to stand out from the competition.
7. Team Building
With more businesses going global, it's typical for employees to work remotely or in different locations. While this arrangement can have many benefits, it can also make it difficult for employees to feel like part of a team.
One way to foster team unity among remote or geographically dispersed employees is to provide them with custom baseball caps. These caps can help employees feel like they're part of a larger group and remind them that they're working towards a common goal.
In addition, the sense of camaraderie and team spirit that comes from wearing custom caps can lead to increased productivity and motivation levels among employees.
8. Increased Sales
Any business owner knows that generating sales is essential to success. Sometimes it can be difficult to attract new customers and grow your client base. One way to do this is by improving your branding and making your company more visible. Custom baseball caps are a great way to achieve this.
By wearing your caps in public, you'll generate interest in your business and get people talking. The more people are aware of your company, the better chance you have of making sales and achieving long-term success.
9. Improved Employee Morale
Employee recognition and rewards programs are becoming increasingly popular in the business world, and for good reason. They help to show appreciation for hard work while also motivating employees to maintain high-performance levels.
One way to incorporate such a program into your business is to give employees baseball hats. Not only will this help to boost morale, but it can also lead to increased sales. Baseball hats are a great way to show appreciation because they can be worn both inside and outside of the workplace.

MUST SEE
Learn about the essential electrical repairs to consider for your business premises. This article...

Discover the lucrative benefits of investing in Abu Dhabi's real estate market. This article...

Dive into the essentials of the VA disability rating and its calculation process. This...