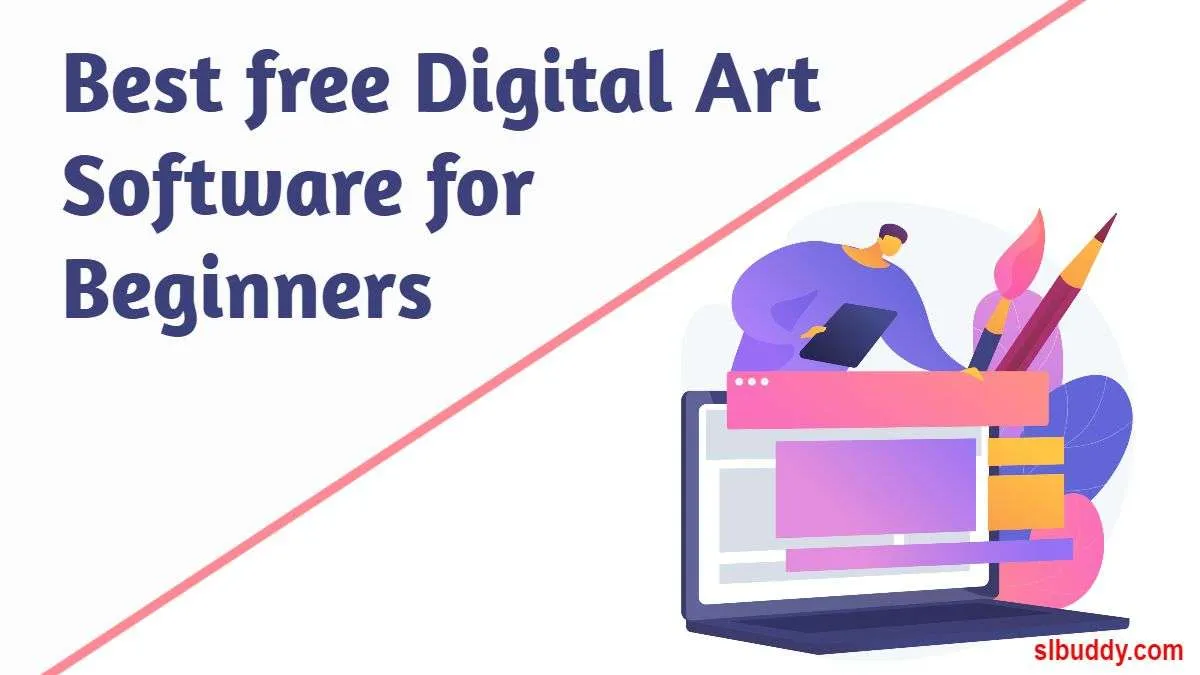 Designers can choose from a variety of options to learn, and most drawing programs are quite expensive. Many of these amazing Digital Art software for drawing realistically mimic watercolors, oils, pastels, charcoal, and more.
With this software, you can create your own style while drawing and apply your own texture and paint effects. They can then be combined with the element with 2D maps to create scenes and even 3D prints. But here we are going to present to you the software that is available for free.
Free Digital Art Programs (Software) for Windows
Since software for the digital arts is a bit expensive, we decided to introduce you to some of the free digital art programs for windows in this section.
Also read: Best Entrepreneurship Courses Online Degrees and Business Schools
01. SketchBook
The Sketchbook has all the features you would expect from a professional application. Sketchbook software helps not only designers but also engineers, visual artists, and students to create something that suits their imagination. This software gives you the flexibility to build and explore layers, drawings, and types with fully mixed models.
02. Krita
Krita is a professional free and open source painting program designed for Windows, Linux, and Mac. This tool has a simple interface. It allows users to experiment with digital art, such as layering and color palettes. You can use this software as a digital example in everyday work. Anyone who needs a complete tool to work with can recommend it to professionals and novices alike.
03. MyPaint
MyPaint is another free software that users can create with color wheels and brushes. The software also supports pressure sensor wear and is available for Windows, Mac, and Linux. Users can create designs from their smartphones or tablet.
04. Clip Studio Paint
It is available on both Windows and macOS X software. With a free trial of Clip Studio Paint, you get vector formatting, animation creation, multi-page file management, 3D formatting, and 2D image data conversion, and much more.
05. Painter
Painter drawing software is very advanced in its use of new pattern pens and the choice of colors, and the quality of the colors. It also helps its users create professional-looking artwork with other new and improved features.
06. ArtWeaver
ArtWeaver is a complete painting tool for beginners and advanced users. The software comes with a large set of realistic brushes designed for creative painting or experimentation and many other accessories. It has an intelligent and easy-to-use user interface that is fully configurable.
07. Vectr
Vectr is a free graphics software to create vector graphics. It is a simple but powerful web and desktop cross-platform tool to make your plans a reality. This software allows you to focus on the things that are really important through the vector detection tools. You can create beautiful graphic designs.
08. Paint 3D
Paint 3D is a good course to choose from to unleash your creativity and give life to your ideas. The classic paint has been redesigned and has an updated look and feel and tons of new brushes and tools here. Create 2D artwork or 3D models that you can play from every angle.
Also read: DNS Probe Finished No Internet
Free Digital Art Programs (Software) for Mac
Apps like Illustrator can be very expensive for those who like to draw. But there are plenty of apps that give you the same and similar features you see in Adobe's drawing app.
Whether you are a beginner or a professional, this digital art software allows you to hone your drawing skills so that you can become an expert.
01. MediBang Paint
MediBang is software that allows creators to easily share their work and for visitors to access them. They hope that this software will help bring the Internet another step in bringing creators.
02. Paintstorm Studio
Paintstorm is an essential tool for artists and is designed not only for simple illustrations but also for any demanding work of any style and technology. The main specialty of Paintstorm is working with brushes and their incredible variety.
This is designed so that you can easily and quickly find brushes that perfectly fit your style. The aim is to take the digital painting process to a qualitatively new level and to create a powerful tool that is as easy to understand and functional as possible.
03. GIMP
Whether you are a graphic designer, photographer, or scientist, GIMP is software that provides you with sophisticated tools to get your work done. This is free software that allows you to modify the source code and distribute your changes.
04. Inkscape
The Inkscape is can be used to create images for logos, illustrations, and drawings that require high scales. This is a cross-platform that means it is easy to run on Windows, Mac OS X, and Linux distributions.
05. FireAlpaca
FireAlpaca is a powerful yet free drawing and drawing software compatible with both Windows and Mac devices. It is a reliable painting application that works fast and pleasantly even with an older computer.
Also read: How to Fix Step By Step Pornographic Virus Alert From Apple
Free Digital Art Programs for Chromebook
Chromebooks support a variety of drawing applications that work flawlessly and offer excellent combinations of drawing capabilities. Chromebook drawing apps can be used for specific tasks or for professional illustrations, hobbies, or anyone who wants to draw.
01. Sketchbook
SketchBook is the best drawing app for creative industry professionals. This popular digital drawing app is available from Chromebook and offers a variety of custom drawing tools and brushes.
02. Concepts
Concepts are the cross-platform drawing and vector diagram application can be used by a regular drawer or a design professional. It also allows you to change the scale, location, and color of your drawing using the drawing options.
03. Sketchpad
Sketchpad is a solid drawing app that you can use on the web. Sketchpads also help you find pictures using lines and road tools to draw perfect realistic drawings. It makes it easy to bring your ideas to life.
04. Infinite Painter
Infinite Painter is a program that students can use to edit drawings, illustrations, or photos. It allows you to view or share a timeline recording of a painting after it has been created.
05. Chrome Canvas
If you are looking for a cross-platform drawing tool, the Google Chrome Canvas web app is the best choice. It works in conjunction with your Google Account and allows you to save your drawings on multiple devices.
Best Drawing Apps for iPad free
Many people use iPad to draw. So there are a lot of free and paid apps that allow you to draw, write and design on iPads. If your version of the iPad does not support Apple Pencil, you can still make designs and notes using the free drawing apps. Below are the best drawing apps for iPad for free.
01. Adobe Illustrator Draw
Adobe Illustrator Draw is an application released for iOS devices including Android and iPad that you do not need to pay for. You need a Creative Cloud account to use Illustrator Draw.
02. Charcoal
Charcoal is incredibly easy to use and has no layered or confusing textures. Instead, the charcoal has rich tools and beautiful color blade features. Using this program, you can create professional-looking black and white images.
03. Linea Sketch
Linea Sketch's elegant interface draws attention to your designs. This program supports changing your designs quickly and easily. Linea is now available for free download and Lena Sketch 3 is now available for free for iPhones and iPad.
04. Penbook
Penbook is a notebook application that can be used for taking notes, planning, drawing, playing games, and much more. It has a customizable, easy-to-use interface, and you can mark all the boxes with its drawing options and export them as a PDF.
05. Drawing Desk
Drawing Desk is a multi-purpose table that can be used on a large sheet of paper or any kind of drawing, writing, or quick drawing. This will help you to read or draft a large format book or another large document.
Also read: Adobe Genuine Software Integrity Service
Best free Drawing App for Android
You have tons of drawing apps and art apps to doodle. This section describes some of the best free drawing apps for Android. These apps allow you to express your creativity and work cool, and with all its features you often do not need to pay for advanced software.
01. Sketchbook by Autodesk
SketchBook is an extensive drawing app that can be used for free on Mac and Windows, and this tool has the ability to create drawing space on any device. There are more than 190 customizable brushes in this tool. This is a good choice for the best free illustration software you can download.
02. MediBang Paint
MediBang Paint is available on virtually every device and is at the top of the list of the best free online drawing apps available. With several export options, you can save your design as jpeg, png, SVG, or pdf.
03. InspirARTion
Inspiration is one of the favorite free drawing apps available for Android. This drawing app is extremely fun and clever to use, and you also have the ability to upload a photo of a physical artwork and use it as a template.
04. ibis Paint X
ibis Paint X is a "social drawing" program that allows you to record and publish your parts for others to see while you work. It is easy to use and can be used for free without any restrictions.
05. ArtFlow Studio
Artflow is one of the drawing applications that supports Nvidia Direct Systems for ultimate precision. This digital art app has an unlimited number of brushes and features like Adobe and Layer Mixing. You can also get a free trial of this app.
Also read: Free Writing Software
Conclusion
Drawing is an artistic medium that requires a variety of skills, techniques, and a certain level of skill. The purpose of this article is to provide free online painting and all art tutorials, courses that will help you to master both basic and advanced techniques from home. There are plenty of free online art classes that are fascinating about the visual arts.
Self-teaching is a good way to learn to draw and create other works of art. It is a skill that you can master at any age and does not require real resources. In order to find the best digital art software that is not difficult, you can find the best options in this article. Art courses from artists, teachers, and recognized institutions are included here.
You do not need to search Google again to improve your art and drawing skills. These special online drawing courses provided unique opportunities for more experienced artists. All the courses, classes, and tutorials we have listed here are the best, and you can study for free at home alone. Choose one of the drawing classes you want online and become an expert at it.

MUST SEE
Learn about the essential electrical repairs to consider for your business premises. This article...

Discover the lucrative benefits of investing in Abu Dhabi's real estate market. This article...

Dive into the essentials of the VA disability rating and its calculation process. This...