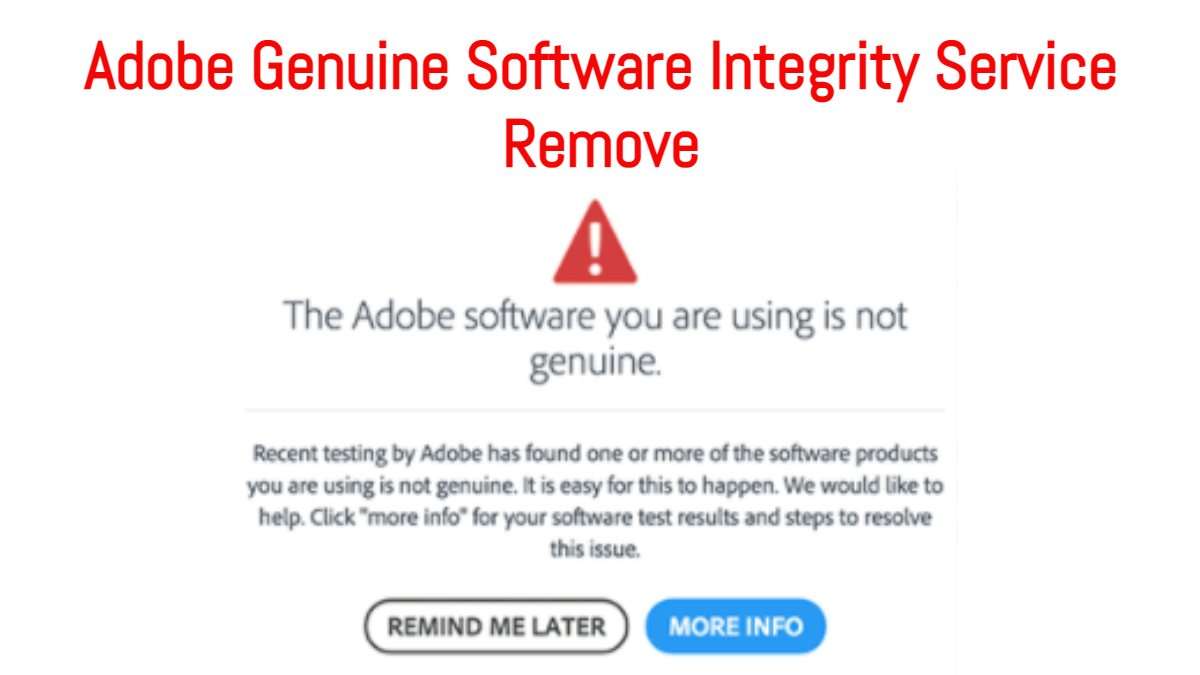 We warmly welcome you to our new and trending article these days. I know you came to know about How to Disable Adobe Genuine Software Integrity Service Mac and Windows? Actually, this problem is really frustrating you day by day.
Yes, it's always getting popup and makes you annoy.  But Adobe made this popup to track fraudulent use of their software.
By the way, people like you and me tries to use their software anyhow. By reading this guide you will be able to know what Adobe Genuine Software Integrity Service is and how to get rid out of it.
Let's start,
What is Adobe Genuine Software Integrity Service
Adobe's Integrity Software Service frequently validates Adobe Software that is already installed.
If proof is found that software files are inaccurate or invalid, it will immediately "sync" with the organization in the event that it makes a fraudulent use of those licenses. 
The validation searches for unlawful serial numbers and whether the software code has "either one or more of the software hacks known." Violators then receive an announcement that "the software used by you is not genuine.
What is the Reason behind Adobe Genuine Software Integrity Service
This technology is a modern automated approach to track fake copies and other unlicensed use of Adobe's software and other software publishers. This is, in the simplest sense, a compliance audit of applications.
In comparison to conventional software license audits, Adobe Software Integrity Service focuses mainly on the catching of counterfeit software in which publishers pursue license misuse in businesses.
A small subset of US Acrobat X customers has started the service. Unless workers have acquired consumer licenses for Acrobat X in the United States, this does not impact businesses.
However, businesses might be impacted if they obtain Adobe licenses from illegal resellers and purchase hardware from Adobe software preinstalled.
Read Also: Top 5 Video Converter Programs for Windows
Currently, Adobe doesn't gather information about how to use Adobe Desktop applications, whether they were installed either through Creative Cloud Packager, company ID, or Adobe Volume Licensing.
It is not clear whether the lack of knowledge will impact the validation service. It is also unclear at this point whether a comprehensiveness control will examine more nuanced product rights such as secondary or downgrade rules.
How to Disable Adobe Genuine Software Integrity Service on Windows PC
There are different OS solutions, so we start with Windows. We are showing stepwise instructions so that you can easily understand the steps for Windows to solve the problem of Adobe Original Software Integrity Service.
In Windows 7, Windows 8, and Windows 10, below the instructions apply.
Read Also: How to Find WiFi Password on Windows 10
Step 1
Open the windows search console. You may use the window icon and the bottom of the page to scan in the search text box type "Services," as shown in the screenshot below.
Step 2
Move to the Standard category from the bottom of the Services window.
Step 3
Now, you will find another list of services in the same window and now look for "Adobe Genuine Software Integrity Service."
The list will be in alphabetic order, so you can easily find "Adobe Genuine Software Integrity Service" and right-click on that service "Adobe Genuine Software Integrity Service."
Step 4
After clicking right click on "Adobe Genuine Software Integrity Service," you see a new menu list, and from that list, select property option, and on clicking that new popup screen will appear like shown below image.
For the startup fielded option to "Disable" from the dropdown menu and then click OK.
There is another method to disable adobe genuine software integrity service on windows:
Alternate Method Disable Adobe Genuine Software Integrity Service
You can also disable adobe genuine software integrity by using task manager, and it's as simple as this:
Adobe True Program Credibility can also be disabled in the Task Manager. Take the following steps:
Step 1
In the search window, type the task manager to open it.
Step 2
Find and right-click Adobe Genuine Honesty Software Service. Click Open location for the file.
Step 3
Afterward, open the AdobeGCIClient file and return it again in the Task Manager window.
Step 4
Right-click and press End Job. You can then remove the entire Adobe archive. Then you removed the true honesty of Adobe apps.
How to Disable Adobe Genuine Software Integrity Service on MAC
Here are the simple steps to disable adobe genuine software integrity service on Mac.
Read Also: Pornographic Virus Alert From Apple
Step 1
Go to Finder on your Mac >> Go to the library folder.
Step 2
You can't find the Library Folder on the left side of the latest Mac Updates versions.
Find the GO and type ~/Library to access the Free Finder library folder.
Step 3
Folder Framework Support >> Adobe >> AdobeGCClient can be accessed after completing phase 2.
Step 4
Uninstall the AdobeGCClient folder now, and also remove it from the trash.
Top 5 FAQs and Answers on Adobe Genuine Software Integrity Service
What is genuine Adobe software?
Genuine Adobe Software shall be legally approved software obtained by Adobe or an authorized distributor directly. You can only find the new updates, functionality, and permanent access to help with real Adobe applications and services and the latest security protection.
How do I defend myself from unrelated Adobe versions?
The purchasing of software from Adobe.com directly or from an approved reseller allows you to access genuine Adobe software. Adobe is dedicated to defending you from fraudulent sellers and ensuring that only authentic Adobe apps can be purchased.
Do I have a real software integrity service to uninstall Adobe?
How do I disable authentic Windows 10 device integrity? In the Task Manager, you can quickly disable it. In most instances, the method folder must also be removed. If you don't, delete it by CMD and disable the Startup Service Adobe Updater.
Can the pirated program be detected by Adobe?
Adobe conducts validation checks to warn users to pirate program copies. There was a mistake. Adobe packages its goods with a software integrity program that allows pirated software to be scanned and identified. "Adobe is now carrying out checks and notifying individuals who use non-authentic apps.
How do I delete genuine integrity service from Adobe software on Mac?
01. Delete the real Adobe integrity service program
02. Open the Finder. Open the Finder.
03. Click Go and Go to Folder. Click Go.
04. Enter ~/Library/Application Support/Adobe
05. Delete the directory of AdobeGCCClient
Conclusion
The Adobe Suites are one of the fullest video or image editing packages for you. Recently, however, everybody said they receive the error message when they use Adobe Suit-the Adobe program that you use isn't authentic.
You may also come across the issue. You will also experience this issue, whether you're using windows or mac. In order to fix the problem, you must deactivate Adobe Genuine integrity program.
You will find out how to uninstall the Adobe Genuine Integrity program on Windows/Mac in this article. You will be able to link to this post if you have such a request and try the above methods.

MUST SEE
Navigating the hustle and bustle of office life while maintaining good health can be...

The article delves into the often-overlooked importance of hearing health in the healthcare industry,...

From GPS units to emergency kits, this article outlines essential tools that every professional...