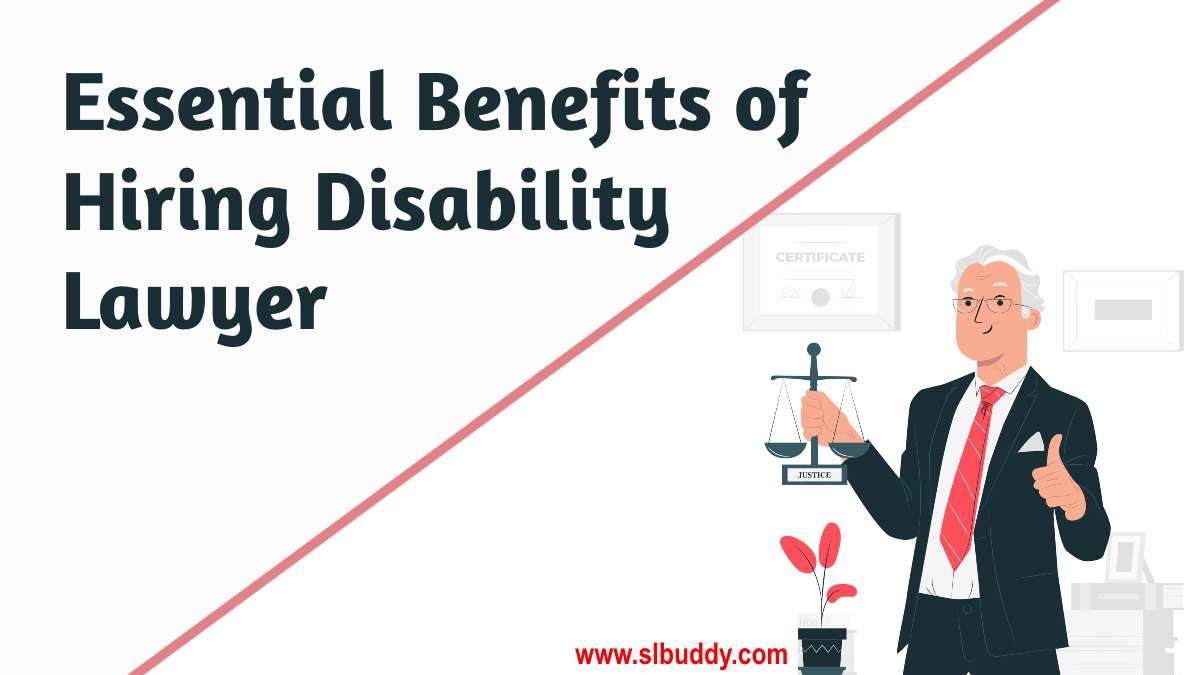 Insurance does seem to be a safety shield in adverse situations, so individuals pay a monthly cost for insurance. On the other hand, companies may refuse to accept insurance claims for various reasons. Suppose you are temporarily or permanently incapacitated as a result of an accident.
In that case, the insurance company is responsible for compensating you for your financial loss due to your inability to work.
Managing monthly costs becomes challenging when a person suffers from a handicap that prevents him from continuing his career.
If the corporation denies the claim, you do not have to be disappointed since you may file a lawsuit with the aid of a skilled lawyer. We've covered some of the most crucial advantages of hiring a disability lawyer in this article. Let's go into the specifics:
01. Initial Claim Preparation
Professional disability insurance lawyers make it a point to help their clients at every case filing and resolution level.
A lawyer will assist you in drafting the first claim since you may not be aware of your legal requirements. He not only walks the customer through the whole process, but he also ensures that he is there to help at every stage.
As a result, you won't have to worry about the first claim preparation since the lawyer will handle it for you.
02. Making an Appeal
A disability lawyer files an appeal in court on behalf of a client, ensuring all required papers, including copies of an insurance claim. Companies want to fight the case rather than pay the insurance amount to customers.
Thus the lawyer ensures that important material such as medical reports and doctor's remarks is included in the application.
You may not accomplish it independently, but the lawyer is qualified to do so. Lawyers must protect their reputations. Therefore they make every effort to fight every case with a zeal, resulting in a beneficial outcome for their clients.
03. Participate in Hearings
Disabled people can't attend proceedings, particularly if they need a wheelchair to get about. Professional disability attorneys make it a point to participate in hearings on behalf of their clients.
It means you won't have to deal with the hassles of traveling until the court requires it.
We recommend entrusting the issue to a seasoned attorney who will handle it with care.
To better present a case in court, a lawyer does not miss any hearings and ensures that the timetable is followed.
04. Analysis of the Law
The need to do a legal study of the case is critical, and lawyers do so meticulously to inform clients of the likely conclusion. It is essential to present an insurance company's contract to the lawyer to study it attentively and fight the case properly.
Instead of providing false optimism, most experienced disabled attorneys make careful not to divulge facts to their clients.
It will be beneficial since you will not be expecting unrealistic outcomes. However, the case's outcome is determined by the court's judgment.
05. Payment of a Contingent Fee
The majority of disability lawyers agree to serve their clients on a contingency fee basis, which means you will only have to pay the cost of your successful case. It means you won't have to pay for anything; you don't need to file a lawsuit.
Financial independence is critical, and one of the most pleasing aspects of disability claims is that attorneys strive to assist their clients at all levels.
Read more: Buy Now Pay Later Car Insurance (The best companies)
06. Understand the Medical Evidence Needed to Win
Having the correct medical proof is crucial to winning a claim. Applicants often don't know what to tell the SSA and wind up giving too much irrelevant information and not enough of what matters.
In part, disability lawyers and activists know how to establish the proof required for approval for a client's specific medical problems.
When a disability lawyer or advocate obtains a case, they carefully evaluate the applicant's paperwork to see whether more tests or medical data are required. The applicant's responsibility is to obtain and submit the required records to the SSA.
Also, if the claim gets to hearing, the representative will ensure that extraneous material is not supplied since administrative law judges become frustrated sifting through pages of paperwork.
07. Representation at Your Hearing
When you walk before the court at your Social Security hearing, your lawyer will be at your side. Your lawyer should speak with you before the hearing to prepare you and answer your questions.
The pre-hearing communication also provides the lawyer with the information they need to ask you the correct questions during the hearing to provide the most convincing testimony possible.
Your lawyer may give an opening statement and a closing argument at your hearing. Almost every hearing entails the participation of one or more experts.
The testimony of a vocational expert (a work expert) might be essential in your case, and only an experienced Social Security attorney can properly cross-examine this expert.
Judges often use medical or psychiatric experts, and an experienced Social Security attorney may also examine these experts.
08. Disability lawyers are held to high ethical standards.
Lawyers who represent the Social Security Administration must follow the SSA's Rules of Conduct and Standards of Responsibility.
You may feel safe engaging a Disability lawyer since they are bound by professional behavior regulations, ethical requirements, and the attorney-client privilege.
Read more: Top 5 Legal Marketing Trends for Law Firms in this Year
09. Never miss a deadline or an appointment.
The Social Security Administration will not be merciful if you forget an important date.
If you don't appeal a refused disability claim within 60 days after getting a rejection letter, you'll have to start again with a new application.
One of the advantages of hiring a Disability lawyer is that you won't have to worry about deadlines or timelines. A lawyer will manage it and keep you informed of whatever comes your way.
10. Benefits may be obtained more quickly and easily.
An expert Disability lawyer understands the procedure inside and out. There isn't any learning curve. A lawyer can tell you whether your ailment fulfills the SSA's rigorous standards and can help you get medical records and proof to back up your Disability claim.
If your claim is refused, an experienced attorney can help you figure out what went wrong and how to fix it. If there's a method to get your claim accepted faster, a good lawyer will figure it out.
Read more: Why You Need Car Insurance
Conclusion
In conclusion, the factors mentioned above clearly show that engaging a disability lawyer rather than bringing the lawsuit on your own is the best option.
If you cannot work and need to file a Social Security Disability claim, you may be unclear of what to anticipate.
So, you are not alone; most individuals have never applied for disability before. As well, it's reasonable to be nervous. However, if you seek disability lawyers, they'll provide an excellent service to help you.

MUST SEE
Navigating the hustle and bustle of office life while maintaining good health can be...

The article delves into the often-overlooked importance of hearing health in the healthcare industry,...

From GPS units to emergency kits, this article outlines essential tools that every professional...