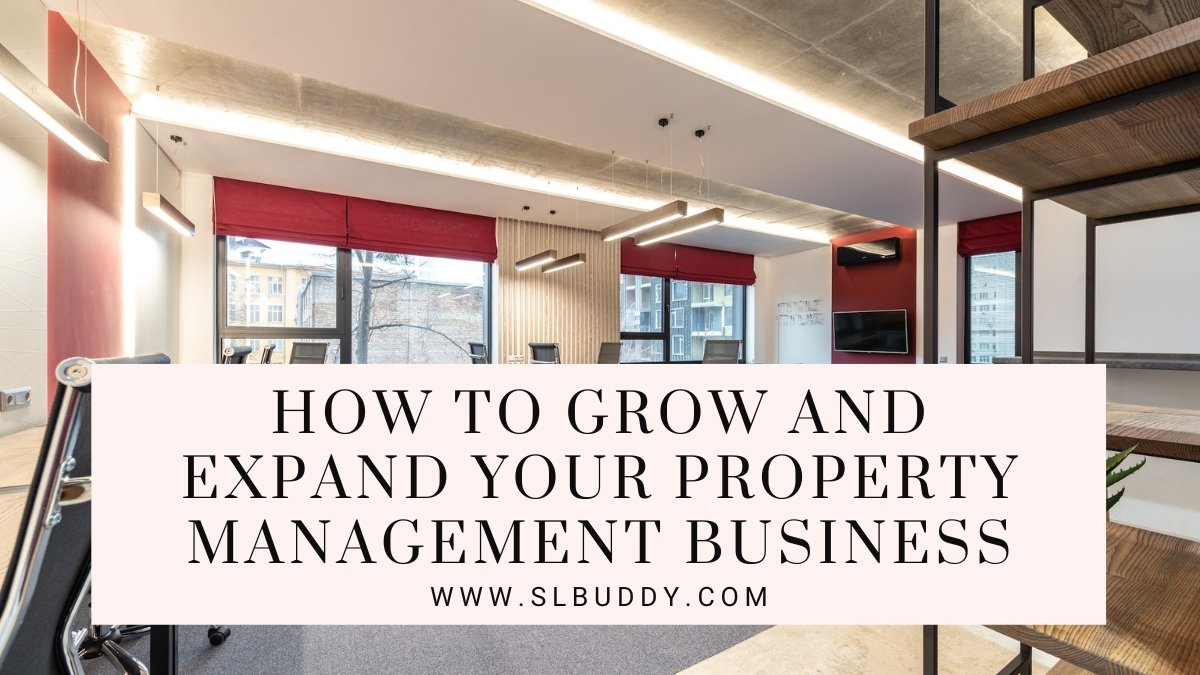 Are you looking to grow and expand your property management business? If so, you're not alone. In recent years, the rental property industry has been experiencing an unprecedented boom, with more people than ever investing in properties as a form of long-term investment or supplemental income.
As such, many entrepreneurs have seen an opportunity to capitalize on this trend by starting their own property management businesses.
But once you've started your business, how do you ensure it continues to grow and thrive? Here are some tips for expanding your property management business that can help put you on the path to success.
Invest in Technology
One of the biggest advantages that technology can offer property management businesses is improved efficiency.
By investing in the latest software and hardware, you'll be able to streamline many of your processes and automate mundane tasks, allowing you to devote more time and resources to marketing and customer service.
In addition, technology can help you keep better track of your inventory, enabling you to make more informed decisions about pricing and availability.
This can go a long way toward improving your bottom line. Also, consider utilizing property management apps, which can help you manage tenant relations and maintenance more effectively.
Provide Exceptional Customer Service
A large part of running a successful property management business is providing the highest level of customer service to your tenants.
This means responding quickly to tenant needs and inquiries, offering flexible payment options, being available for any questions or concerns that arise, and treating all tenants fairly and respectfully.
When tenants have a positive experience with your company, they're more likely to recommend your services to others, which can lead to increased revenue and growth.
For example, you may offer discounts for referrals or loyalty incentives to existing tenants.
Network and Market Effectively
Networking and marketing are important aspects of any business, but they're especially crucial for property management companies trying to grow and attract more clients.
Attend local events related to the rental industry, join real estate networks and associations, and build relationships with other property owners in your area who could become potential customers.
Also, make sure to create a website for your business that details all of the services you provide, as well as testimonials from satisfied customers.
Finally, don't forget about online advertising; using SEO tactics and social media can be great ways to reach new clients.
Having a marketing agency for property management on your side can help ensure you're making the most of all of these tactics. This will help you grow your business and stay ahead of the competition.
Expand Your Portfolio
As you gain experience in managing properties, it may be beneficial to start looking into new opportunities such as commercial and multi-family properties.
Investing in these types of buildings can offer higher returns than single-family homes, as well as a larger pool of tenants to work with.
You may also want to look into investing in vacation rental units or timeshares, as they tend to require more hands-on management.
Ultimately, expanding your portfolio can help you increase your profits and grow your business even further.
This can be a great way to stay competitive in the industry and remain profitable. For example, you may offer special services for commercial tenants or vacation rentals that differentiate your business from the competition.
Develop Excellent Supplier Relationships
Property management companies rely on a wide array of suppliers to keep their properties in good condition and running smoothly.
To ensure you're getting the best service and prices, it's important to develop excellent relationships with your suppliers.
This means being communicative and responsive, as well as negotiating for the best deals possible. It's also a good idea to set up a system for tracking supplier invoices and payments, which can help you stay organized and on top of expenses.
Investing in strong vendor relationships can save you a lot of money over the long run, so it's important to take the time to nurture them.
Develop Policies and Procedures
Having a set of well-defined policies and procedures can help ensure that your property management business runs smoothly.
This includes everything from how to handle tenant inquiries and maintenance requests, to setting up specific rules for tenants such as pet restrictions or noise regulations.
Having these in place will make it easier for both you and your tenants to know exactly what is expected of them.
It can also help you enforce rules and punishments in the event that they are not followed, helping to maintain order and ensure a positive living environment for all tenants.
For example, you may have a policy in place for dealing with late rent payments or tenant violations.
Utilize Automation
Utilizing automation tools is another great way to streamline your property management business. Automating processes such as rent collection, tenant communication, and maintenance requests can save you a lot of time and energy.
There are plenty of software solutions out there specifically designed for property management businesses that can help automate many of the tasks associated with running a successful operation.
Additionally, investing in a customer relationship management system can help you track leads and keep up with tenant information more efficiently.
Automation is a crucial part of running an efficient property management business, so make sure to take advantage of the tools available.
Offer Additional Services
Offering additional services that go beyond traditional property management can help you stand out from the competition.
You may want to consider offering services such as tenant recruitment and placement, landscaping, or even property maintenance and repairs.
This can help you generate more revenue for your business and make it easier to attract new clients.
Additionally, it can provide a great value-add for existing tenants, as they will have access to a broader range of services when they choose to work with your property management business.
Don't miss: Difference Between a Real Estate Broker and an Agent
The bottom line
Running a successful property management business requires diligence and hard work.
It's important to invest in strong vendor relationships, develop policies and procedures, utilize automation tools, and offer additional services beyond traditional property management.
Taking these steps can help you stay competitive in the industry while increasing your profits at the same time.
With careful planning and dedication to customer service excellence, you can create an efficient operation that will bring success for years to come.

MUST SEE
Learn about the essential electrical repairs to consider for your business premises. This article...

Discover the lucrative benefits of investing in Abu Dhabi's real estate market. This article...

Dive into the essentials of the VA disability rating and its calculation process. This...