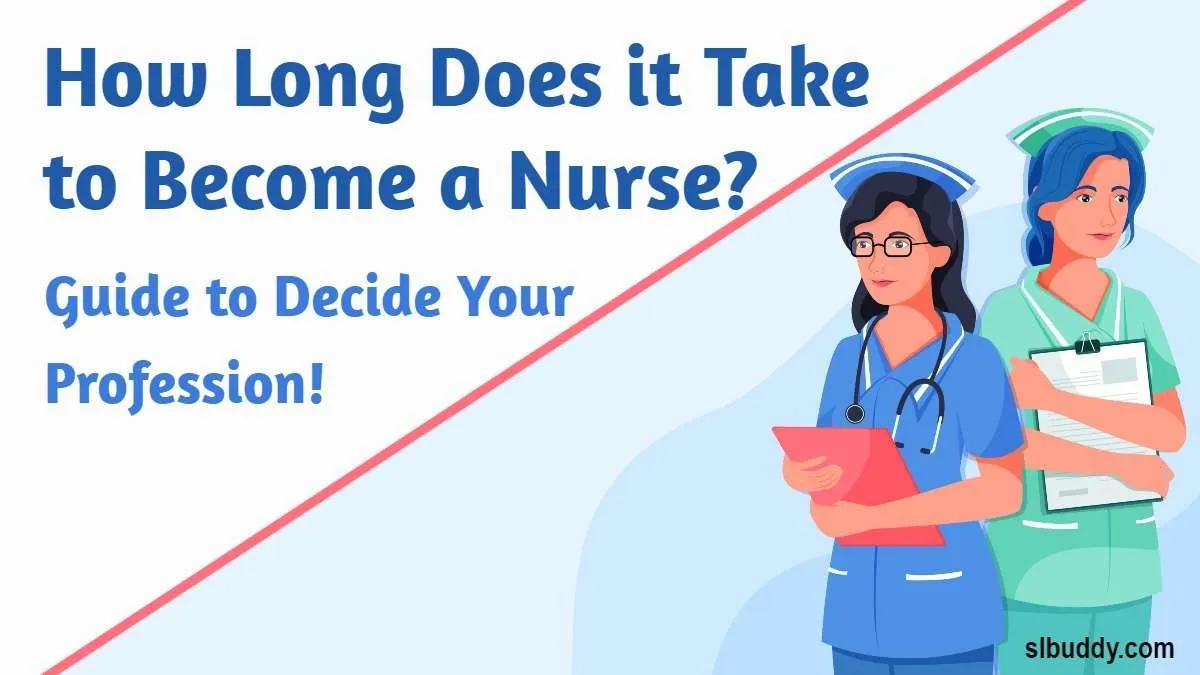 Nursing is a service considered as one of the greatest professions in the world. This wonderful profession has started as one of the earliest services for human beings and all other living beings.
But, nowadays, it has developed up to a well-structured and systematic professional body. So, the young generation who are dreaming to be a nurse used to look for higher educational opportunities to fulfil their dreams. Often, their commonest question is how long does it take to become a nurse.
Well, as the worlds' best educational partner, we have come up with numerous opportunities to become a nurse through the fastest way possible.
And, at the very beginning, the journey of becoming a graduated nurse or diplomatic professional may depend upon the speciality you are selecting, the time-consuming for the initial registration process and the teaching and learning method of the selected institute.
So, gather all information in your hands and be ready to decide how to become a nurse and when to become a nurse.
How long does it take to become a registered nurse after higher education?
The time taken to be a nurse may vary, as with the many factors. First, you should be a general nursing practitioner before becoming a specialist nurse. Yet, the time duration of becoming a special nursing professional can be as same or longer as becoming a general nurse upon the considerable factors.
So, even if you select nursing following your higher education, you may need to wait longer to be a registered general nurse than one who started his or her nursing education modules after yours. Hence, it is very much essential to review the available courses and how long those courses take to make you a well practised nurse before putting your steps forward to take those courses.
The first option of becoming a nurse is selecting the preferred curriculum which is design to enter the nursing schools. Some nursing educational centres offer the opportunities to become a nurse even after completing primary education. But, certain other educational centres highly considered higher educational qualifications to recruit for the nursing courses.
Sometimes, the students believe that studying nursing through online courses are faster than on-site learning. But, it also depends upon several factors and when and how you are going to register for the course. We hope to discuss the pros and cons of following nursing courses online and trying to be a nurse through this easiest method through the rest of this piece of writing.
Anyway, you should have to spend at least two to six years to become a nurse in any area of the World. Mostly, it depends upon the region of study, the nursing educational option you have selected, the panel of educators and the recognition of the institute which is responsible for your certification and the curriculum.
Also Read: 45 hour Child Care Course Online with Certification
How long does it take to become a registered nurse after high school in Asian Countries Vs British?
Many students suffer from selecting the best-fitting nursing course among the pool of available programs in local and international institutes. Often, students wish to migrate for education except those who are from highly developed countries. Thus, the Asian and African students usually doubt how long does it take to become a nurse in Asia or Africa Vs in Western countries like the UK or the US.
Well, as the number one health educational partner in the world, we would like to highlight the pros and cons of migrating for nursing education.
Basically, nursing education is a part of health system management and patient management in the public and private setup. So, it should be followed by systematic learning outcomes. Since the core of nursing is serving patients and delivering health education, the nurses should be equipped with basic strategies of patient care and methods of teaching regarding whatever the available health matter to the general population.
Usually, the role of nursing is highly addressed through the advanced courses conducted in western countries than Asian or African countries. Similarly, the honour and the eligibility to take part in further education is guarantee through the courses conducted by developed countries. Yet, migrating for nursing education is highly expensive and need the personal preference to spent at least two to three years without a companion with the family. However, if you are selecting an online course apart from institutional learning, you may overcome those shortcomings.
In another hand, studying nursing in a local institute may be trouble when migrating for a job. But, it is cost-effective and convenient for the candidate. So, online education is good. But, there are certain issues about practice and the hands-on experience.
How long does it take to become a nurse practitioner after registration?
The basic answer for how long does it take to become a nurse after being registered as a student is, the duration may depend. So, fulfilling educational targets may depend upon several factors including the following.
Also Read: Pharmacy Technician Courses Online and Training Programs
The scheduled syllabus and the time frame of the institute
Yes! Most of the educational institutes have a pre-settled syllabus and a time frame. So, it is very much important to follow those guidelines before registering for the course.
Individual financial capacity and educational qualifications
Since there are the majority of courses designed to deliver nursing education, anyone can join. But, they definitely need financial support and a good educational background. So, the selection may depend upon these two factors.
If a student can pay for faster course content, they may become a nurse within a short period than others. Similarly, they need higher educational qualifications to take part in such accelerated programs.
The students who have lower educational qualifications will have to follow a few steps to become eligible for a professional nursing practitioner. Thus, they need more time to become a nurse after registration.
The Route of Education
The route of learning means whether you are selecting to be a registered nurse through online or institutional learning. Since the institutional studies are extremely focusing on personal abilities, it addresses both practical and theoretical aspects.
Even though there are certain mismatches of how to execute practical hands-on experiences through online learning, the educators try to promote it. However, since this challenge is there in online learning, becoming a registered nurse through such a program may be delayed. Yet, this is not always true. It means there are certain online nursing courses that allow you to become a registered nurse faster than through a university or another educational centre.
The region or country you are living
The countries have different laws and regulations about education and job placement. Thus, the region or the country you are living or selecting to study in may be a strong factor to decide how long does it take to become a registered nurse.
Also Read: 90 hour Child Care Course Online with Certification
The nursing specialities after becoming a registered nurse!
Nurses have an array of opportunities to enter into the different professional specialities in each country. Usually, being specialised in a particular area of medicine allow offering outstanding patient care. This can greatly minimize mortality and morbidity rate. Since this is a remarkable measure in a health system all the countries have positive reading about offering opportunities to learn advanced steps in nursing.
Mostly the primary level of nursing is the availing a diploma, bachelors or a certification. So, once they could register as a nurse through those basic qualifications, they can follow an advanced study program like a master or PhD in the relevant field of study. This is the key to be a specialised nurse.
When we consider the available nursing specialities some of those are common and others are specific to the region or the country. Among the popular nursing specialities the paediatric nurses, medical nurses, surgical nurses and OPD nurses are a few demanding courses. Yet, the specialities like travel nurse and guide nurses are not popular as the above specialities. However, certain industries have higher demand even for those less popular specialities. And, they may be paid with considerable wage too.
So, if you wanted to be a nurse, create some specific set of goals by deciding what is the best-suited speciality for yourself. Job popularity, wage and personal factors such as personality, living conditions, satisfactory lifestyle depend upon the selected speciality in nursing. Similarly, misleads at the speciality selection may end up with disappointment about the expected benefits and duties.
How long does it take to become a certified nurse anaesthetics through online courses?
Anaesthetics nurses are trained professionals who are working in the operational theatres to assist with the scheduled or emergency surgical procedures. Thus, they are doing a really important part in executing successful treatment outcomes.
Also Read: Qualitative Differences Between Ph.D. and Doctorate: What Is Worth More
The roles of anaesthetic nurses are as follows.
# The initial preparation of the patient and the site that supposes to administer anaesthetic drugs. A supportive staff is there while she performing this part in the operational theatre.
# Instructional preparation for the surgical procedure. Since the required instruments are different from surgery to surgery, this is a mandatory part to prevent complications due to unnecessary delays.
# Following instructions of the anaesthetic specialist to deliver everything he needs on time. Since a surgical procedure is a deciding moment for both patient and the medical team, anaesthetic nurses are doing a really important part by following the instruction and assisting the surgical team.
# The anaesthetic nurses are also bear the responsibility to monitor patient condition before, during and after the surgical procedure.
So, the anaesthetic nurses should have proper training and knowledge before executing their service as trained professionals. So, it is not enough to have a diploma or bachelors to be an anaesthetic nurse. The general criteria to enter for this nursing speciality is obtaining a master of science (MSc) in Anaesthetic nursing or a (PhD) doctorate in nursing.
Thus, typically it will take two to four years to avail the needed qualifications. Even, there are online courses to be a nursing professional, it seems only distance learning will not be enough for this purpose. So, either distance plus institutional or only the institutional learning courses are the best fits to be an anaesthetic nurse.
5 FAQs on nursing specialities and the period of study!
Dreams end up with reality only with the exploration of details. So, people always doubt certain things. Yes, the students who willing to be a nurse too have a certain set of questions that never ends until they pass that specific milestone. Hence, here are the answers to such a few questions.
Also Read: Free Online Childcare Training Courses with Certificates
How long does it take to become a paediatric nurse after becoming a general nurse?
A paediatric nurse is the nursing speciality about kid's conditions. Caring for a sick kid is different from adult or geriatric care. And, there are specific conditions in children such as cerebral palsy, delayed milestones, specified syndromes like Down's or Turner's, muscular dystrophies and many more. Similarly, learning disabilities, psychomotor issues and behavioural disabilities are also common among children. Even these conditions can be lifelong issues, early management really works.
So, there are different medical specialities to treat these conditions including physiotherapists, speech therapists and occupational therapists. Hence the paediatric nurses should have the capabilities to assist all those professionals.
The majority of setups accept the bachelor of nursing with six months or one year of training in the paediatric care unit to be a paediatric nurse. And, there are specified courses too.
What is the role of a travel nurse and how long does it take to become a travel nurse?
Travel nursing is a position that is ready to fulfil a nursing shortage in the medical industry. Usually, a travel nurse is an employee of temporary job agencies or temp job agencies. So, their role is to hand the responsibility of a staff nurse for a short period until the vacancy is filling.
Usually, travel nurses are free to set their wage packages, work duration and working times. And, they are ready to face the challenges of working in different setups. Similarly, they are not bound to serve until they accept a job placement. But, they have a huge responsibility as staff nurses after accepting a job through the selected independent job placement agency.
However, they also need bachelors or associate degree in nursing to execute their service. So, you may become a travel nurse within three or four years.  This is an arising nursing opportunity in the majority of developed countries. And, it is considered a financially beneficial method even for the employer.
Does nursing at theatres is demanding and How long does it take to become a surgical nurse?
Yes! It is demanding and have a competitive job opportunity. But, you have to compete at least the master of nursing and surgical procedures before becoming a surgical nurse. Thus, it will usually take eight to ten years from your bachelor learning.
How long does it take to become a vet nurse and what will be the average annual wage?
Usually, you may become a veterinary nurse with two years of advanced diploma. But, this requirement can be different from the country. However, since the role of veterinary nurses is to execute their service in caring for sick animals and educating the owners, they really need the necessary practices under a certified vet doctor. Thus, it will take more than a year to be a vet nurse through disorganised learning too.
How interesting and how long does it take to become a psychiatric nurse?
Becoming a psychiatric nurse is interesting as it contains counselling and helping for poor patients who is lack other's care. And, it is enough to have a bachelor in nursing and a diploma in psychology to work as a training psychiatric nurse.
How long does it take to become a doctor after being a nurse?
Basically, nursing and the medical physician is a two different profession and they have separate duty list too. But, even a nurse or other health care provider has equal rights to transform their carrier life. Thus, the nurses can also be doctors. But, they have to fulfil the necessary qualifications.
Being a nurse for a long will never be a qualification to be a physician. So, if a nurse wanted to be a physician they should follow the degree program under-recognised medical college with adequate clinical hours. Thus, after completing the nursing course, typically it will take another five or six years to be a doctor. But, these requirements may slightly differ from country to country.
Also Read: 50 most popular women
The bottom line
Here are the simple tips for the younger generation who are dreaming to become nursing professionals. So, as a summary, there are no clear cuts about how long does it take to become a nurse as it varies from the country, region or educational institution. Thus, be your boss to analyze budgeting, goals and timeline to find the best course suited for you to become a nurse or a nursing speciality.

MUST SEE
Learn about the essential electrical repairs to consider for your business premises. This article...

Discover the lucrative benefits of investing in Abu Dhabi's real estate market. This article...

Dive into the essentials of the VA disability rating and its calculation process. This...