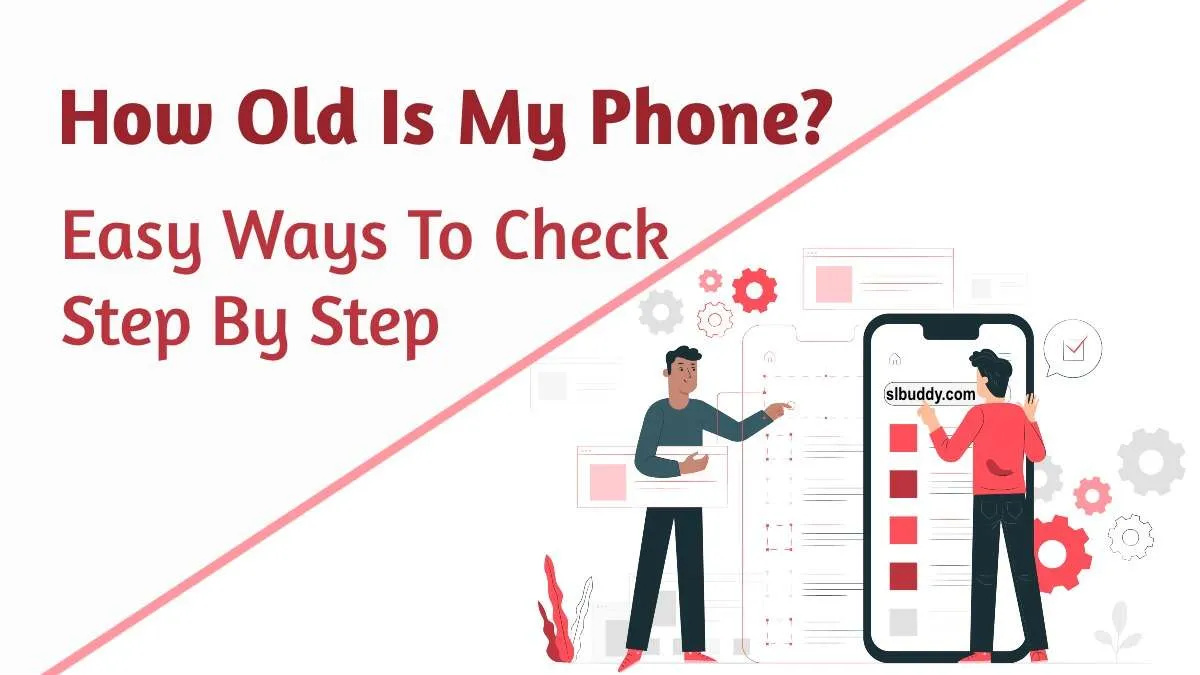 You may ask whether there's a method to find out how to check how old is my phone, whether you're purchasing a second-hand phone, or just wondering when it was built.
Unfortunately, it isn't as simple as it seems. Because knowing when a phone was released is one thing, but knowing when it was built is another. Your gadget might have been manufactured a year or more after the model was introduced.
Although every Android manufacturer is different, there are a few places you may go to see how old your phone is. However, let's see how old my phone is to find easy ways to check it up step by step.
Why Is Mobile Phone's Age Important
The release dates of several cell phones have been meticulously noted. Your phone, on the other hand, might have been produced months or even years after the initial release. You may wish to verify the production date of your phone for a variety of reasons.
# It may provide you with valuable information about how secure your device is. When compared to newer versions, older phones are often considered less safe.
# The age of your phone has an impact on its resale value. If you decide to sell your gadget, a more modern model will fetch you a higher price.
# The overall performance of your phone is affected by its age. Older phones are often slower, and their bodies are more prone to wear and tear due to age.
# The battery life of your phone decreases as it gets older.
How To Find Your Phone Serial Number Or IMEI
A serial number is a one-of-a-kind number issued by the manufacturer (such as Samsung) to identify specific equipment, such as a phone, tablet, television, or other electronic devices.
For example, the serial number of your phone will be distinct from the serial numbers of every other Samsung phone ever produced. It is simpler for the manufacturers to organize and maintain their items when they use serial numbers.
An IMEI, also known as a MEID, is a unique identifier solely used for phones and other communication equipment. Following the carrier, your device will have either an IMEI or a MEID assigned to it.
There is a distinction between these two numbers and a serial number. Not only are they employed by manufacturers, but they are also used on an international or worldwide scale. And also, if a device has been stolen or lost, network providers may use any form of a number to trace it down and recover it.
A model number is a unique number that is assigned to a specific range of items. The number will be different according to the year the goods were introduced, the product's color, the carrier, and a few other things.
Model numbers will be the same for any model that comes into that category (same color, same design, etc.).
A Most Popular Way To Check How Old is My Phone
The date of manufacture is commonly displayed in various ways by manufacturers. However, there are a few universal methods that may be used to determine the date of production, independent of the model or manufacturer of your phone.
Here are a few examples:
1st Check by Original Box
Significantly, the first place you should check is the box that houses your phone. Many manufacturers include the date of production of each mobile phone on the box of the device. A white, adhesive sticker is applied on the back of most boxes by manufacturers.
A few phrases, symbols, or barcodes may be printed on the sticker for your convenience. The production date of your phone may be buried someplace on the sticker.
While you're there, make sure that the IMEI number printed on the box matches the one that appears in your phone's settings. If it doesn't, you'll have to return to the store.
If the two are different, there's a potential that the box in question is not the one that came with your phone, and as a result, the manufacturing date is erroneous.
2nd Way To Check by Phone Settings
A calendar date is included in the phone's settings by certain manufacturers, such as Apple, in addition to other crucial information such as the Phone's IMEI number and system software version.
Where you'll find the date in your phone's settings will vary from manufacturer to manufacturer, but it will almost always be under the about section of your phone's settings in most cases.
And, although some phones have the date explicitly written on them, others have the date included in the phone's serial number.
The third digit of an Apple serial number, for example, relates to the final digit of the year, whereas the fourth and fifth digits are often designed to reflect the week of the year the phone was manufactured.
To distinguish them from other devices, Samsung devices carry the year code and month number in the fourth and fifth digits of their serial numbers.
3rd Way to Check by Applications
Several programs have been developed that can rummage through your phone's data or utilize the IMEI number to search through web sources to determine the precise year and year of manufacture of your phone.
Because they are often created in partnership with the manufacturers, they may be customized to a particular company. To have access to the information, you only need to download and install the program.
4th Check IMEI Number By Online Web Tools
If you have a Realme smartphone, you may utilize the OEM's Phone Check service to find out all the things you need to know about it, including the activation date and time, by entering your IMEI number.
Xiaomi provides a similar product authentication service. However, it doesn't provide information on the purchase date of all Mi phones.
In any case, if you have an Android phone, you can verify the activation date by looking at the IMEI by online Web Tools.
# Click the link to go to imei.info.
# In the 'Enter IMEI' box, enter the IMEI of your Phone.
# Select Check from the drop-down menu.
# Click the Warranty Check button on the following page, displaying all essential information about your Android device. Please keep in mind that the name of the button on different devices may vary.
# The activation date of your Android Phone may be found on the following page.
# You can also verify the purchase and IMEI activation dates of any Android or iOS device by going to IMEI24.
Read also: How to Cancel HelloFresh Subscription or Account on the App/Web
Steps to Check How Old Is My iPhone
Knowing the age of an iPhone may be helpful in various situations, such as when selling or purchasing a used iPhone. However, it may be beneficial in other conditions. We'll teach you how to figure out how old your iPhone is if you're curious.
# You'll need the serial number of your iPhone to figure out how old it is. It's under General About Serial Number in the "Settings" menu.
# You can now calculate the age of your iPhone using the serial number in two ways. The first option is to verify the status of your iPhone's warranty on an Apple support website. If it doesn't work, you may use the free "Chipmunk" service to determine the device's age.
# The Dutch website "Chipmunk" provides a free service that allows you to find out (along with other technical information about your iPhone) the year and week of manufacture:
# To begin, go to the "Chipmunk" website on your iPhone, PC, or Mac and type in the serial number for your iPhone (see above) in the text input area. Then choose "Let de information zien" from the drop-down menu.
# You may find out how old your iPhone is on the next page by looking at the Production week and Production year data.
Steps to Find How Old Is My Android Phone
Android phones are pretty popular nowadays because they provide the ideal platform for a wide variety of apps. So, how can you figure out when your Android smartphone was made?
You can find the production date of your phone in the settings of most Android phones. To find the "About Phone" tab, go to Settings and search for it. Words like Your Phone, About, or Phone Data may show in the information box.
Best way to find out How Old Your Samsung Phone
When it comes to application utilization, Samsung phones are recognized for their flexibility. You might try downloading and installing a phone info app if you have a Samsung smartphone.
There are a variety of phone information applications available from various developers, but they all do the same thing. Go to your phone's app store and type in "Samsung phone info app" to discover a suitable app.
Get to know How Old Your Google Phone
As well, Google phones aren't as well-known as some of the other smartphone companies today, owing to their late entry into the market.
The good news is that Google phones seem to follow the previous format when it comes to the production date. Here's how to figure out when your phone was manufactured:
Seeting> General> About
How to tell How Old Your Huawei Phone
After you've disposed of the box, you may access the phone's settings menu. To find out more about your phone, go to Settings > About phone. It will bring up a screen with all of the device's essential details, such as its running software and model number.
If you can't get the gadget to turn on, look at the rear or top plate. And also, the model number may be found on the entire area of the phone, beneath the camera, or on the bottom portion of the rear.
You can instantly determine which Huawei phone you have by using the model number. If it doesn't show, it's most certainly older than five years. To figure out which phone you have, go online and quickly google the number.
This way to check How Old Your LG Phone
Downloading the LG phone data app from the app store is the most reliable approach to find out precisely when your LG phone was created.
Alternatively, you may utilize an IMEI checker online. You should type in the IMEI number of your phone in the search box and click "Check."
To tell How Old Your Motorola Phone Is
Under Settings, just as with Google phones, you may be able to find out when your Motorola phone was made.
This information is also included in the packaging of most Motorola devices.
Read also: How to Disable Adobe Genuine Software Integrity Service on Mac/Windows
Conclusion
Knowing how old your phone is will assist you in making an informed decision about your future buy.
It may also help you in determining if your phone is secured against the most recent cybersecurity threats. With the information in this post, you may now verify the age of your gadget straight away.

MUST SEE
Learn about the essential electrical repairs to consider for your business premises. This article...

Discover the lucrative benefits of investing in Abu Dhabi's real estate market. This article...

Dive into the essentials of the VA disability rating and its calculation process. This...