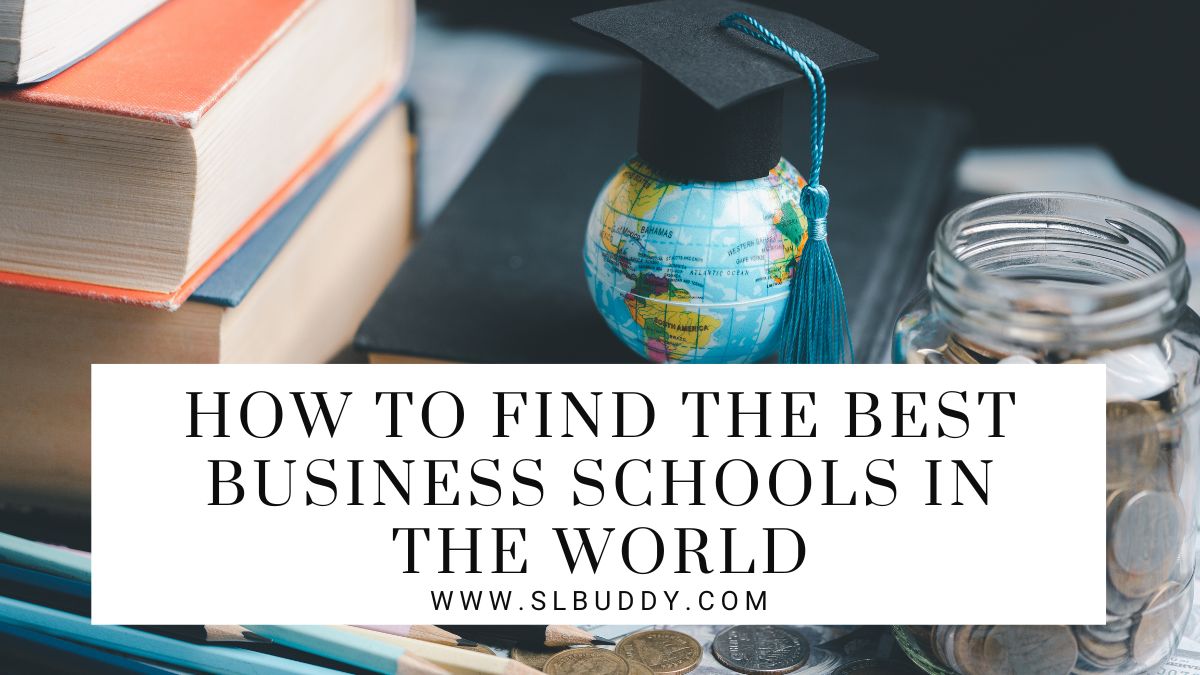 Business schools are the breeding grounds for the world's next generation of leaders, strategists, innovators, and entrepreneurs.
The institution you choose will significantly shape your academic growth, professional development, and network, and it can greatly influence your future career prospects.
That's why choosing the right business school is an investment in your future and a decision that should be made carefully.
A top-ranked business school can enhance your marketability in the competitive job market, provide access to a vast network of industry professionals, and equip you with the necessary skills and knowledge to succeed in the business world.
Define Your Goals and Objectives
Before beginning your search for the best business school, it's crucial to clearly define your goals and objectives.
These could be related to your career aspirations, preferred specialization, or the type of program you wish to pursue.
Having a clear understanding of what you hope to achieve through your business education will guide your search and help you identify schools that align with your objectives.
Assess Your Career Aspirations and Long-term Goals
Before embarking on the journey to find the best business school, you must first introspect and clearly define your career aspirations and long-term goals.
Do you envision yourself climbing the corporate ladder to a C-suite role, or are you more interested in entrepreneurial pursuits?
Do you wish to specialize in a particular sector, such as finance or marketing, or do you want a more general management education?
By defining your career goals, you can identify the business schools that offer programs aligned with your interests and ambitions.
Consider Your Preferred Specialization within the Field of Business
The field of business is vast and varied, with multiple specializations and concentrations. These range from traditional areas like finance, marketing, and human resources to emerging fields like sustainability, data analytics, and entrepreneurship.
It's essential to understand your preferred area of specialization, as not all business schools excel in every domain.
Knowing your preferred area of interest can guide your selection towards schools that excel in that particular field.
Determine the Type of Program That Aligns with Your Needs
Different individuals have different needs, preferences, and constraints. While some might prefer a full-time on-campus MBA program, others might opt for part-time, online, or executive MBA programs due to work commitments or other reasons.
Some might prefer a one-year accelerated program, while others might opt for a two-year program that allows for a summer internship.
Your choice of business school should offer the type of program that aligns with your personal and professional circumstances.
Research and Rankings
Rankings play a significant role in helping prospective students compare different business schools.
However, it's important to understand the methodologies behind these rankings, the factors considered, and to review multiple ranking sources.
This research can provide a comprehensive view of how various schools stack up against each other.
Explore Reputable Business School Rankings and Their Methodologies
Reputable business school rankings, such as those published by The Financial Times, The Economist, Bloomberg Businessweek, and U.S.
News & World Report, provide a snapshot of the top-performing institutions. However, it's essential to understand the methodology behind these rankings.
Different publications use different criteria and weights to rank schools, so be sure to understand what each ranking emphasizes.
What are the Factors Considered in These Rankings
Rankings typically consider a variety of factors, including the quality of the faculty, the rigor of the curriculum, the strength of the alumni network, career placement success, and student satisfaction.
They may also take into account factors such as research output, the diversity of the student body, and the school's financial resources.
Knowing what is considered can help you align your school choice with the factors that matter most to you.
Review Multiple Rankings to Gain a Comprehensive Perspective
Relying on a single ranking might provide a skewed view. To get a more comprehensive perspective, review multiple rankings and observe the trends.
A school that consistently ranks high across various rankings is typically a safer bet than a school that tops one ranking but lags in others.
Accreditation and Reputation
Accreditation is a stamp of quality assurance for business schools, indicating that they meet certain standards of excellence.
Alongside this, the reputation of a school, which can be assessed by its history, alumni success, and faculty accomplishments, is also crucial.
Researching these aspects will help you ensure that you're investing your time and resources wisely.
Importance of Choosing an Accredited Business School
An accredited business school is a testament to its quality. Accreditation is an extensive review process that evaluates a school's faculty, curriculum, administration, students, and resources.
It ensures the school meets a certain standard of quality and can deliver the level of education it promises.
Choosing an accredited business school guarantees that your degree will be recognized and valued by employers and other educational institutions worldwide.
Recognized Accreditation Bodies (AACSB, AMBA, EQUIS)
There are several accreditation bodies globally, but the most recognized ones are the Association to Advance Collegiate Schools of Business (AACSB), the Association of MBAs (AMBA), and the European Quality Improvement System (EQUIS).
These bodies assess business schools on various parameters, including curriculum quality, faculty research output, ethical practices, and more.
Schools that have accreditations from these bodies are considered to be of high quality.
Research the Reputation and Credibility of the Business School
Accreditation is a critical factor, but it's not the only thing to consider. The school's reputation, its history, the credibility of its programs, and the respect it commands in the business community should also be taken into account.
Speaking to alumni, reading student reviews, and considering the school's standing in business school rankings can provide insights into its reputation.
Curriculum and Specializations
The curriculum of a business school should be aligned with your career aspirations and areas of interest.
Evaluating the curriculum structure, the core courses offered, and the available specializations will provide insight into what you can expect to learn and how relevant it will be to your career path.
Evaluate the Curriculum Structure and Core Courses Offered
The curriculum is the backbone of any academic program. Evaluate the structure of the curriculum, the core courses offered, and their alignment with your career goals.
The curriculum should be rigorous, current, and relevant, incorporating the latest business trends and theories.
It should also provide a balance between theoretical knowledge and practical application, enabling students to apply their learning in real-world contexts.
Assess the Availability of Your Preferred Specialization or Concentration
Not all business schools offer specializations or concentrations in all areas of business.
If you have a specific area of interest, ensure that the school you choose offers a specialization in that area.
Additionally, look at the courses offered under that specialization, the faculty involved, and the kind of research and projects that the specialization entails.
Consider the Flexibility of the Curriculum to Tailor It to Your Specific Interests
In addition to core courses, many business schools offer electives that allow students to customize their learning journey according to their interests and career goals
The availability of a wide range of electives provides the flexibility to tailor your education to your specific needs and interests.
Faculty and Expertise
The quality of faculty greatly influences the educational experience at a business school.
Considering the qualifications, expertise, and teaching methodologies of faculty members will help you understand the level of knowledge and real-world insights you can expect to gain from the program.
Research the Qualifications and Expertise of the Faculty Members
The quality of faculty significantly impacts your learning experience. Faculty members should not only be academically qualified but also have industry experience, bringing practical insights to the classroom.
Consider the faculty's qualifications, their areas of expertise, their research output, and their standing in the academic and business communities.
Consider Their Research Publications, Industry Experience, and Teaching Methods
Faculty members who are actively involved in research and publications stay updated with the latest developments in their field and can bring fresh perspectives to their teaching.
Similarly, faculty with industry experience can provide practical insights and real-world examples, enhancing the relevance of their teaching.
Also, consider the teaching methods they employ – case studies, group projects, simulations, and guest lectures from industry practitioners can greatly enrich the learning experience.
Look for Professors Who Have Real-World Business Experience
Professors with real-world business experience, either through previous employment or consulting engagements, can bridge the gap between theory and practice.
They can provide valuable insights into how business concepts and strategies are applied in the real world, helping students better understand the practical implications of their learning.
Alumni Network and Industry Connections
An expansive and engaged alumni network, as well as strong industry connections, can open doors to internships, job opportunities, and mentorships.
Evaluating these aspects can give you an idea of the networking opportunities and career prospects you can expect upon graduation.
Assess the Strength and Reach of the School's Alumni Network
A strong alumni network can open doors to internships, job opportunities, and mentorship.
A business school with a large, active alumni network can provide lifelong opportunities to connect with fellow graduates, who can offer career advice, industry insights, and potential job leads.
Additionally, a global alumni network can facilitate international career opportunities and provide support if you decide to work abroad.
Look for Opportunities to Connect with Alumni through Events and Mentorship Programs
Business schools often host events, webinars, and reunions to foster connection and collaboration among current students and alumni.
These events provide excellent opportunities for networking and learning from those who have walked the path before you.
Some schools also offer mentorship programs where alumni serve as mentors to current students, offering guidance, sharing experiences, and providing advice on career development.
Consider the School's Relationships with Industry Leaders and Corporate Partnerships
Strong ties to the business community are a significant advantage of top business schools.
These relationships often result in guest lectures by industry leaders, corporate-sponsored projects, internships, and job placement opportunities.
Schools with a good reputation in the business community attract recruiters from top companies, providing students with valuable opportunities for internships and job placements upon graduation.
Internship and Career Services
Career support services provided by business schools, such as internships, resume building, interview preparation, and networking events, can significantly enhance your employability.
Checking these services and hearing success stories can indicate the level of career support you can expect.
Evaluate the School's Support for Internships and Career Placement
Internships are an integral part of the business education experience, providing students with hands-on experience in their chosen fields.
Top business schools often have dedicated career services teams that assist students in finding internships and full-time job opportunities.
Evaluate the school's support for internships, the variety of companies that recruit from the school, and the success rate of students in securing internships and jobs.
Research the Career Services Offered
A good business school should offer robust career services, including career counselling, resume building, interview preparation, job search strategies, and networking events.
These services are designed to help students successfully navigate the job market and secure employment in their chosen field.
Look for Success Stories of Alumni Who Have Secured Desirable Job Placements
Success stories of alumni who have secured desirable job placements in renowned companies or have successfully launched their businesses can be indicative of the school's effectiveness in preparing students for the business world.
Additionally, these success stories can provide inspiration and insights into the various career paths that a degree from the school can lead to.
Global Opportunities
Global Opportunities: In today's globalized business world, international exposure is a significant advantage.
Business schools that provide global programs, exchange opportunities, and a diverse community can help you broaden your perspective and develop a global business network.
Explore the School's Global Programs
In an increasingly globalized business environment, exposure to international markets, cultures, and business practices is vital.
Many top business schools offer global programs, such as international field studies, exchange programs, and global consulting projects.
These experiences allow students to broaden their perspectives, understand different business environments, and develop a global network.
Consider the Diversity of the Student Body and Faculty
Diversity enriches the learning environment, fosters creativity and innovation, and prepares students to work in multicultural teams and markets.
A diverse student body and faculty, representing different nationalities, cultures, and backgrounds, can provide a wealth of perspectives, enhancing classroom discussions and group projects.
Look for International Partnerships and Collaborations
International partnerships and collaborations with other business schools around the world can provide additional opportunities for learning and networking.
These partnerships often allow for student exchanges, joint research projects, and collaborative programs, offering students a broader range of experiences and resources.
Campus Facilities and Resources
The campus facilities and resources available at a business school can significantly impact your learning experience.
From libraries and technology resources to research centers and entrepreneurship incubators, these facilities provide additional avenues for learning and growth.
Evaluate the Campus Infrastructure
A state-of-the-art campus with modern classrooms, well-equipped libraries, and technology resources can greatly enhance your learning experience.
While the quality of the faculty and curriculum is paramount, the physical environment also plays a role in your overall experience as a student.
Consider the Availability of Research Centers and Labs
Research centers and labs are a hub of innovation and learning. They provide students with opportunities to engage in cutting-edge research, work on practical projects, and collaborate with faculty and fellow students.
Additionally, they often facilitate interactions with industry practitioners, providing insights into real-world business problems and solutions.
Look for Additional Resources like Entrepreneurship Centers and Incubators
For those interested in entrepreneurship, resources like entrepreneurship centers and incubators can provide invaluable support.
These resources often offer workshops, mentorship, networking events, and funding opportunities to help students and alumni turn their business ideas into reality.
Student Life and Culture
The culture and student life at a business school contribute to your overall experience.
The availability of social and extracurricular activities, student clubs, and the overall atmosphere can influence not just your learning, but also your personal growth and network development.
Understand the Social and Extracurricular Opportunities Available on Campus
Student life extends beyond the classroom. Social and extracurricular activities, such as clubs, sports, cultural events, and student-led initiatives, offer opportunities for personal growth, leadership development, and networking.
They can also provide a much-needed balance to the academic rigors of a business program.
Research Student Clubs, Organizations, and Events Related to Your Interests
Student clubs and organizations offer opportunities to pursue your interests, develop new skills, and connect with like-minded individuals.
Whether you're interested in entrepreneurship, marketing, finance, social impact, or cultural activities, there's likely a club or organization that matches your interests.
Consider the Overall Culture and Atmosphere of the Business School
The culture and atmosphere of a business school can significantly influence your experience.
Is the environment competitive or collaborative? Is there a focus on ethics and sustainability? Does the school value diversity and inclusion?
Understanding the school's culture can help you choose a school where you'll thrive.
Location and Cost
The location of a business school can influence your lifestyle, networking opportunities, and job prospects.
Meanwhile, understanding the cost comprising tuition, living expenses, and other fees—is crucial for making a financially sound decision.
Some schools also offer scholarships and financial aid to support students.
Assess the Geographical Location of the Business School and Its Impact on Your Lifestyle
Location can significantly impact your lifestyle, networking opportunities, and post-graduation job prospects.
Some may prefer the hustle and bustle of a city with its networking opportunities and access to businesses, while others may prefer a quieter, more relaxed campus setting.
Consider how the location aligns with your lifestyle preferences, career goals, and potential internship and job opportunities.
Consider the Cost of Tuition, Fees, and Living Expenses
Pursuing a degree at a business school is a substantial investment. In addition to tuition fees, consider costs such as books, accommodation, food, transportation, and other living expenses.
The overall cost can vary greatly depending on the location and the school's reputation.
Evaluate Scholarship and Financial Aid Opportunities
Don't let the cost deter you from pursuing your dream education. Many business schools offer scholarships, grants, and financial aid options to help students finance their education.
Research the financial aid opportunities available, eligibility criteria, and application process.
Alumni Success and Networking Opportunities
The success of a school's alumni can provide a snapshot of potential career outcomes.
A strong alumni network can support your career growth and open up opportunities in your chosen field.
Research Notable Alumni and Their Achievements
The success of a school's alumni can give you a glimpse of the potential career outcomes after graduation. Look for notable alumni who have excelled in their fields.
This could be in the form of starting their own successful businesses, reaching top executive positions in multinational corporations, or making significant contributions to society.
Assess the Alumni Engagement Activities Organized by the Business School
A vibrant alumni community actively involved in the school's activities signifies a strong network that you can rely on for support during and after your studies.
Many schools organize regular alumni events, guest lectures, and reunions that can help you establish and maintain connections.
Consider the Strength of the Alumni Network in Your Desired Industry or Region
A strong alumni network in your desired industry or geographical region can be instrumental in your career success.
It can provide opportunities for mentorship, networking, and even job placements. Consider the strength and reach of the school's alumni network in your areas of interest.
Admission Requirements and Application Process
Understanding the admission requirements and the application process can increase your chances of getting into your desired business school.
This involves knowing the admission criteria, preparing for any required tests, and understanding the timeline and documents needed for the application.
Understand the Admission Criteria and Prerequisites
Admission to top business schools is often competitive, with schools considering various factors such as academic record, professional experience, recommendation letters, and standardized test scores.
Understand the admission criteria, prerequisites, and the weightage given to different elements of your application.
Prepare for Standardized Tests (GMAT, GRE) If Required
Most business schools require GMAT or GRE scores as part of the application. These tests assess your analytical, writing, quantitative, verbal, and reading skills in written English.
If required, start your preparation well in advance to achieve a competitive score.
Gather All the Necessary Documents and Complete the Application Process Within Deadlines
Collect all necessary documents such as academic transcripts, resume, recommendation letters, and essays.
Pay attention to the deadlines and ensure that you complete the application process in a timely manner.
Some schools may also require an interview as part of the application process.
Visit the Campus and Attend Information Sessions
Nothing can replace the firsthand experience of visiting the business school campus. A campus visit provides valuable insights into the school's environment, infrastructure, and culture.
Attending information sessions, campus tours, and sample classes can also help you get a clearer picture of the school's offerings and whether it aligns with your expectations.
Plan a Visit to the Shortlisted Business Schools, If Feasible
Visiting the campus can give you a real sense of the school's culture, facilities, and community.
It's an opportunity to interact with current students, faculty, and admission representatives, and to attend sample classes.
Attend Information Sessions, Campus Tours, and Sample Classes
Many business schools offer information sessions, either on-campus or online, campus tours, and sample classes.
These can provide valuable insights into the school's culture, curriculum, and community, and help you make an informed decision.
Interact with Current Students, Faculty, and Admission Representatives
Interacting with current students, faculty, and admission representatives can provide firsthand insights into the school's culture, curriculum, teaching methodologies, student life, and more.
Ask questions about aspects you're interested in or concerned about. You could inquire about the workload, student support services, internship opportunities, or anything else that could influence your decision.
Seek Advice and Guidance
The decision to choose a business school should not be made in isolation. Seek advice from mentors, professors, and industry professionals, reach out to current students or alumni of the schools you're considering, and use online forums and communities to gather insights.
These sources can provide invaluable information to assist you in making an informed choice.
Consult with Mentors, Professors, and Professionals in the Business Field
Insights from those who are already in the field can be invaluable. Talk to mentors, professors, or professionals in your desired industry.
They can offer advice based on their experiences, provide a different perspective on your options, and help you understand what to expect from a career in your field of interest.
Reach Out to Current Students or Alumni of the Business Schools You Are Considering
Speaking with current students or alumni can give you firsthand information about the school and its programs.
Ask about their experiences, what they liked, what they didn't, and what they wish they'd known before enrolling.
Use Online Forums and Communities to Gather Insights and Recommendations
Online forums and communities can be a treasure trove of information. Platforms like LinkedIn, Reddit, and Quora have many discussions about different business school
. You can gain insights from the experiences of numerous students and professionals, which can assist you in making a well-informed decision.
FAQs
In the journey to find the best business schools in the world, various questions may arise about the factors to consider and the process to follow.
To help you navigate this journey, we've compiled a list of frequently asked questions, providing succinct and informative answers that address crucial aspects of your search.
These questions and their corresponding answers draw on the insights from our comprehensive guide, helping you deepen your understanding of the path to finding a business school that aligns with your aspirations and needs.
What is the importance of defining your personal goals and objectives when searching for a business school?
Defining your personal goals and objectives helps to narrow down your options and find schools that align with your career aspirations, preferred specialization, or the type of program you wish to pursue. It provides a clear direction to your search.
How can the alumni network of a business school influence your career prospects?
An expansive and engaged alumni network can provide valuable networking opportunities, opening doors to internships, job opportunities, and mentorships. Alumni success can also give you a snapshot of potential career outcomes after graduation.
Why is understanding the admission requirements and application process crucial for getting into a business school?
Understanding the admission requirements and the application process can help you better prepare and increase your chances of getting into your desired business school. It involves knowing the admission criteria, preparing for any required tests, and understanding the timeline and documents needed for the application.
How can campus visits and information sessions aid in choosing a business school?
Campus visits and information sessions provide firsthand experience of the school's environment, infrastructure, and culture. They can help you get a clearer picture of the school's offerings and decide whether it aligns with your expectations.
Why is it recommended to seek advice and guidance when choosing a business school?
The decision to choose a business school is significant and should not be made in isolation. Advice from mentors, professors, industry professionals, current students, or alumni can provide invaluable insights based on their experiences, aiding you in making an informed choice.
The bottom line
Finding the best business school in the world requires a thorough understanding of your career aspirations, meticulous research, and careful consideration of various factors.
By defining your goals, examining rankings, checking accreditation, studying curriculums and faculty, assessing alumni networks and industry connections, exploring global opportunities, evaluating campus facilities and student life, understanding location and cost, looking at alumni success, and considering the admission process, you can make a well-informed decision.
Remember, the "best" business school is subjective and varies from person to person based on individual goals, needs, and preferences.
A school that is best for one person might not be the best for another. Therefore, take your time, do your research, and choose the school that aligns best with your career aspirations and personal needs.
Choosing the right business school can be a transformative experience, opening doors to numerous career opportunities, fostering personal growth, and expanding your professional network.
Make this decision wisely, as it can significantly impact your career trajectory and future success in the business world.

MUST SEE
Navigating the legal system can be daunting, but this article outlines six critical scenarios...

Dive into the world of IP leasing, a digital frontier where technology meets smart...

Unlock the secrets to a financially stable home life with these ingenious budget-friendly ideas....