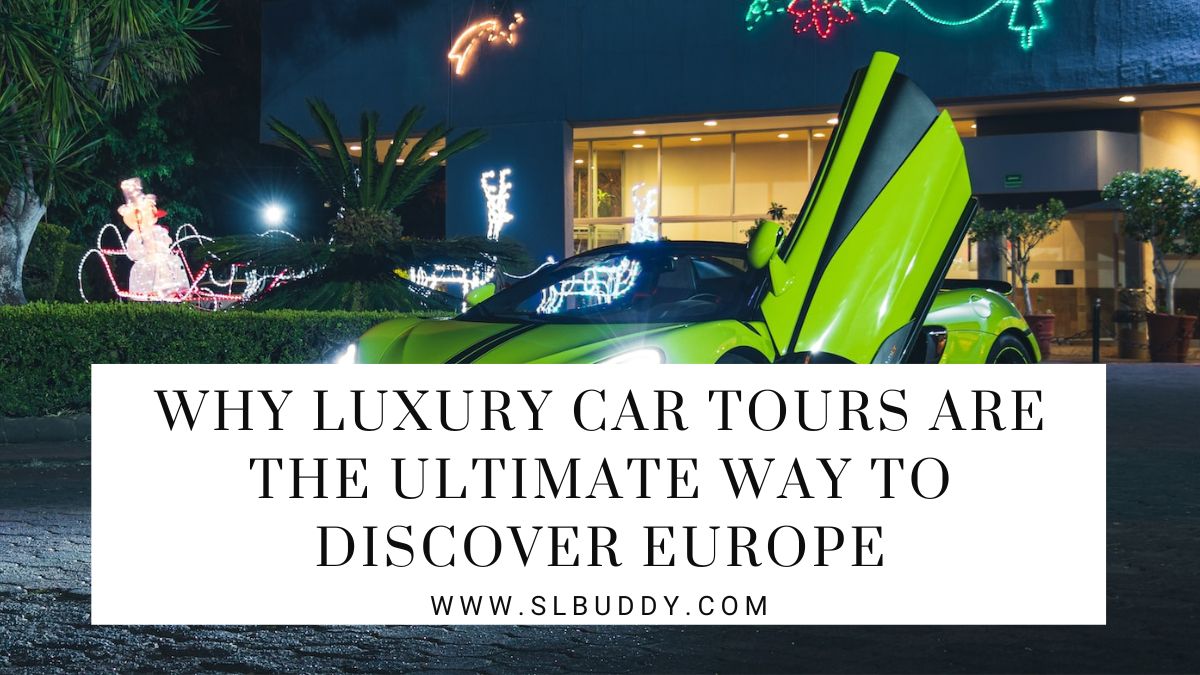 Europe spans thousands of years of diverse and rich cultural heritage that makes it the perfect destination for your travel tours.
Europe is vast, and nothing could enhance your touring experience more than a luxury car tour.
Luxury cars ensure you travel through Europe in style as you discover the gems and magnificent sceneries.
They offer more than comfort and convenience to explore the best parts of Europe that you intend to tour.
Car enthusiasts get more than a luxury tour because they get to feel the supercar's power on the most breathtaking roads in Europe.
This post explores why luxury car tours will offer you the ultimate way to experience and discover Europe.
Flexibility
Luxury cars offer flexibility first in selecting the supercar that best suits your needs and preferences.
Supercars often have their own designated routes because they are built for speed and power. With a supercar tour, you will likely enjoy the experience more when you won't have to be slowed down by traffic or a busy town with people.
When you choose to go for driving tours of Europe, consider supercars as you won't have to be limited to the tight schedules of public transportation. You get to discover the gems of Europe and spend as much time as you want at the destinations while making impromptu stops on the way. 
Comfort
Luxury cars are built for comfort in every driving experience. They have beautiful interiors, spacious just enough for the people on the tour, and are capable of offering an enjoyable and relaxing long ride.
Supercars are the most effective form of touring in style and comfort because if you want to explore Europe, there are many countries that you could choose to visit, such as Italy, France, Switzerland, and others, all of which comfort must be a priority.
For example, in southern France, you will experience mesmerizing mountain passes and sea-side roads accompanied by magnificent sweeping trails that are all possible with a luxury supercar tour. 
A tour with luxury will surely surprise you with beauty in its most natural setting at every turn.
The comfortable interiors of a supercar are designed with cutting-edge technology that provides the most suitable climate based on your preferences and needs.
Therefore, the places you visit do not necessarily have to have the right climate, as the supercars adjust to the climate you want.
They have the best entertainment features, making your journey enjoyable before you get to your destination. 
Scenic Routes
Europe is blessed with some of the most scenic routes. A supercar is the best choice for exploring the twists and turns of the mountain passes found in Europe.
These routes are rarely used. Therefore, you will have the best experience to even drive at higher speeds without fear of meeting oncoming vehicles.
You can also experience fast stretches and enjoy breathtaking views of various scenes, such as the Alps Mountains, as you drive towards the south of Germany.
As you discover Europe, you will get to experience curvy roads that enhance your tours accompanied by light traffic.
Supercars give you the charming experience of exploring the historic countryside, towns, and beautiful coastal roads at your own pace. 
Exclusive Access
Supercars come with some sort of exclusivity and class. They are often looked at as lavish, which gives them access to private estates, perfect vineyard destinations from Bordeaux, France, to Tuscany, and other cultural sites that you cannot easily access with any other means.
The connections that come with supercar tour companies offer you exclusive access to experience the most lavish scenes, hotels, and restaurants to have a taste of the culinary delights of Europe.
Some of the countries in Europe are conservative in their culture; therefore, you must appeal to people as being of a certain class to access some of the best places to enhance your touring experience. 
Time Efficiency
The idea to travel on the road might not be appealing to many when exploring the various countries in Europe.
This is because they find flying more time-efficient. However, supercars are built for speed.
Other than speed, you are traveling through efficient routes that you would enjoy sceneries as compared to traveling on an airplane.
You may consider a reliable supercar touring company that offers various routes, with new offering efficient routes being an added advantage.
Other than speed, luxury cars are time efficient as you won't have to waste time at the border checks compared to airport wait times and security checks.
Therefore, when you come to think of it, supercars offer a better traveling experience.
Safety
Choosing to have an ultimate discovery around Europe comes with the need to prioritize safety first.
This is because you will be traveling through various terrains that require stability and control of a vehicle.
Therefore, supercars are your best choice, as most models are built with safety features in mind.
Due to their inbuilt speed, they are manufactured with high-level stability control that prevents them from overturning due to the high speed.
Their braking system is also designed to withstand the speed of power, which ensures safe stops. 
Additionally, the drivers that accompany you throughout your travel are highly experienced and trained to drive supercars at the most reliable speed limits.
They have the knowledge of the ins and outs of the supercar, which solidifies the safety measures more.
The routes chosen by the various supercar touring companies are well known, making them safe to drive through.
The drivers take early precautions on dangerous roads and apply maximum control and stability while driving.
Style
Touring in a supercar around Europe offers you the thrill of traveling in an exotic car. Supercars are lavish for a reason.
This is because they have been manufactured with the most cutting-edge technology and style that has everyone's head turning to have a better view.
Be sure to earn some respect when cruising through Europe as you pull over to your luxurious hotels or scenic tours.
On the off routes, you will enjoy the thrill of roaring engines as you test the speed and power of the supercar.
Europe is a rich country; therefore, a supercar blends in perfectly with the natural setting of the place.
More importantly, if you are visiting Germany, it is a home of the most luxurious German machines; do not embarrass your exploration by pulling over with just an ordinary car.
Don't miss: Social Worker Travel Jobs: Exploring Opportunities for Personal
The bottom line
Europe is a home of cultural heritage, which makes it the best destination for your travel tours. It is abundant with the most scenic routes that make a supercar tour your best option.
The countries to visit in Europe are inexhaustible in a day; therefore, consider comfort, style, and convenience by choosing a supercar tour.
Remember to consult reliable and experienced supercar touring services to get the most out of your travel experience.
They best know the routes, various destinations, and the most luxurious hotels to unwind from a long day of driving.
The best thing about a tour through Europe with a supercar is that you can have a feel of personalized services that bend to your needs and preferences.

MUST SEE
From GPS units to emergency kits, this article outlines essential tools that every professional...

Navigating the legal system can be daunting, but this article outlines six critical scenarios...

Dive into the world of IP leasing, a digital frontier where technology meets smart...