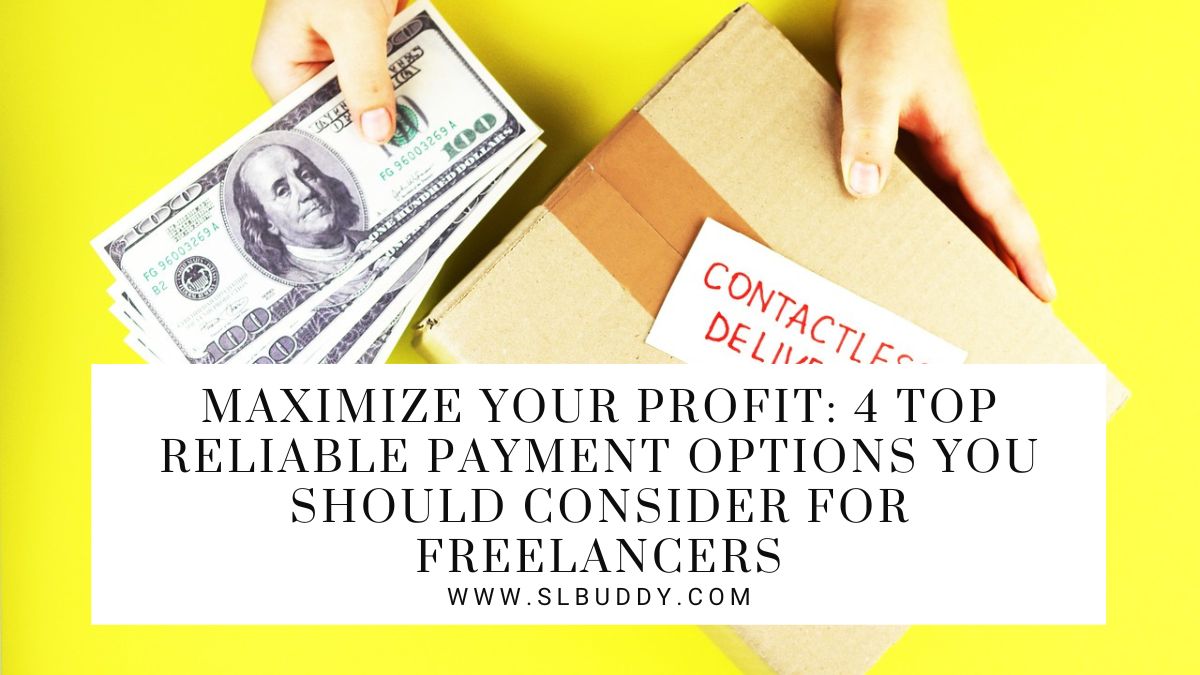 As a freelancer, one of the key factors in maximizing your profit is choosing reliable payment options.
The way you receive payments can significantly impact your earnings and overall financial efficiency.
Fortunately, there are several top payment options available that offer convenience, security, and flexibility for freelancers.
By understanding their features, benefits, and suitability for different scenarios, you can make an informed decision about which payment option aligns best with your freelance business needs, allowing you to optimize your profit and streamline your financial operations.
Payment options offer efficient methods to receive funds, eliminating the need for cumbersome and time-consuming processes.
They also ensure financial transparency and accountability by providing a record of transactions, making it easier for freelancers to track their income, manage invoices, and maintain organized financial records.
Faster access to funds is also provided, allowing freelancers to receive payments promptly and maintain a healthy cash flow.
Additionally, payment options often offer additional features such as invoicing, currency conversion, and integration capabilities, which streamline financial operations and enhance the overall professionalism of freelancers' businesses.
1. Paysend
Paysend is a global payment company that aims to simplify cross-border payment by offering quick, safe, and cost-effective methods for international money transfers.
Their main aim is to provide simple and affordable ways for individuals and businesses to send and receive money across borders with ease.
They can definitely help improve your profits with their competitive exchange rates and low fees, making it an attractive option for freelancers.
Paysend's user-friendly platform allows users to send money to bank accounts, cards, or mobile wallets in over 100 countries and has one of, if not, the best ways to send money to the Philippines and various other countries.
Their services are supported by robust security measures, such as encryption and two-factor authentication, ensuring the safety of transactions and the protection of customer data.
With a strong reputation and positive user reviews, Paysend has emerged as a reliable payment company for freelancers looking for efficient and affordable international money transfer solutions with almost 7 million customers using and trusting them.
2. PayPal
Wise, previously known as TransferWise, is a financial technology company that was founded in 2011 by Kristo Käärmann and Taavet Hinrikus.
The company was born out of the founders' personal frustration with expensive international money transfers.
TransferWise aimed to disrupt the traditional banking system by providing a more transparent and cost-effective solution for sending money across borders.
It evidently worked because, in their first year, they handled transactions adding up to around €10 million.
TransferWise operates on a "currency matching" model, where it pairs users who want to send money in one currency with those who need to receive money in the same currency, eliminating the need for actual currency exchange.
This innovative peer-to-peer platform allows users to transfer money internationally at mid-market exchange rates, with minimal fees.
3. Payoneer
With its extensive reach and localized banking capabilities, Payoneer allows users to access their funds easily through various withdrawal options, including local bank transfers and prepaid Mastercard.
The platform supports multiple currencies, making it ideal for freelancers working with international clients.
Payoneer also offers competitive exchange rates and low fees, enhancing its appeal to individuals seeking cost-effective payment solutions.
With a strong emphasis on user experience, Payoneer provides a user-friendly interface and reliable customer support to ensure a seamless payment experience for its customers.
Its reputation for reliability, security, and global payment solutions has made Payoneer a popular choice among freelancers and businesses worldwide.
Factors To Consider When Selecting A Company
When selecting a payment company from above, there are several important factors to consider.
These factors will help ensure that the payment company meets your specific needs as a freelancer, including improving your profit and setting yourself up for long-term success. Here are some key considerations:
# Fees and Pricing: Consider transaction fees, currency conversion fees (if applicable), withdrawal fees, and any other charges associated with using the platform. Compare these fees with other payment options to determine which offers the most cost-effective solution for your business.
# Supported Currencies: If you work with clients from different countries, it's crucial to choose a payment company that supports a wide range of currencies.
# Payment Security: Ensure that the payment company implements robust security measures to protect your sensitive information and funds.
# Withdrawal Options and Speed: Can you easily transfer funds to your bank account or receive payments via a prepaid card? Additionally, evaluate the processing time for withdrawals to ensure timely access to your funds.
# International Transactions: If you work with clients from different countries, check whether the payment company supports international transactions.
# Integration and APIs: If you have an online presence or utilize invoicing software, check if the payment company offers seamless integration options or APIs (Application Programming Interfaces).
# Customer Support: Reliable customer support is essential, especially when dealing with financial transactions.
# Reputation and User Reviews: Research the reputation of the payment company by reading user reviews and testimonials. Feedback from other freelancers or businesses can provide valuable insights into the reliability, ease of use, and overall satisfaction with the payment service.
Don't miss: Top 10 Most Successful Businesses to Start
The bottom line
Selecting a reliable payment company is essential for freelancers looking to maximize their profit and streamline their financial operations.
Paysend, PayPal, Wise, and Payoneer are the four top options that offer convenience, security, and competitive features for international money transfers.
Each of these payment companies brings unique advantages, such as Paysend's competitive rates, PayPal's widespread recognition, Wise's innovative currency matching model, and Payoneer's localized banking capabilities can help freelancers navigate the world of money transfers.

MUST SEE
Navigating the hustle and bustle of office life while maintaining good health can be...

The article delves into the often-overlooked importance of hearing health in the healthcare industry,...

From GPS units to emergency kits, this article outlines essential tools that every professional...