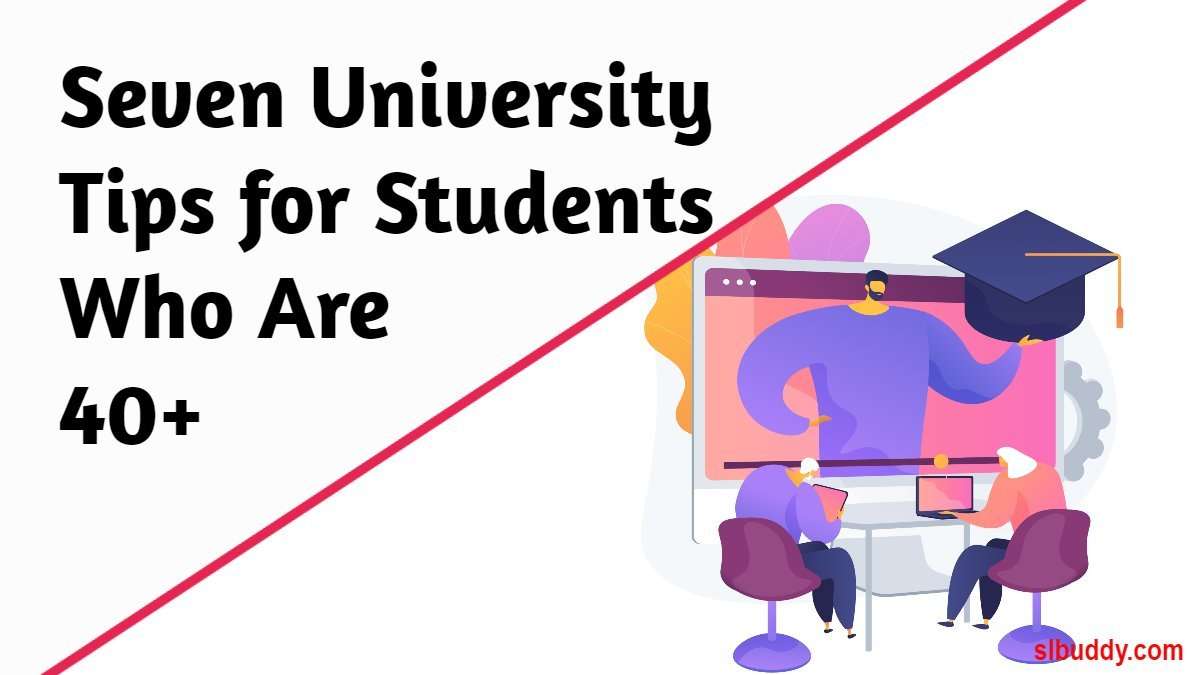 These tips will help you if you are over 40 but have not yet gone to school or completed your education. If you've never finished school but plan to go back now, it's easy to feel a little scared and intimidated. In fact, if you haven't been to university or college in decades, the thought of going back can be daunting.
You may have always wanted to earn your degree or go back for your master's degree. But at this point in your life, this article will be useful if you have no idea where to start. Don't worry about going back to school. This is because many university programs are being developed in today's universities to make it easier for older students to develop. There are also tips and tricks that you can use to make the whole process easier.
Of course, going back to school later in life comes with its own setbacks. You have to manage your own money with your family life and a full or part-time job. For each course, you have to study and complete the assignments and it may not be so easy. To some, the idea of starting college in the 40s or 50s may seem scary and sometimes nonsensical.
These are some of the first major decisions you should make when going back to university or going to college for the first time after 40.
01. Decide which Degree is right for you
Whether you want to continue your current career or completely change your career path, it is important to know which degree is appropriate for you. Also, even if you want a new degree, it is good to know what kind of degree will help you achieve your specific goals.
First, research every degree course you like. Then you can be sure that the program you choose will contribute to you and your profession as needed. Choose the one that works best for you by comparing courses.
02. Practice your Writing Skills
Whatever your main objective, you will hope to write well. So if you haven't written anything in a while, you may want to get acquainted with your grammar and familiarize yourself with different writing styles.
If you decide to use a professional essay writing service from time to time, it can teach you a lot about the art of writing. It also increases your liking for writing. Whether you use these services or not, you still need to be a good writer before you can graduate. So you can start now by mastering your writing skills whenever possible.
03. Be realistic with your Class schedule
When you start learning, it is important to take a few easy classes or classes until you stay back in college. Understand that your university calendar is too crowded from here on out, which means you may not be able to do everything you did before you started school.
You are doing a lot of reading and studying, so make sure you always set aside time for such important tasks. Always work on a schedule.
04. Consider taking Online Classes
More and more college people are being allowed to take online classes in addition to or instead of regular private classes. And these days internet classes have become very easy and popular. This will make it easier for you to re-enter the university experience as online classes are a little easier to fit into your schedule than regular classes.
You can go online at any time and look at your assignments and your grades. Online classes are easier and less time-consuming as you do not have to go in and out of campus.
05. Decide how to manage your time well
If you spend more time at school reading and learning while working, make sure you have a good study plan to stay organized. Make a note of everything you do. There is more room for accomplishment and success. Also, give enough time to complete the task in the prepared plan.
 If you are involved with writing assignments, you can always use a professional essay writing service. It will save you time even if you have to pay for it. And you can find other ways to cut some things you don't need. Or it may be postponed until the end of the semester. Then everything will be a little easier for you.
06. Go on your journey with confidence in yourself
The most important step you can take before coming to school is to instill in yourself the positive thought that 'I can do this. You do not want to be frustrated if you cannot get the right pitch so, invest in a good capo. So do your studies with good faith in yourself.
Build the confidence needed to complete your course with the support of friends, family, and peers. It will be important for you to be well on your way to earning your degree and reaching your dreams of higher education. Getting ready to go back to college after 40 is the beginning of a lucrative journey.
If you hold fast to the reasons you need to get back to the top, prove your relentless effort and work hard, it will be a reason to change your life.
To keep your interest going, remember why you started learning. That is, always remember why you went back to school. It helps to get a promotion, make a career change, gain a sense of personal pride and achievement, and strengthen personal growth and job satisfaction. Giving priority to your goals will motivate you and help you focus on the most important things when the task is piled up.
07. Allocate enough time to prepare
As you begin each new course, set aside more time than you think you need to focus on your studies so that you have time to adjust to the extracurricular schedule as you wish.
By allocating more time like that, you can prepare very well for the goals. As learning begins to accelerate, you are less likely to focus on other activities.
Don't Miss: List of paid and free online early childhood education courses
Conclusion
For people with clear goals and inner strength, the above tips will be useful for you in pursuing your dreams and earning your diploma after 40. It covers the basics and key decisions you need to make when going back to university or going to college for the first time.

MUST SEE
Learn effective strategies and techniques to enhance the guest experience in this comprehensive guide....

Investing in high-quality sound equipment is crucial for delivering exceptional live events. Discover the...

Discover various payment options that freelancers should consider for efficient and secure transactions. This...