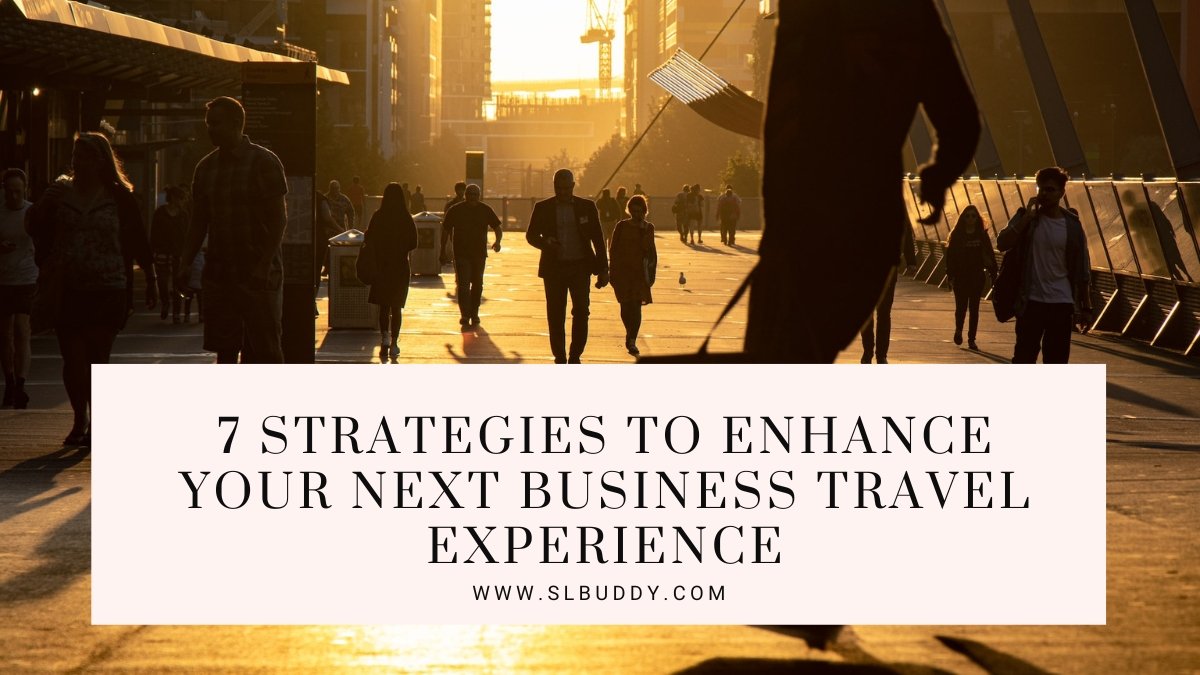 Business travel can be an exciting and productive experience, but it can also be stressful and exhausting. Whether you're heading out for a day trip or a week-long conference, having the right strategies in place will enhance your next business travel experience.
From packing to preparing for jet lag to staying organized on the go, choosing the best transportation option to getting enough rest, here are seven essential tips that will help you maximize your time away from home while still enjoying yourself, and will help ensure that every business trip is both successful and enjoyable.
1. Fun Activities
Avoid the temptation to work all day, every day on your business trip. Instead, find ways to integrate fun activities into your schedule.
Making time for fun and relaxation can help you stay energized and focused on the tasks at hand.
Consider visiting a local museum or gallery, going out for dinner with colleagues, or exploring outdoor attractions in the area if you have time.
You can also take on golfing with your business associates – improve your golf swing speed, have fun, and enjoy time on the course while building relationships with potential customers.
Additionally, check out what local festivals are going on and try to take a few hours to explore the cultural events.
2. Pack Light
Avoid over-packing on business trips. Having too much luggage can be cumbersome, adding stress and taking up valuable time at airports and hotels.
Ensure you're packing only the essentials – clothes for a few days, toiletries, laptop or tablet, charger cables, conference materials, etc. So that you have everything you need without having to lug around multiple bags.
A packing life hack is to lay out all of your items in one spot, then narrow down what you need by taking away unnecessary items. This will help keep your luggage light and allow for more efficient travel.
3. Utilize Technology
Smartphone technology makes it easier than ever to stay connected while traveling on business trips or vacations.
Download the necessary apps ahead of time such as airline, hotel, and destination-specific apps so you can quickly check flight times, book transportation, and locate nearby attractions.
Additionally, save contacts in a cloud-based app like Dropbox or Google Drive so they're easily accessible no matter where you go – just remember to bring along the right charger cables.
For example, if you need to connect with someone in a different time zone, use an app like World Clock so you don't accidentally call too early or too late.
4. Be Prepared for Delays
Unfortunately, delays are oftentimes unavoidable when traveling by air. To avoid any stress associated with this, plan and build extra time into your schedule.
Have a backup plan in case of flight cancellations or delays so there is still some sense of productivity should the situation arise.
Additionally, have a few activities on hand such as reading, playing mobile games, and listening to music, or podcasts that can help keep you entertained while waiting for your flight.
Some delays might also result in missed connections, so make sure to check with your airline ahead of time if they can accommodate you on another flight.
In some cases, airlines may provide a refund or credit for any missed flights and other services. When traveling long distances, it is always wise to bring along some snacks and light refreshments to keep you energized while in transit.
And lastly, avoid scheduling tight connections between flights to ensure that you have enough time to make your next flight.
5. Consider Loyalty Programs
Many airlines and hotel chains offer loyalty programs that reward frequent travelers with benefits like discounts, priority boarding, and free upgrades.
Investigate what programs are available for your destination and take advantage of the rewards offered to make your business travels even more enjoyable.
Flight and hotel loyalty programs are a great way to save on travel expenses while also getting special perks that can make traveling more comfortable.
Look into the different membership tiers offered by airline and hotel reward programs, as they may offer additional benefits at higher levels of membership.
You may also be able to combine points from multiple loyalty programs for even greater savings and rewards.
Additionally, check out credit cards designed specifically for business travelers that offer bonus points and rewards when used for business travel purchases.
Lastly, look into corporate travel discounts with popular airlines or hotels which can provide your company with significant savings on bookings.
6. Stay Healthy
Traveling can be exhausting and expose you to a variety of germs. Make sure to get enough rest, stay hydrated, and eat healthy meals whenever possible – many airports and restaurants have nutritious options that meet certain dietary needs.
Additionally, incorporate physical activity into your routine when possible such as going for a morning walk or jogging around the block before heading off for the day.
Taking care of yourself while traveling will help ensure that you remain productive on any trip.
7. Staying Safe
Whenever traveling abroad make sure to research the destination and familiarize yourself with its laws, customs, tourist attractions, and warnings.
Be aware of your belongings at all times as theft is common in many areas. If possible, avoid walking alone late at night – it's always wise to travel in groups or use public transportation when available.
Additionally, invest in a good quality travel insurance policy so you are covered for any unexpected events that may arise during the trip.
Following these basic safety tips can go a long way toward having a successful business trip.
Planning your routes ahead of time can also help to ensure your safety and make sure you don't get lost in unfamiliar areas. Be aware of other travelers who may try to scam or mislead you while abroad.
Don't miss: 6 Principles and Strategies on Identifying Business Opportunities
The bottom line
Business travel can be stressful if not properly planned. With the right strategies, however, such as packing light, staying organized, and researching your destination, it can be an enjoyable experience.
Be sure to maximize loyalty programs when possible and always prioritize safety so that you can have a successful trip.
And while it may not always be possible to fully relax on a business trip, try to find ways that can help make your travels more comfortable and enjoyable.

MUST SEE
Navigating the hustle and bustle of office life while maintaining good health can be...

The article delves into the often-overlooked importance of hearing health in the healthcare industry,...

From GPS units to emergency kits, this article outlines essential tools that every professional...