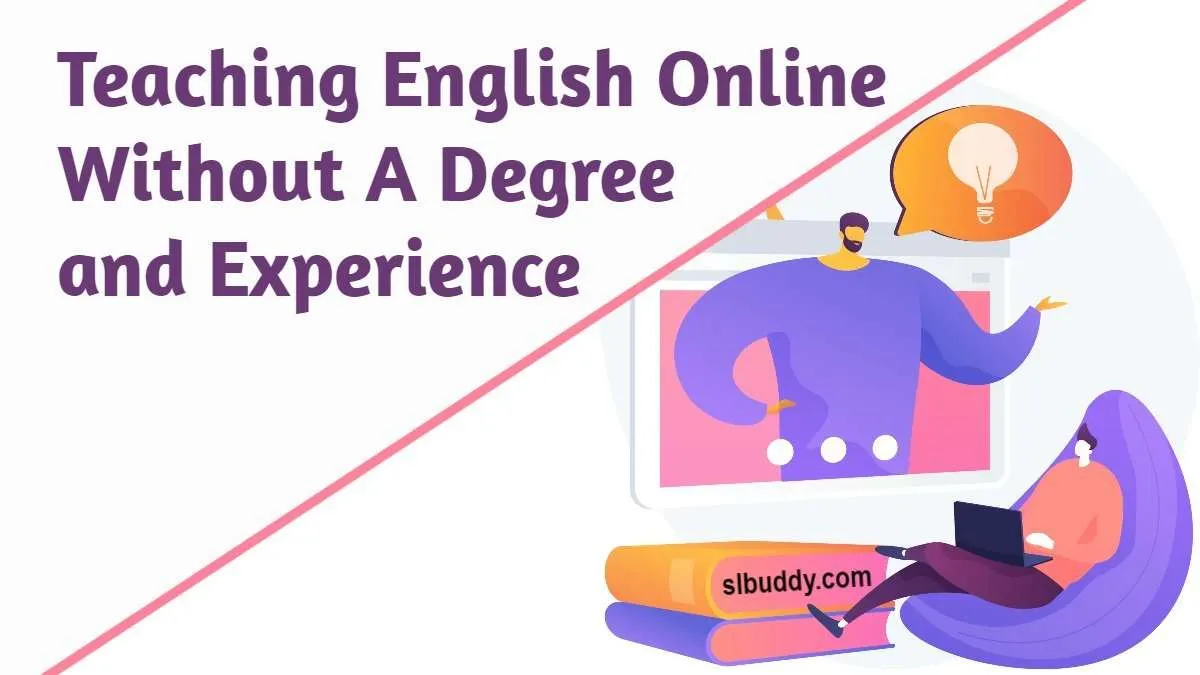 Sometimes, you have your heart set on teaching English online. And also, you're almost ready to apply, but there's one minor snag. You don't have a four-year degree, and the job posting asks for applicants with a bachelor's degree.
So, whether you never went to university or are currently a student who hasn't finished, you're wondering if you can obtain a job teaching online without a degree. Well, it is debatable.
Have you ever considered that teaching English online without a degree is impossible? Please do not believe it! Many online TEFL firms do not need their TEFL teachers to hold a degree. To demonstrate this, we've compiled a list of the top 12 companies/websites to help you get started teaching English online!
So let's take a vivid closer look at the options below and find you the best solution and online teaching job! On the other hand, let's clarify some frequent misunderstandings regarding the needed degree of education and certification for teaching English online.
Websites and The Companies Where You Can Teach English Online no Degree Required
For those who wish to work from home or remotely, teaching English online is a fantastic alternative. Many of the largest online English firms, such as, need a bachelor's degree, but don't panic if you don't have one.
Other wonderful services exist that allow you to teach English online without a degree from the comfort of your own home.
A strong internet connection, a laptop with a webcam, a quality headset and microphone, a quiet working area, and a love for teaching are all required for any of these websites. Applicants must also be at least 18 years old. However, the criteria are as varied as the businesses themselves.
This is the list of the finest organizations to apply to if you're eager to put in the effort and get an online teaching job without a degree. Without a degree, you may teach English online with any of the firms mentioned below.
Also read: Cheapest Online Courses for Teachers
Lingo Live
Lingo Live is a North American-based online language school. The company focuses on offering English courses to companies and individuals from other countries.
Although a degree is not necessary to become a Lingo Live teacher, coaches are expected to have the substantial business knowledge and some professional coaching or teaching experience due to the courses' specialized nature.
In some respects, becoming a Lingo Live coach is more difficult than landing a degree-required online English teaching position. However, if you have business experience but not a formal business degree, it might be the ideal online teaching career for you.
Skyeng
Skyeng is a Russian-based online English tutoring service. The firm mostly teaches English to adult students in Eastern Europe, but it also has a few younger pupils that use the platform.
Skyeng pays less per hour than teaching firms that need a degree, but the rates are still reasonable. Skyeng's recruiting process is quite open, making it a suitable choice for those who want to teach English online without a degree or for teachers who aren't native English speakers.
However, the firm prefers that teachers have teaching credentials in English, such as a TEFL or TESOL certificate.
Classo
Classo is a Korean firm that provides language courses in several languages to Korean students. It allows teachers to teach English online without a degree and languages like German, French, Chinese, and Japanese.
The most crucial thing about Classo is that you be a native or near-native speaker of your chosen language. Classo, like Cambly, allows you to teach 24 hours a day, which is ideal for anyone who needs a flexible schedule.
Open English
Open English is one of the few organizations globally that caters to the Latin American market and offers English language classes to Spanish-speaking students worldwide.
Mainly, it exclusively hires English speakers with a North American accent. However, you don't need a degree or a TEFL certificate if you meet this requirement.
According to the corporate website, teaching experience, a degree, and a TEFL certificate are desirable. The firm also likes to recruit teachers who are fluent in Spanish or Portuguese.
Palfish
Palfish is a well-known app-based English teaching platform that recruits non-degreed teachers.
Teachers must have a TEFL certificate because the firm is headquartered in China. Palfish offers two distinct services. One is for "ordinary teachers" who wish to teach casual classes on their own time.
The other is the so-called "official kid's course," which mandates that teachers work fixed hours. Although neither option requires a college diploma, the official children's course is a little more challenging to enroll in.
Preply
It is an online English teaching platform that allows instructors to establish customized teaching profiles and connect with students.
The Preply platform does not need teachers to have formal credentials because tutors and teachers are responsible for locating their pupils and promoting themselves.
However, because so many competent teachers, degree holders, and TEFL certified tutors use Preply to locate students, finding students can be difficult, and competition on the platform is vital.
Also read: Best Free Digital Art Software for Beginners
Cambly
Cambly is one of the most popular places for online English teachers with no degree to work. It's a global platform that's available 24 hours a day.
Although children are permitted on Cambly, most are adults, and classes are primarily informal and conversational. As a result, no formal credentials are necessary, and the registration procedure is quite simple.
Cambly is a log-in and chat platform, which means you can log in and start teaching any online students. Because students are located worldwide, there are usually individuals accessible to speak with at any time of day.
Golden Voice English
Golden Voice English is a Toronto-based online English as a Second Language (ESL) firm. The firm operates on a similar concept to well-known English teaching companies such as Dada or VIPKid, with one major exception: teachers need not need a degree to apply.
When working at Golden Voice, English teachers may expect to teach up to six youngsters in a group setting. Because the majority of the students are from China, this might lead to some unsociable hours.
On the other hand, Golden Voice is one of the most reliable and higher-paying positions accessible compared to other "no degree necessary" firms.
Cafetalk
Cafetalk is an online teaching platform that may be used for any class. You may teach several disciplines on the site, including music and foreign languages.
The platform, on the other hand, is mostly utilized for English instruction. Most Cafetalk students are adults from Japan who want to enhance their English conversation skills in a comfortable and casual setting.
Cafetalk requires that you be at least 20 years old and a native speaker of the language you choose to teach. As a result, if you're a natural English speaker, you should be able to teach English online using Cafetalk without a degree.
Weblio
Weblio is a Philippine-based online English tutoring service. The firm focuses on the Japanese market, providing English lessons to Japanese students of various ages. There aren't many criteria for instructors to join Weblio.
You must be 18 years old, speak and write English fluently, and be computer literate. This, however, comes at a cost, as Weblio's pay rates are quite low.
Weblio may still be a realistic choice if you're a non-native speaker living in a nation with a low cost of living, but if you reside in the United States or Europe, you may find it challenging to live on the pay that Weblio offers.
Amazing Talker
Amazing Talker recruits English instructors and teachers for over 50 languages, including Chinese, Korean, Spanish, French, and more! Its trial lessons last 25 minutes, while official private sessions last 50 minutes.
You can charge whatever you want as a teacher, and you can set your teaching hours. On the other hand, Amazing Talker charges a 15% commission to support the costs of running their web platform.
Although native speakers are not required to have a certificate or a degree, their application procedure is highly demanding and challenging, with just a 3% acceptance rate.
Tandem App
Tandem is a German-based language exchange software that links individuals from all around the world. Their software is first and foremost a free social networking platform for users to interact while learning a foreign language.
However, they also link more serious students with paid tutors who are looking for one-on-one organized instruction. Students may pay for 20-minute, 40-minute, 60-minute, or 90-minute courses, all delivered through the app.
Tandem organizes all of your language classes for you, so you can show up and teach the language of your choosing – they have over 160 to choose from!
Also read: Online Early Childhood Education Courses
The Job Requirements To Teach English Online Without A Degree
Every English tutoring job has its own set of qualifications, but if you want to teach English online without a degree, you'll need to fulfill these three. So, what are the main job requirements to teach English online without a degree?
Definitely, you should be very good at English. Also, having a TEFL certificate or other teaching credentials is very important. On the other hand, it is very valuable to have some teaching experience for children or kids.
You must be fluent in English
If you're from the US, UK, Australia, New Zealand, Canada, or Ireland, you've already completed the first step toward becoming an online English teacher!
Some organizations will hire you if you're from South Africa or have a strong command of the English language, while others are fussy about the accents of their English teachers.
Possess a TEFL certificate or other teaching credential
Isn't this a piece on how to teach English online without a degree? Absolutely! While a complete college diploma is not required, many online English teaching positions require a TEFL certificate or a teaching license.
If you're wondering what a TEFL certification is, you've come to the right place. It's simply a certificate proving that you've completed formal training to teach English as a foreign language.
Several inexpensive online TEFL courses are available for individuals needing a TEFL, making the certification procedure very easy.
Have some teaching experience or with kids
Many English teaching platforms encourage applicants to have prior experience working with children and teaching and tutoring; however, this is not always required.
It all depends on the employer, but gaining experience might be a competitive advantage required to land a job.
You Should Apply To Teach English Online Without A Degree If:
Teaching English online from home is an excellent method to earn a consistent income while maintaining a flexible schedule.
While each online teaching profession has its criteria, teaching English online without a degree is feasible. So, please consider these things.
Also read: 6 month Masters Degree Programs Online
A bachelor's degree isn't specified as a prerequisite
Examining the education portion of an online English teacher job description is crucial. The majority of online English teaching firms make their minimal education and experience criteria quite apparent.
We understand if you didn't have the time, money, or desire to attend college. Higher education is becoming increasingly expensive.
Not only that, but many people have degrees they don't require for their professions or work in fields that have nothing to do anything with their major. If the job description doesn't specify that a degree is required, it's safe to presume that a candidate without one will be considered.
You don't have a degree in education
When reading job advertisements, make sure you don't confuse "bonus" or "nice-to-have" criteria, such as a teaching license, with "must-have" ones.
Your bachelor's degree may be nearly anything when it comes to teaching English online, with almost no exclusions. This implies you don't have to be an English, linguistics, or education major.
While submissions from licensed or qualified instructors are encouraged, all required is fluency in English and a bachelor's degree in any field. Depending on the organization, recruiting, experience teaching, coaching, or mentoring children or adults may be needed or considered a plus.
You're pursuing your academic goals
During college, free time is limited, but as expenditures mount, a part-time or flexible schedule job is a smart option to offset costs while still leaving enough time for academics and extracurriculars.
Many online English teaching firms will hire you if you're presently enrolled in a college program and seeking a side career with flexible hours that you can perform from home.
Suppose you want to teach English as a second language overseas for a semester or after graduation. In that case, there's no better way to get your application noticed than to acquire firsthand experience instructing English language learners.
You've taught before but don't have a degree
If you have sufficient teaching experience, some teach abroad employers will not need you to have a college degree. You might also coach English online on a freelance basis if you don't have a degree but are already an experienced ESL instructor, have some business experience, and enjoy the concept of being your boss.
Of course, this method will need more labor to market your services and find your English students properly.
However, due to the nearly insatiable need for online English lessons, it's a long-term alternative that may grow into a lucrative profession if you successfully establish a stable student base.
You have a certificate in English as a Second Language (ESL) but no degree
If you're a natural English speaker without a degree or experience to back up your online English teaching employment application, we strongly advise you to get TEFL certified.
There are also entirely online TEFL classes available, so you won't have to leave your house to obtain your certification!
Also read: 1 Year Masters Degree Programs Online
Don't Earn Less Money As A Teacher If You Don't Have A Degree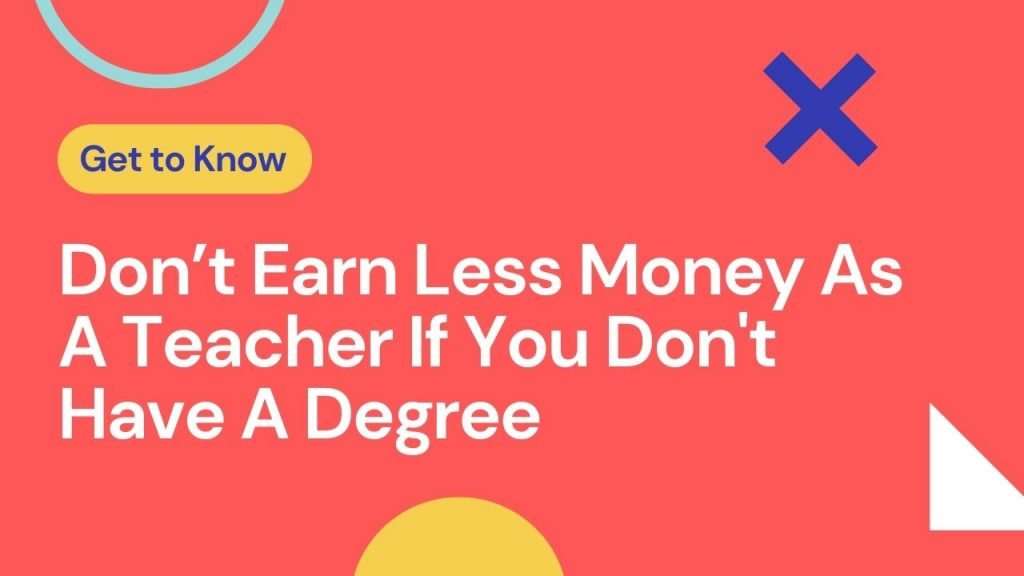 It's natural to anticipate a career that doesn't require a degree to be underpaid, especially when compared to a comparable one.
Fortunately, this isn't the case with online education. We've looked at thousands of positions here at ESL Authority, and there's no need to think you'll get less just because you don't have a degree.
Again, this will vary for specialist professions, but we've found that the average salary stays between $15 and $20 per hour regardless of an applicant's skills.
This implies that if a firm or school attempts to give you less because you don't have a degree, you shouldn't feel terrible about declining. There are too many alternative jobs out there that will offer a decent income.
Without A Degree, You Can Prepare To Teach English Online
Even if you don't have any degree or any previous teaching experience, there is a lot of material available to you. As your preparation to enter the world of online teaching, plenty of blogs and YouTube channels give ideas, training, and assistance, but it won't be simple.
It's worth pursuing an online TEFL degree if you want to take it a step further and truly give yourself a leg up and improve your appeal as a job applicant.
Even if you don't get a sparkling certificate at the end, these courses will help you prepare for and comprehend English teaching.
The course introduces you to language teaching theory while also preparing you for the lessons and classes ahead. Furthermore, many of these programs provide excellent networking possibilities if you contemplate ESL or TEFL as a long-term profession.
Also read: Best Entrepreneurship Courses Online Degrees
FAQ
Can I teach English online without any degree?
Yes, even if you don't have a degree, you can teach English online. While some of the larger online teaching firms do need a degree, many do not. A TEFL certification can give you the training and credentials you need to work as an online English teacher.
Is it incredibly possible for me to teach English online without having a TEFL certificate?
Many online teaching firms demand a TEFL certificate, and even if they don't, having a TEFL certificate will give your online teacher profile that competitive edge. 
You'll also need a certificate to acquire a job with a respected firm since the employment market is growing more competitive.
Is it possible to teach English online if you have an associate's degree?
With an associate's degree, you can teach English online. With an associate's degree plus a TEFL certification, you'll have the training and credentials you need to be employed to teach English online.
Conclusion
Education, in any form, is not to be taken lightly, and just because you may teach English online without a degree does not depict that any element of it will be simple.
Teachers who are well-prepared love their professions and earn the most outstanding money. They are prepared, have done their study, and have a strategy for approaching the industry.
Several excellent online English schools do not need professors to have a college diploma. If you wish to get your feet wet before jumping on a plane and teaching overseas, or if you want to make some additional cash, teaching online is a fantastic option.
Hundreds of schools are seeking online instructors. Each school has its own set of benefits and disadvantages, so do your homework and ensure the school you select is a proper fit for your ESL teaching objectives.

MUST SEE
Navigating the hustle and bustle of office life while maintaining good health can be...

The article delves into the often-overlooked importance of hearing health in the healthcare industry,...

From GPS units to emergency kits, this article outlines essential tools that every professional...