Outdoor dining is more than a mere trend; it's a cultural phenomenon that has reshaped how we view and utilize our living spaces.
Originating from Mediterranean cultures where food, family, and the outdoors seamlessly interweave, it's now a common feature in many homes worldwide. It brings a certain charm and functionality to your patio that indoor dining simply cannot replicate.
An outdoor dining haven not only adds aesthetic value to your home but also presents opportunities for wholesome family gatherings and memorable social events.
Imagine enjoying your breakfast amidst the aroma of blooming flowers, or hosting a barbecue party under starlit skies; the possibilities are endless.
By transforming your patio into an outdoor dining area, you'll create a versatile space that enriches your lifestyle and enhances your home's overall appeal.
Evaluate and Theme Your Space
Begin your transformation by assessing your patio's size, shape, and existing attributes.
Couple this understanding with a chosen theme that mirrors your personal style, such as rustic, modern, or Mediterranean, to offer a cohesive and inviting aesthetic.
Consider using durable and weather-resistant furniture that can withstand the elements, but also provide comfort and support.
Add some color and character to your space with vibrant seat cushions, patterned table linens, or unique lighting fixtures.
If you want to take it a step further, consider incorporating natural elements like potted plants, hanging vines, or a water feature to elevate the ambiance and bring life to your outdoor dining haven.
Invest in Durable Furniture and Comfy Add-ons
Opt for weather-resistant materials like teak, resin, or metal. Complement these with outdoor rugs and pillows, which provide coziness and help define your dining area.
Furthermore, whether you decide to go for Temple and Webster outdoor dining sets or custom-make your own, ensure that the furniture fits your theme and can accommodate guests. Folding tables and chairs are great alternatives for smaller patios or when hosting larger parties.
When looking to purchase new furniture, you would want to ensure that it not only complements your space but also stands the test of time.
Most importantly, choose seating that guests would love to linger and relax in, as they enjoy the warmth of the sun or a cool breeze.
Implement Effective Lighting and a Heat Source
These two elements are crucial for extending your usability of the space into the evening and cooler months.
Consider options like string lights, lanterns, or LED candles for a warm glow, and an outdoor fireplace or patio heater for warmth.
These additions not only provide functionality but also create a cozy and inviting atmosphere that encourages people to linger long after dinner is over.
By investing in proper lighting and heating, you'll be able to enjoy your outdoor dining haven no matter the time of day or year.
The lighting should be soft enough to create a relaxing ambiance but bright enough for guests to see each other and their food clearly.
Create an Outdoor Kitchen or Bar
One of the most significant advantages of an outdoor dining haven is its flexibility, which enables you to create different zones to suit your needs.
If you love entertaining, consider building an outdoor kitchen or bar area that will allow you to cook and serve meals without having to go back inside.
You can opt for a basic setup with a grill, countertop, and sink or go all out with appliances like a refrigerator, built-in BBQ, and even a pizza oven.
Not only does this enhance the dining experience, but it also eliminates the need for multiple trips indoors to fetch food and beverages.
Plus, who wouldn't want to feel like they're on vacation in their own backyard? Outdoor bars and kitchens not only add functionality to your space but also make it easier for you to relax and enjoy yourself.
Invest in Quality Tableware and Serving Essentials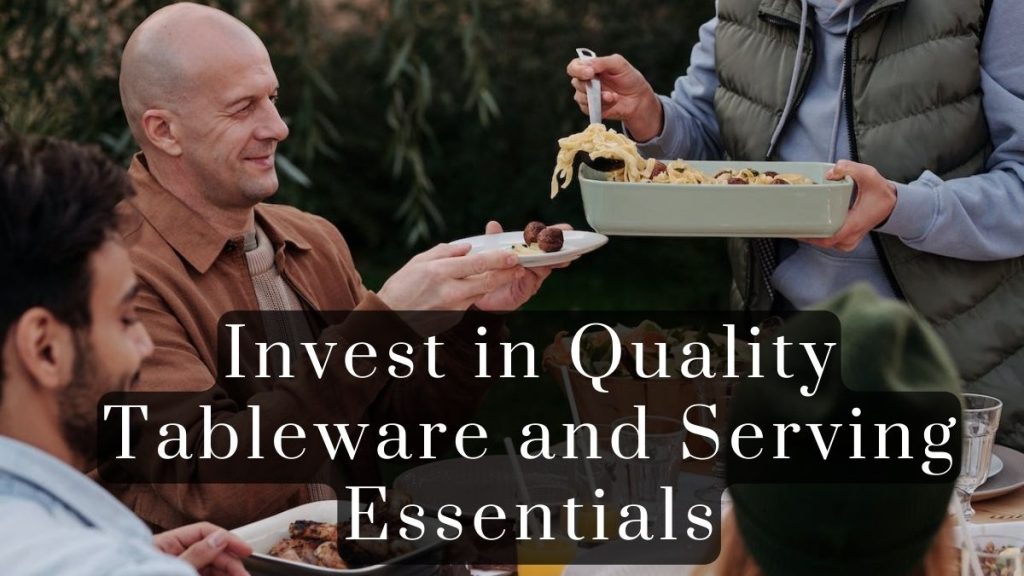 Elevate your dining experience by investing in quality tableware and serving essentials that not only look good but also withstand outdoor elements.
Opt for unbreakable and shatterproof dinnerware, glasses, and flatware that can handle the occasional drop or gust of wind.
Placemats, coasters, and trays are also great additions that add a touch of style while protecting your furniture.
When it comes to food prep and serving, consider investing in durable and easy-to-clean accessories like bamboo cutting boards, stainless steel utensils, and serving trays.
These essentials not only make your outdoor dining experience more enjoyable but also require minimal maintenance.
Install Shade and Greenery
Protect your dining area from the sun using a pergola, umbrella, or sail shades. Meanwhile, introduce potted plants or hanging baskets to add vibrancy and life to your patio.
You can also incorporate a vertical garden or living wall to create a stunning backdrop for your outdoor dining area.
Plants not only add color and texture but also help purify the air, creating a healthier and more inviting space.
Additionally, they provide natural shade while attracting pollinators like bees and butterflies, adding to the overall charm of your outdoor haven.
Furthermore, you can use plants to create privacy and reduce noise from neighbors or traffic, making your dining experience more intimate and peaceful.
Consider Entertainment and Storage Solutions
An outdoor sound system or flat-screen TV can add a fun element, while a deck box or storage bench can keep your dining supplies handy but out of sight.
Remember, your outdoor dining haven should be as functional as it is beautiful.
Therefore, consider incorporating storage solutions that keep your space tidy and organized.
This not only prevents clutter but also makes it easier to set up for meals or gatherings.
Meanwhile, an entertainment system adds a modern twist and creates a more immersive dining experience.
With the right additions, you'll be able to enjoy your outdoor haven even more while impressing your guests with your attention to detail.
Don't miss: Useful Information You Should Know About Plot Plans
The bottom line
Transforming your patio into an outdoor dining haven is a worthwhile investment that offers numerous benefits.
It not only adds aesthetic value and functionality to your home but also enriches your lifestyle and provides opportunities for memorable gatherings and events.
By evaluating and theming your space, investing in durable furniture and comfortable add-ons, implementing effective lighting and heating, creating an outdoor kitchen or bar, and investing in quality tableware and serving essentials, you can create a versatile and inviting outdoor dining haven that you and your loved ones will enjoy for years to come.

MUST SEE
Explore the diverse and rewarding career pathways in early childhood education. This article provides...

Navigate the path to real estate success with a focus on the role of...

Discover the art of superior roofing solutions with 'Craftsmanship Unleashed.' This article dives into...