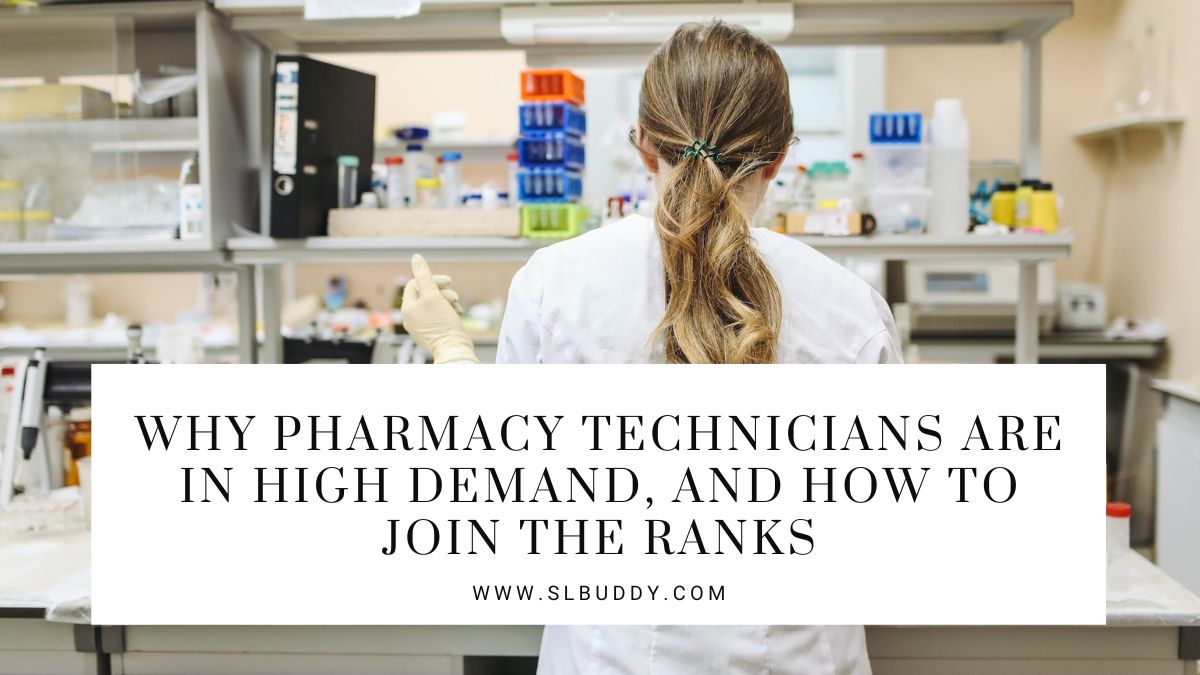 Are you considering a career as a pharmacy technician? If so, you're joining the ranks of other qualified professionals who have identified this profession as being in high demand.
But, why is it such a desirable position and what are the steps to realize your goals? This blog post will provide an overview of why pharmacy technicians are so sought after and outline strategies on how to join these coveted roles.
As a result, not only will you understand more about the profession but also discover insights on ways to improve your chances for success.
Introducing Pharmacy Technicians: What Are They and What Do They Do
Pharmacy technicians play a vital role in the healthcare industry by supporting pharmacists in dispensing medication to patients.
They work behind the scenes to ensure that prescriptions are filled accurately and in a timely manner.
In addition to counting pills and labeling medications, pharmacy technicians also communicate with healthcare professionals to clarify medication orders and check for potential drug interactions.
They play a crucial role in maintaining patient safety and are responsible for maintaining accurate records of all medications dispensed.
Moreover, proper education, whether seeking a Florida pharmacy tech license or another, is critical for success in the field. Especially when dealing with controlled substances.
Overall, pharmacy technicians provide essential support to pharmacists and play an integral role in ensuring that patients receive the medications they need.
Why Pharmacy Technicians Are In High Demand
With the steady increase in the aging population and the development of new medications, it is no surprise that there has been a sharp rise in the demand for pharmacy technicians in recent years.
These skilled professionals work alongside licensed pharmacists to ensure that patients receive the highest quality care and medication management possible.
From filling prescriptions to answering questions about drug interactions and dosages, pharmacy technicians play a vital role in the healthcare system.
With the promising job outlook and potential for career advancement, it is no wonder that many individuals are pursuing a career in pharmacy technology. With the need for healthcare workers constantly on the rise, pharmacy technicians are certainly a field to consider.
Education Requirements for Becoming a Pharmacy Technician
Pharmacy technicians play a critical role in ensuring that patients receive the right medications at the right time.
To become a pharmacy technician, individuals must meet certain education requirements.
These requirements vary by state and employer but typically involve completing a training program, obtaining certification, and acquiring hands-on experience. Pharmacy technician training programs may be offered at vocational schools, community colleges, or online and typically take one to two years to complete.
Certification can be achieved by passing an exam administered by the Pharmacy Technician Certification Board or the National Healthcareer Association.
Many states also require pharmacy technicians to have a license or registration, which typically involves passing additional exams or meeting other requirements.
By meeting these education requirements, aspiring pharmacy technicians can gain the skills and knowledge needed to provide safe and effective medication management services.
Skills Necessary To Become a Successful Pharmacy Technician
Becoming a successful pharmacy technician takes hard work, dedication, and a certain set of skills. As with any profession, it's important to first understand what the job requires, and how to meet those demands.
Some important skills necessary for a pharmacy technician include attention to detail, excellent communication skills, and a strong work ethic.
Pharmacy technicians work in a fast-paced environment where they need to be able to multi-task and prioritize effectively.
They must have in-depth knowledge of pharmacology and medication safety, and be able to accurately prepare prescriptions.
Additionally, they must be able to work well as part of a team and be committed to continuous learning and development.
Benefits of Working as a Pharmacy Technician
Working as a pharmacy technician is a career path that offers a range of benefits that make it a highly sought-after vocation in the healthcare industry.
Pharmacy technicians play a critical role in supporting pharmacists to provide high-quality patient care.
As a pharmacy technician, you will have the opportunity to work closely with patients, healthcare professionals, and other members of the healthcare team.
This role offers a mix of technical and people skills that can help you build a strong foundation for a career in healthcare.
Additionally, pharmacy technicians enjoy a competitive salary, job security, career advancement opportunities, and flexible work schedules.
Furthermore, pharmacy technicians can take advantage of continuing education opportunities to stay up-to-date with the latest developments in medication management and pharmacology.
In case of retirement, pharmacy technicians can also enjoy comfortable pension benefits.
How To Get Started in the Field of Pharmacy Technicians
If you're someone who's always been fascinated by the field of medicine, then a career as a pharmacy technician might just be the perfect fit for you.
As a pharmacy technician, your role in the healthcare industry is crucial, as you'll be responsible for preparing and dispensing medication to patients and working alongside pharmacists to ensure the safety and efficacy of the medication.
But where do you even begin to get started in this field? The first step is to look into accreditation programs that will provide you with the necessary training and education to become proficient in the field.
From there, you'll gain hands-on experience in a pharmacy setting and work towards obtaining certification.
Don't miss: How Long Does it Take to Become a Nurse
The bottom line
While it is an effective and rewarding career move, it will also require dedication and hard work on the part of those wanting to join the field.
A pharmacy technician must have education beyond a high school diploma plus hands-on skills in order to be successful, along with qualifications such as being detail-oriented and organized.
People may choose to opt into pharmacological programs at universities or online classes; they should also seek special certification if they would like to become eligible for more prestigious positions within the industry.
Those willing to put their best foot forward will find themselves succeeding in this fast-paced profession that offers so much satisfaction in knowing every day you helped someone get better medication faster than before.
Pharmacy Technicians are highly sought after as are medical professionals who specialize in improving healthcare access – there's no denying that this is one of the most challenging and rewarding roles out there!

MUST SEE
Navigating the hustle and bustle of office life while maintaining good health can be...

The article delves into the often-overlooked importance of hearing health in the healthcare industry,...

From GPS units to emergency kits, this article outlines essential tools that every professional...