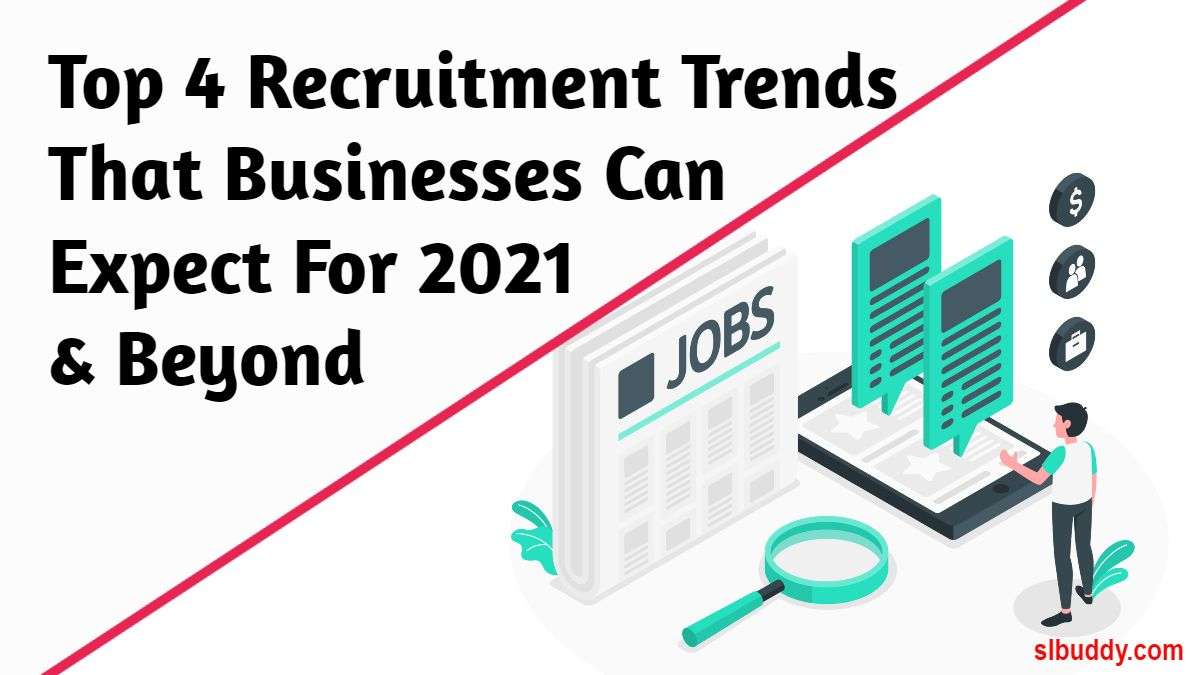 The pandemic has changed the way we run our businesses, our education, our business dealings, and much more. This is the main reason why recruitment a few years ago looks different than it does today.
To navigate in a rapidly changing environment, many organizations must respond to social justice campaigns, switch to full-time remote staff, and determine the best way to support the well-being of employees. Virtual recruitment is the emerging trend you find with top hiring agencies. It is a time when more and more different skills are being integrated with urgent needs than ever before.
This article discusses three recruitment trends that all businesses can look forward to in 2021 and beyond.
Remote Interviews
Even if you are not in a traditional office, there are many ways to face it. One of the most important trends that have emerged as a direct response to the pandemic is remote interviews. This is the most popular situation these days for the conference, and almost every company has remote discussions. You can also experience first, second, and third-round interviews for a remote job online.
If some business companies want to acquire new skills after the epidemic, they do so through remote interviews. It is very convenient and cheap for them.
Remote work has become a new norm in the current situation. Also, potential candidates will not be able to travel, use air travel and appear in person for the interview. Therefore, recruitment companies and prospective candidates have to work with long-distance interviews.
Although remote interviews have been a major trend since the epidemic, it still comes with a variety of challenges. For example, it can be a bit difficult to represent a candidate in a professional way.
60% of managers believe that office workers perform better than remote employees. On the other hand, it is better to pay employees in the office a higher salary than those who work from home.
Don't Miss: The Best Recruiting Strategies for Hiring Experienced Employees
In addition, when someone is interviewing, it can lead to an unstable internet connection that can be very annoying and embarrassing. Except for Internet connection problems, there may be other issues. Another possible setback in remote interviews is the presence of pets or children that can distract unwanted attention.
The company you are interviewing for can do it in several ways, such as a remote interview, an online interview, a video interview, or a virtual interview. If you already have an awareness of working remotely or working from home, you are familiar with how to stay in touch while working remotely.
Employee Experience
Another trend affecting recruitment agency services revolves around the candidate's experience. In other words, while looking for potential jobs; prospective candidates are looking for an employer who demonstrates the best employee experience that is mandatory in remote work.
In terms of employee experience, prospective candidates are looking for a job that allows them to achieve a perfectly balanced work-life balance. Besides, many potential employers are concerned about their mental, emotional, and physical well-being. It is imperative that employers create a conducive work environment for employees to perform well.
By having the perfect candidate and work experience, prospective employees have a reason to stay in the company and continue working.
That is, companies focus on positivity and company culture, and by providing the best employee experience to prospective employees, those companies succeed in making long-term profits. This successful period also includes remote working time.
Don't Miss: Best and Free Accounting Software for Small Business
These companies also guarantee regular feedback from candidates and employees to enhance their experience. This will help companies to enhance the recruitment experience of prospective candidates.
What is a Candidate Experience?
Candidate experience continues even after the inclusion of potential candidates after transferring them to the job pool. The candidate experience includes how companies communicate with prospective candidates, how interviews are conducted and organized, and how follow-up processes are implemented.
In a competitive job market, overall recruitment experience is essential to attract the best skills for your companies. This is because the level of future employees and the success of the company depends on the recruitment procedure of your company.
But it does help to win competitive skills from your competitors and maintain a strong foothold in your place, because the stability of your business depends on the capabilities of your employees.
Diverse Company Culture
Another area that needs to be considered in the recruitment market is diversity and inclusion. According to statistics, businesses with a diverse and all-inclusive workforce are more likely to increase profitability and productivity.
As I mentioned earlier, the capabilities and efficiency of your company's workforce directly affect the success of the company.
With changing dynamics in the workplace, potential candidates hope to connect with companies that offer diversity and inclusion.
It shows flexibility, openness, and no prejudice to the candidates. The culture of different companies shows that candidates are accepted based on their qualifications, skills, abilities, and experience. Potential recruiters and companies are now responsible for introducing different candidates who come from different backgrounds and have a lot to offer.
As business leaders struggle to navigate a rapidly changing environment, many organizations need to raise their priorities and plans.
Don't Miss: Does Temporary Employees Consider Occupational Safety measures?
Conclusion
Employers need to look from managing employee experience to managing their employees' life experience. The epidemic has led business leaders to face unprecedented personal and professional struggles over the past year. They also have to increase the visibility of their employees' personal lives.
Employees need to build a more productive work environment to support their personal lives. Recruiting good employees can lead to a higher level of performance. Many organizations have already formed a hybrid workforce, or are planning a hybrid workforce for this year. It allows employees to work from the corporate office, from their home, or an alternative third place.

MUST SEE
Navigating the hustle and bustle of office life while maintaining good health can be...

The article delves into the often-overlooked importance of hearing health in the healthcare industry,...

From GPS units to emergency kits, this article outlines essential tools that every professional...