In today's digital era, having a business without a website is akin to having a car without wheels — it simply won't get you anywhere fast.
A meticulously crafted website has the power to propel your business to new heights, acting as an influential marketing tool that showcases your products, services, and unique selling proposition.
This comprehensive guide presents six indispensable tips to assist you in creating a captivating website that not only enthralls visitors but also converts leads and fosters your business's growth.
Whether you're starting from scratch or revamping an existing site, these invaluable tips will enable you to maximize your online presence effectively.
1. Prioritize User Experience (UX)
A successful business website is one that prioritizes User Experience (UX). The website's design should be intuitive, ensuring that visitors can easily navigate and find the information they're seeking swiftly.
This includes having a responsive design that adapts to any device (desktop, tablet, mobile), clear call-to-actions (CTAs), and fast loading speeds.
Remember, a user-friendly website is likely to retain visitors longer, increasing the chances of converting them into customers.
On the other hand, a frustrating user experience can lead to high bounce rates, indicating that users are leaving the site without taking any action.
To avoid this, constantly test and optimize your website's UX to ensure it meets visitors' expectations.
There are numerous tools that can assist in analyzing your website's UX, such as Google Analytics and Hotjar.
These tools provide valuable insights into user behavior, helping you identify any pain points that need to be addressed.
Try to put yourself in your visitor's shoes and think about what they would want to see or how they would want to navigate through your site.
2. Create Engaging and High-Quality Content
In addition to an eye-catching design, having high-quality and engaging content is crucial for a successful business website.
This includes catchy headlines, informative product or service descriptions, and valuable blog posts that establish your authority in the industry.
Moreover, regularly updating your content not only keeps visitors coming back for more but also boosts your website's search engine ranking.
Remember to use keywords strategically to improve your website's visibility on search engines.
You can also enlist the help of a professional copywriter to ensure your content is polished and compelling.
This not only saves you time but also ensures your website is consistently delivering top-notch content to your audience.
There are also various online tools available to help with keyword research and optimizing your content for SEO.
Before you decide on your content, research your target audience's pain points and interests to ensure your website provides the information they're seeking.
3. Register Your Domain Name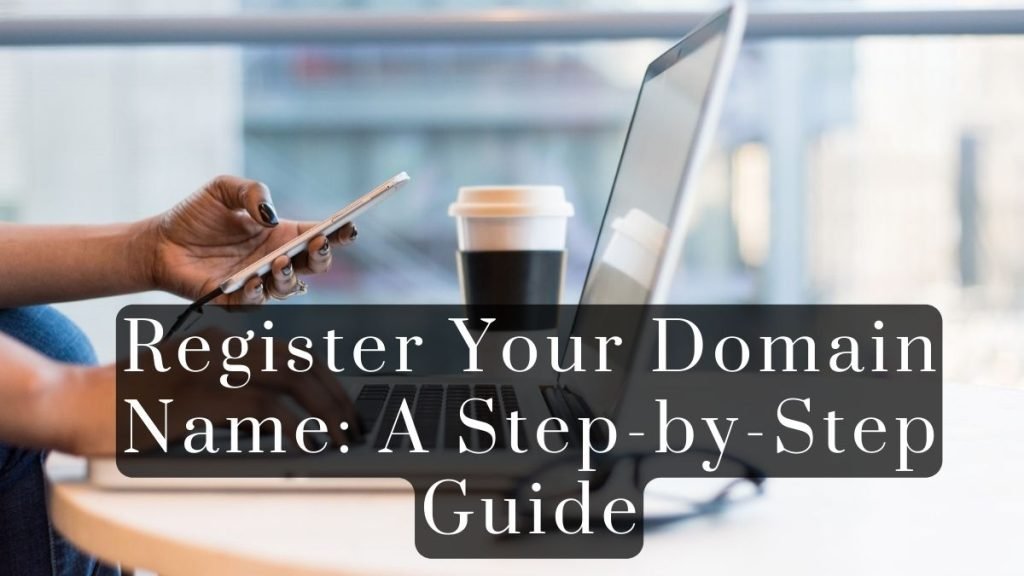 Choosing and registering a domain name for your business website is an important step in establishing your online presence.
Your domain name should be easy to remember, relevant to your business, and preferably end in .com. This ensures that visitors can easily find your website and trust its legitimacy. Namely, whether you are interested in UK domain name registration, or any other country-specific domain, make sure to choose a reputable and reliable domain registrar.
For example, one of the important things to consider is the privacy of your personal information.
A reputable domain registrar will offer WHOIS privacy protection, which keeps your personal details from being publicly accessible.
You can also choose to register multiple domain extensions (such as .net, and .org) to protect your brand and prevent competitors from using similar domain names.
Make sure to also renew your domain name registration periodically to avoid expiration and potential loss of your website's online identity.
This can be done easily through automatic renewal options provided by most domain registrars.
4. Utilize Social Media and Other Digital Marketing Channels
Having a strong social media presence allows you to engage with potential customers, promote your products or services, and drive traffic to your website.
Additionally, other digital marketing channels such as email marketing and search engine optimization (SEO) can also significantly boost your website's visibility and attract potential customers.
Remember to tailor your brand message across all channels and maintain consistency to establish a strong online presence.
This includes using high-quality visuals, consistent branding, and monitoring customer engagement to continuously improve your strategy.
Another effective way to attract visitors and potential customers is by offering valuable promotions or discounts through these channels.
This provides an incentive for customers to visit your website and potentially make a purchase.
When you need to promote an upcoming sale or offer, social media, and email marketing can be powerful tools to reach a wider audience.
5. Incorporate Contact Information and Customer Support Options
A website is not just a platform to showcase your products or services; it's also a means of communication with potential and existing customers.
Ensure that your website includes clear contact information, such as a phone number and email address, to make it easy for customers to reach you.
Additionally, consider offering customer support options such as live chat or a FAQ section to provide prompt and helpful assistance.
While it can be tempting to automate customer support, remember that personalized interactions can significantly improve customer satisfaction and loyalty.
When customers feel valued and heard, they're more likely to return and recommend your business to others.
Knowing your target audience and providing them with the support they need is key to a successful website.
6. Monitor and Analyze Website Performance
Ensuring the constant monitoring and analysis of your website's performance is crucial.
This entails tracking website traffic, conversion rates, and user engagement to pinpoint areas for improvement.
Utilizing tools like Google Analytics provides valuable insights into your website's performance, enabling data-driven decisions to enhance your online presence.
Remember, a successful business website is an ever-evolving platform that necessitates continual updates and improvements.
Stay vigilant to industry trends and customer feedback to ensure your website remains relevant and effective in achieving your business goals.
When done right, your website can be a powerful tool in driving your business's success and growth.
Don't miss: 15 Master Voice-Over Jobs for Beginners from Home
The bottom line
Establishing a robust and engaging online presence through a well-designed business website is an indispensable aspect of modern entrepreneurship.
By prioritizing user experience, creating high-quality content, registering your business name, leveraging social media, offering excellent customer support, and consistently monitoring your website's performance, you can effectively attract, engage, and retain customers.
Remember, your website isn't just a virtual storefront—it's a dynamic platform that mirrors your business's values, showcases its uniqueness, and drives its growth.
As technology and customer preferences continue to evolve, so should your website. Keep refining and elevating your online presence to stay ahead in this rapidly changing digital landscape.

MUST SEE
Explore the diverse and rewarding career pathways in early childhood education. This article provides...

Navigate the path to real estate success with a focus on the role of...

Discover the art of superior roofing solutions with 'Craftsmanship Unleashed.' This article dives into...