When the time comes to put your house on the market, it's not just the interior that potential buyers are interested in; the exterior, particularly the garden, plays an equally vital role.
A well-maintained, aesthetically pleasing garden can greatly increase the value of your property and create a positive first impression that could make or break a sale.
Many potential buyers envision themselves relaxing or entertaining in the garden, and a well-presented outdoor space can help them do just that.
In this document, we will delve into six practical and effective ways to enhance your garden's appeal, which will not only attract more potential buyers but also increase the chances of securing a successful sale.
1. Spruce Up Your Garden with Seasonal Blooms
A splash of color can have a huge impact on the overall look and feel of your garden. Planting seasonal flowers is an easy yet effective way to instantly transform the atmosphere and make it more inviting.
Opt for vibrant flowers such as petunias, daisies, dahlias, or snapdragons that will bloom during different times in the spring, summer, and autumn.
Not only will this add an eye-catching visual element, but it will also provide a pleasant scent that could make all the difference when potential buyers come to inspect your property.
You can also consider adding a few potted plants, such as succulents or herbs, that are easy to maintain and can be moved around in different areas of the garden.
Place them around the entrance, patio, or terrace area to give a more welcoming and homely feel.
2. Use Metal Planters or Baskets for a Contemporary Look
Metal planters and baskets are ideal for creating an ultra-modern look that can add character to your garden.
Namely, it is important to be strategic when finding the right place for your metal planters since they can heat up quickly in the sun. Finding a reputable online garden store where you can learn from the experts and buy the right plants to fill your planters is crucial.
When it comes to hanging baskets, you can easily create a unique look by using different sizes and shapes of baskets.
Consider adding trailing plants such as verbena or ivy for an even more dramatic effect that will make your garden stand out from the rest.
3. Create a Seating Area for Relaxation
Creating an outdoor seating area is always a good idea if you're looking to attract potential buyers.
It gives them the opportunity to picture themselves relaxing or entertaining their friends in the garden.
Choose comfortable furniture that will blend into the existing landscape and opt for natural materials such as wood or rattan.
If you don't have a lot of space, you can still include some seating by investing in low chairs or benches that are more suitable for compact areas.
Remember to add plenty of pillows and cushions to give the seating area a cozy feel.
You can also use umbrellas as an additional accessory, which will not only look aesthetically pleasing but will also provide shade on hot days.
4. Install Outdoor Lighting for a Magical Touch
Consider soft lighting that will give the garden a magical touch without taking away from its natural beauty.
This could be anything from hanging string lights around patio chairs to installing spotlights for illuminating trees or pathways.
If you're looking to create a more intimate atmosphere, consider adding some tea lights and lanterns that will set the mood in the evening and make your garden look stunning after the sun has gone down.
Even more so, your house number can be illuminated with modern LED lighting that will make it easier to find at night.
Small touches like this can make all the difference when it comes to selling your house.
5. Install Some Garden Art or Statues
You can easily elevate your garden's design with the addition of some eye-catching pieces of art.
Whether you opt for stone sculptures, metal ornaments, or modern abstract pieces, adding a unique touch with custom artwork can be a great way to make your garden stand out from the rest.
If you're going for a more natural look, consider including terracotta or concrete statues of popular animals.
Not only will these pieces create a striking visual display, but they can also provide a talking point for potential buyers.
A great option if you have a small garden is to construct a vertical wall feature or a living wall.
This can instantly add height and vibrancy to your outdoor space, making it appear bigger than it actually is. Use a variety of plants with different colors and textures to create a stunning aesthetic.
Not to forget, you can transform your garden into an enchanting oasis with the addition of a captivating water feature.
Whether it's a tranquil pond, an elegant fountain, or a mesmerizing waterfall, the possibilities are endless.
Add decor elements such as pebbles, river stones, or colorful fish and you will have created an inviting outdoor space that potential buyers can't ignore.
Your water feature can be an excellent focal point that brings the whole garden together and gives it a finished look.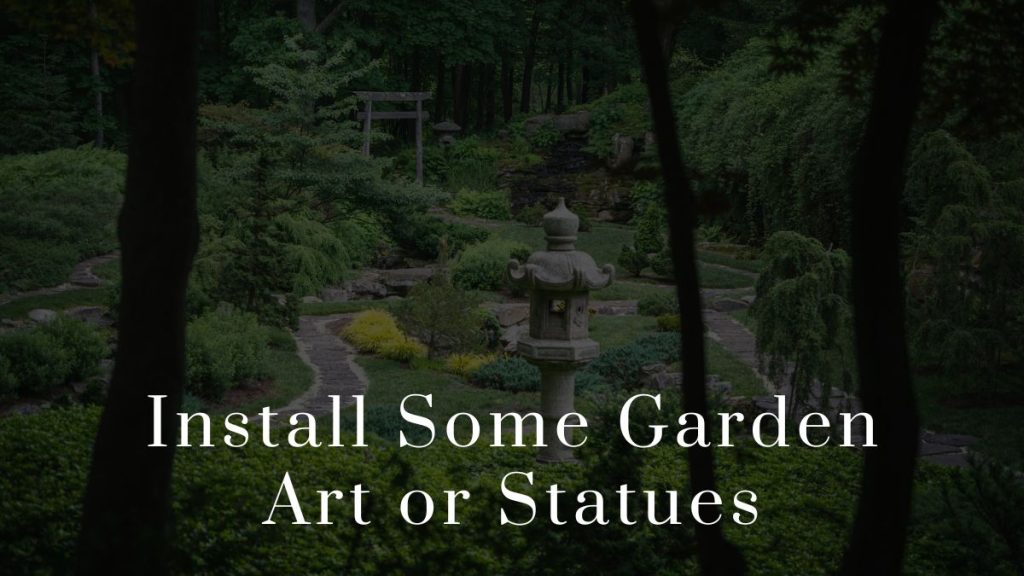 6. Keep the Lawn in Pristine Condition for a Welcoming Look
Nothing says 'welcome home' more than a lush, inviting lawn. Keeping your grass in top condition will go a long way when it comes to selling your house.
Make sure you mow the lawn regularly and give it an appropriate amount of water throughout the year.
If you want to take things up a notch, consider planting some colorful shrubs along the edges or adding flower beds for an explosion of color.
Adding a pathway or stepping stones can also provide a finishing touch to your garden and allow potential buyers to explore each corner of it with ease.
Use consistent materials such as stone, brick, or wood to maintain the aesthetic look throughout the space.
Don't miss: How is Rental Income Taxed When You Have a Mortgage
The bottom line
Selling your home is a significant decision and preparing your garden can significantly increase your chances of a successful sale.
An inviting and well-kept garden not only adds to the aesthetic value of your property but also allows potential buyers to envision themselves enjoying the outdoor space.
By incorporating vibrant flowering plants, contemporary planters, comfortable seating areas, magical outdoor lighting, captivating water features, unique garden art, and a lush, pristine lawn, you can truly transform your garden into a buyer's dream.
Remember, a well-planned and maintained garden can be the difference between a quick sale and your house sitting on the market. Let your garden do the talking and make that sale happen!

MUST SEE
From GPS units to emergency kits, this article outlines essential tools that every professional...

Navigating the legal system can be daunting, but this article outlines six critical scenarios...

Dive into the world of IP leasing, a digital frontier where technology meets smart...