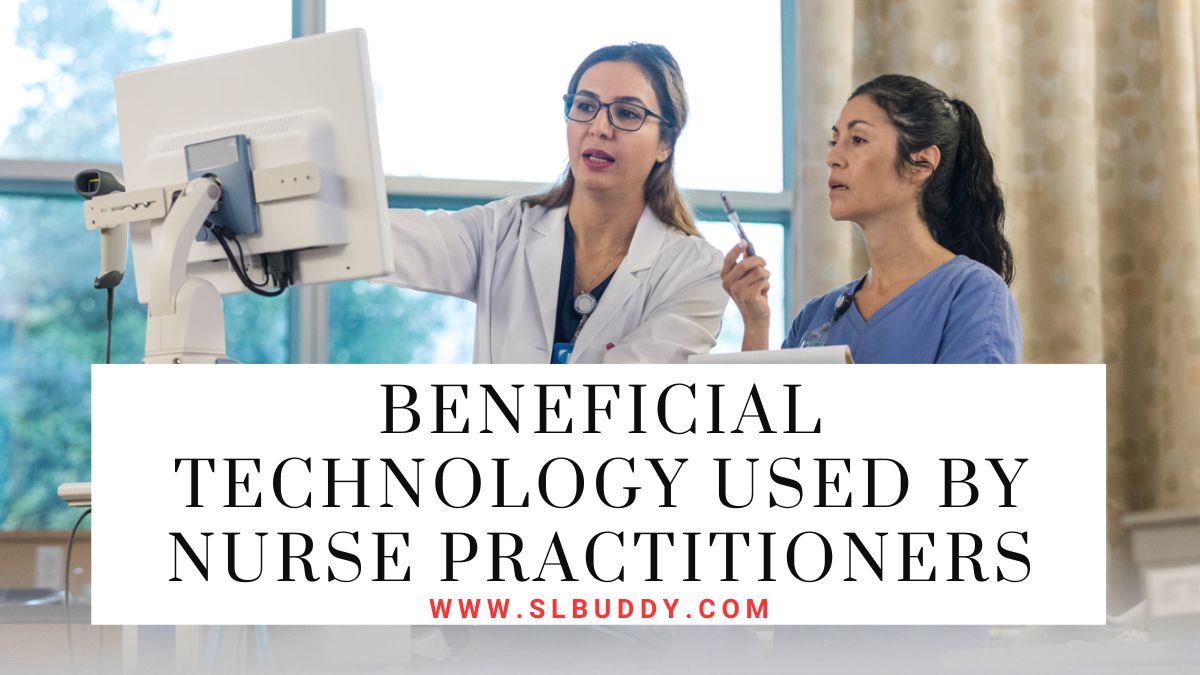 The role of a nurse practitioner is an exciting one, that combines practical skills, an extensive knowledge of nursing, and the chance to use the latest healthcare technology.
It's a job that suits healthcare professionals who enjoy autonomy as well as the support of a team, who have a passion for better patient outcomes, and who are ready to embrace what the latest tech has to offer.
In this article, we will explore the role that nurse practitioners play and how technology helps them in their everyday tasks, streamlining processes and making the patient experience a better one.
We'll also find out how you could work toward a career as a qualified nurse practitioner, one that will reward you many times over with opportunities for professional development and job satisfaction.
What is a nurse practitioner?
First of all, let's find out what the nurse practitioner's role involves.
A nurse practitioner (NP) is a highly qualified healthcare professional, who practices with a high degree of autonomy performing a variety of tasks.
NPs start their careers as registered nurses (RNs) and then undertake further study and training to progress to the next level.
Once a nurse qualifies as an NP, they can perform more complex tasks such as diagnosing patients, writing treatment plans, and prescribing medicine.
NPs work in a variety of different settings from community health centers through to private practices and may even set up their own practice combining healthcare skills with business acumen.
All these tasks are enhanced by the advent of technologies specially designed to help healthcare practitioners offer an efficient and streamlined service to patients.
The variety and number of opportunities that the career of a nurse practitioner offers makes it an attractive one to RNs with ambition and a desire to see healthcare systems thrive and improve.
Everyday technology for NPs
Nurse practitioners are aided in their everyday tasks by a growing arsenal of technology—in fact, it's vital that they are ready to embrace changing systems and technologies to keep up with the rapid pace of advancement in healthcare delivery.
Let's take a look at some of the most common types of tech that NPs are embracing and how these systems are benefitting processes and patient care.
Electronic health records
Paper health records are becoming a thing of the past with the advent of electronic health systems.
Electronic health records have revolutionized patient care by gathering all types of information about patients in a single place so that NPs and other health professionals can readily access data and get a full picture of a patient's medical status with ease.
Systems also include flags and reminders for routine tasks as well as alerts for allergies, risk factors, and so on.
These factors translate into improved, streamlined care for patients, with a reduced risk of errors, easier communication between NP and patient, and a more holistic approach to their healthcare.
Internal messaging software
Communication is a vital part of any nurse's role, especially those at senior levels such as nurse practitioners who liaise with many other professionals on a daily basis.
That's where internal messaging software comes in, allowing NPs to communicate instantly and securely with colleagues about patients and attach reports, images, and other information seamlessly.
The most important benefit of specialized and encrypted messaging apps and software is that they are secure and allow the communication of sensitive personal data without the worry of data theft or non-compliance with security requirements.
This brings peace of mind to both NPs and patients, allowing efficient communication of essential information without the risk of data breaches.
Telehealth
Telehealth—communicating with patients by telephone or video conference—has taken off in recent years, especially following the COVID-19 pandemic.
It allows NPs to advise and support patients without them having to travel to healthcare premises and is especially useful for patients who live rurally, are housebound, or don't have access to transport.
Telehealth consultations are also great for NPs as they make the most efficient use of time and resources.
This type of communication also works well when it comes to consulting with colleagues who may be spread out geographically and pushed for time.
Conference and video calls bring healthcare professionals together, allowing for more holistic and efficient care, and therefore improving the patient experience.
Virtual wards
No one wants to spend time in hospital away from loved ones if they don't have to.
That's where virtual wards come in, allowing patients to receive high-level support from the comfort of their own homes and take a participatory approach to their own healthcare.
Virtual wards are often led by experienced NPs, who can coordinate their patients' care, stay in touch with them by telephone or video call, and offer in-person support and care if needed.
One of the most empowering aspects of virtual wards is that by using technology such as apps and wearable devices, the patient can understand and contribute to their own health monitoring.
For example, they may send a daily blood pressure reading via an app to their nurse practitioner.
This practice incentivizes the patient to manage their own health and is a bonus for clinicians, negating the need for time-consuming in-person consultations to capture this information.
IV smart pumps
IV smart pumps allow the administration of medication, fluids, and nutrients to patients in a safe and precise way.
They include dose error reduction software, which means the nurse chooses the correct medication from a list and inputs information about the patient. The software then calculates the appropriate dose.
This technology reduces the chance of error and also records any alerts that are flagged up, offering a source of data for healthcare establishments to analyze and use for the purposes of safety and quality improvement. 
Since the vast majority of patients in hospitals require IV infusions, IV smart pumps are arguably one of the most used items of tech available to nurse practitioners.
E-prescribing
In their role, nurse practitioners enjoy the ability to perform many tasks independently, and that includes prescribing medication.
E-prescribing systems allow NPs to send patients' prescriptions directly to pharmacies, so patients don't need to travel to collect them.
The other great benefits are that e-prescribing systems cut down on the risk of errors due to illegible handwriting and connect with a patient's electronic healthcare record so that NPs can see at a glance whether the medication they are prescribing can be used in conjunction with any other drugs they are using.
The system also allows NPs to see whether the prescription has been picked up by the patient, so they can keep a close eye on their healthcare needs.
Streamlining healthcare and adapting it to the requirements of patients in this way are essential components of the NP role, which strives to look beyond current healthcare practice and look forward to a future where precious resources are used to their best effect and healthcare is tailored to patients' needs.
Smart beds
The humble hospital bed has come a long way in recent years. No longer just a place for patients to sleep and recover, it is now a smart hub equipped with patient-monitoring devices to make the tasks of nurse practitioners and their teams more efficient.
Sensors can record vital signs such as breathing, heart rate, and temperature, freeing up nurse practitioners and their teams to get on with more complex tasks and allowing them to monitor patients remotely.
They can even detect pressure points to help avoid pressure sores, a major concern for any patient who is bed-bound for long periods of time.
The benefits of smart beds for both NP and patient are many, offering better quality treatment for the patient and enabling the nurse practitioner to coordinate care while getting on with other tasks.
Let's hear it for healthcare tech
It's plain to see that the latest technology offers a wealth of opportunities and benefits both for NPs and their patients.
The takeaway is that it can greatly improve patient satisfaction, meet patients' needs, and improve their outcomes and experiences.
Technology also means that fewer mistakes are made, for example in the case of e-prescribing and IV smart pumps, so patient care is not only responsive but safer too.
For NPs, it means that they can use their time and resources more efficiently and with greater accuracy, with the ultimate goal of working towards improved healthcare systems and patient outcomes—two of the cornerstones of the nurse practitioner role.
How could I become a nurse practitioner?
If you've read this far and have been impressed by nurse practitioner benefits such as having the latest technology at your fingertips to deliver a better patient experience, then why not consider studying to become a nurse practitioner? The MSN program provided by Elmhurst University offers a quick and direct route to a role as a nurse practitioner.
The course is available both for candidates who already have a bachelor's degree in nursing as well as those who have a degree in a different field but now want to enter the nursing field in an accelerated time window.
If you're already a practicing registered nurse with an interest in achieving the best outcomes for patients, then you can apply for this master's in nursing (MSN) program to allow you to work as a nurse practitioner.
You'll study a range of valuable topics, including leadership in nursing and healthcare systems and technology.
What's more, you'll get hands-on experience thanks to clinical rotations where you'll be providing care directly to patients. 
The full-time, 20-month course provides a clinical nurse leadership certification and prepares you for the NCLEX-RN exam if you are a candidate who's coming into nursing from another area.
For all candidates, the program prepares you to take a certification to enable you to practice as an NP, reaping all the benefits of this rewarding career pathway.
What's the future for NPs?
Because there's currently a shortage of nurses throughout the United States, the role of nurse practitioner is becoming more and more valuable.
The situation is compounded by the fact that the population is aging and that traditional nurse training simply can't keep up with demand.
In fact, according to the U.S. Bureau of Labor Statistics, employment of registered nurses is expected to increase 6% in the period between 2021 and 2031 which means that there are plentiful opportunities for nurses to enjoy a long and fruitful career.
The commitment to study and career development that the role of nurse practitioner demonstrates makes them a prized asset to many healthcare employers, who appreciate the leadership and maturity that nurse practitioners offer.
Don't miss: Why Hearing Health is a Pivotal Focus in the Healthcare Industry
A rewarding career awaits
The range and scope of technology available to nurse practitioners is continuously growing and developing.
In fact, technology is an integral part of NPs' daily tasks, helping them to provide better, safer, more streamlined patient care.
It's just one aspect of the multi-faceted and varied role of nurse practitioner, which offers a rewarding career for anyone with a passion for improving healthcare systems and passing these benefits on to patients.

MUST SEE
Explore the diverse and rewarding career pathways in early childhood education. This article provides...

Navigate the path to real estate success with a focus on the role of...

Discover the art of superior roofing solutions with 'Craftsmanship Unleashed.' This article dives into...