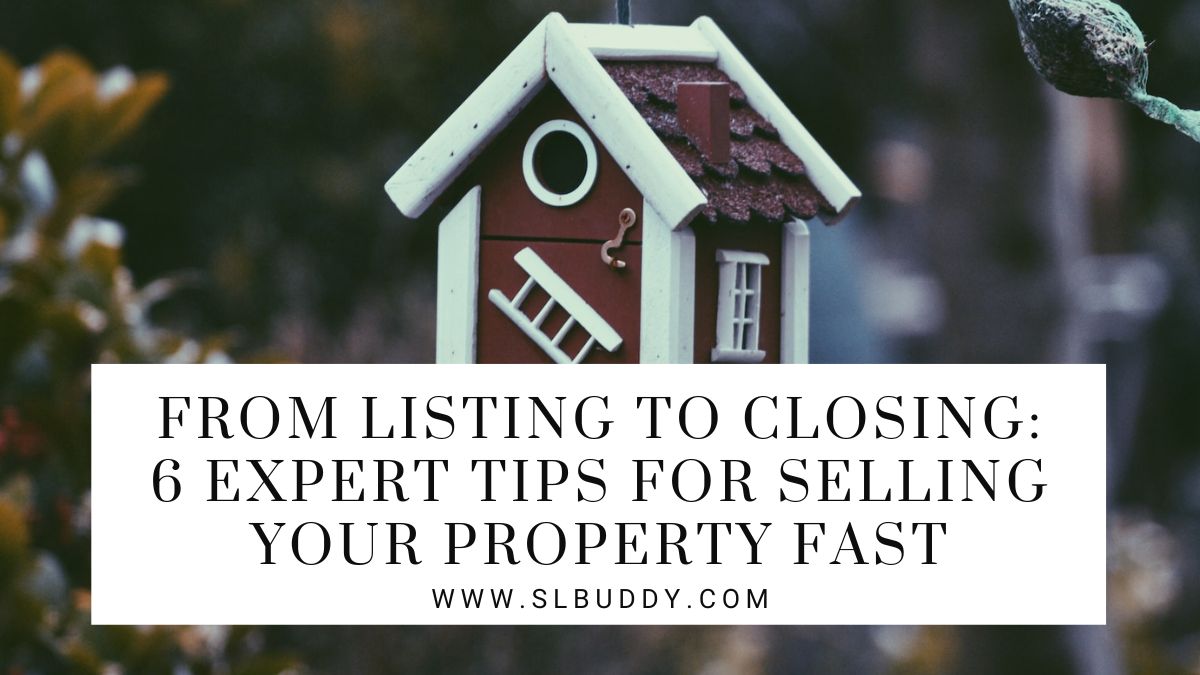 Selling your home or property can be a daunting task, especially if you're looking to do it quickly.
From curb appeal and marketing strategy to pricing tactics and inspection negotiations, from listing documents to closing day regulations, there are countless factors that must come together for a successful sale.
Don't worry, though! We'll go through each step of the process with you so that no matter what kind of house you own or where it's located, you'll know exactly how to maximize its value and time on the market.
Read on for 6 expert tips from experienced real estate professionals who have seen firsthand what makes the difference between a quick sale at top price and one that drags out much too long!
Consider selling your home for cash
If you're thinking about selling your home, you may want to consider turning to a homebuyer in your area who can offer cash for your property.
Going this route can save you time and hassle, as you won't have to deal with traditional financing and home inspections. Not to mention, a reliable local homebuyer often has years of experience in the housing market, enabling them to make a fair offer that aligns with the current market trends.
Selling your home for cash can often result in a quicker closing process, which can be beneficial if you're looking to move soon or need the money for other expenses.
Price it right the first time
As the saying goes, "You never get a second chance to make a first impression." This couldn't be truer for those looking to sell their property.
Properly pricing your property from the beginning can make the difference between a long, drawn-out sale and a quick, seamless transaction.
Aside from attracting more interested buyers, it will be sure that you receive the maximum amount for your property.
Don't leave money on the table by overpricing or risk having your property languish on the market by underpricing — get it right from the start.
Invest in professional photography
High-quality, professional photography can greatly enhance the appeal of your property listing.
With the majority of homebuyers starting their search online, great photos can significantly influence their decision to view a property in person.
An experienced real estate photographer can capture the best features of your home, illuminating its potential and making it more inviting to prospective buyers.
These images can also be used across various digital marketing platforms, from online listings to social media advertisements, thereby amplifying your property's visibility and reach.
Keep in mind that a picture is worth a thousand words, and in real estate, it could be worth thousands of dollars too.
Make sure your home is presented well
Your home is a reflection of who you are, so you want to make sure it looks presentable both inside and outside.
The exterior is the first thing potential buyers see, so it's essential to keep it well-maintained.
A fresh coat of paint, clean gutters, and well-manicured landscaping can do wonders when it's time to sell.
As for the inside, it's all about creating a space that's warm and inviting. Declutter, clean, and add some personal touches to make your home stand out from the competition.
These simple changes can go a long way, and in the end, they will ensure you get the best possible price for your property.
Include a list of recent improvements and upgrades
One of the most effective ways to increase your home's value and appeal is by highlighting any recent improvements or upgrades.
Your property might have undergone numerous transformations to increase its comfort, functionality, or aesthetic appeal, and potential buyers should be made aware of these enhancements.
Whether you've installed a new HVAC system, renovated the kitchen, upgraded the bathroom fixtures, or replaced the roofing, every little enhancement adds value.
Creating a comprehensive list of these improvements justifies the asking price and provides buyers with a sense of security, knowing that the property has been well-maintained and improved over time.
Utilize digital marketing platforms
In today's fast-paced world, digital marketing is becoming increasingly important in selling your home.
It's no longer enough to simply put a "for sale" sign on your front lawn and hope for the best.
When you take your time to craft a detailed and attractive listing online, complete with photos and videos, you'll be able to reach potential buyers far beyond your local community.
Social media, for example, allows you to target specific demographics, such as first-time homebuyers or those interested in your area.
Online real estate listings and virtual tours can provide a more detailed look at your home than a traditional open house.
By embracing these digital tools, you can increase your chances of finding the perfect buyer for your home.
Bonus tip: Hire a knowledgeable real estate attorney
Navigating the legal landscape of real estate transactions can be complex and overwhelming for sellers.
In this case, you want to hire a knowledgeable real estate attorney to assist you throughout the process.
Your attorney will guide you through complicated paperwork and ensure that all of your rights and interests are protected during the sale process.
They can also act as a mediator between you and the buyer, helping to resolve any potential issues or disputes that could arise during negotiations.
Hiring an experienced real estate lawyer is one of the best investments you can make when selling your property.
While this might be an added expense, their expertise can save you from costly missteps and contribute to a smoother, faster sale.
Don't miss: Make Money (Profit) from Real Estate Without Owning Property
The bottom line
Selling a property is not always an easy task, but with proper planning, a comprehensive strategy, and the right resources, you can make the process more manageable and enjoyable.
The key to a successful sale lies in understanding your home's value, presenting it in the best light, and leveraging digital marketing tools effectively.
And while it may seem like a daunting task, don't forget that there are professionals available to assist you every step of the way, from real estate agents and photographers to legal experts.
In the end, your diligence and hard work will pay off when you close the deal and move on to your next exciting chapter.

MUST SEE
From GPS units to emergency kits, this article outlines essential tools that every professional...

Navigating the legal system can be daunting, but this article outlines six critical scenarios...

Dive into the world of IP leasing, a digital frontier where technology meets smart...