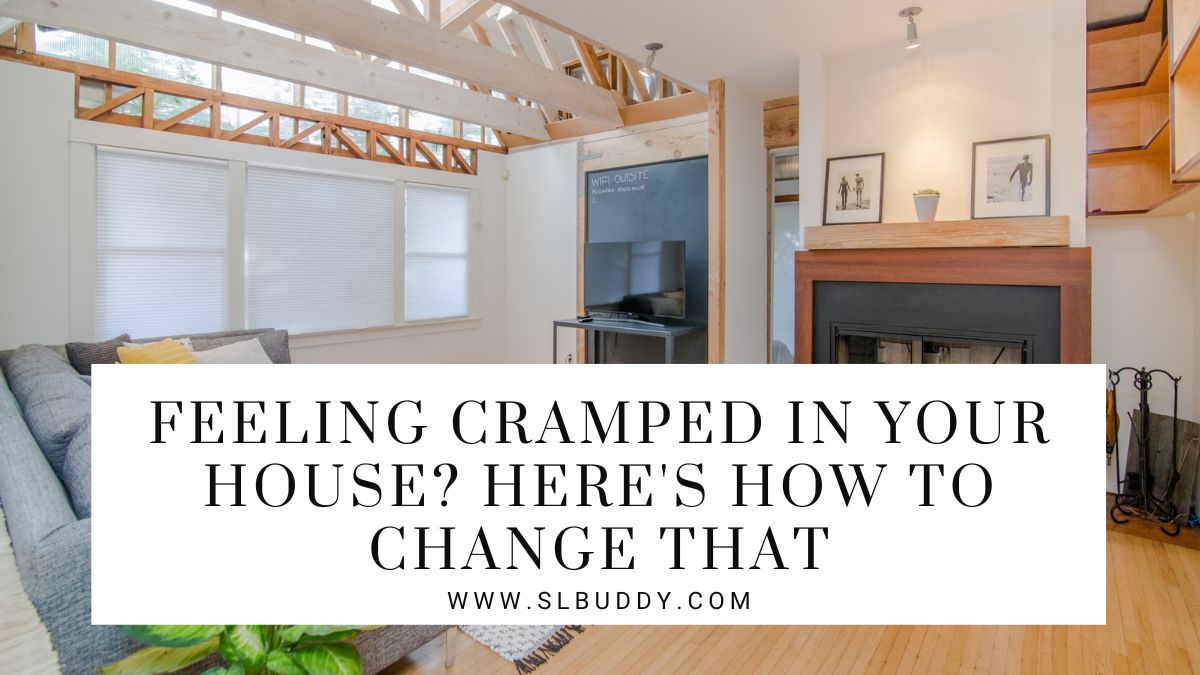 No matter what you do, does it seem like there is never enough space within your home? Living in a home that feels cramped can make you not want to be there at all, and it can make the home feel less than homey to those that enter.
When it comes to creating a space you desire to be in, it's essential that you feel free to spread out as you please.
However, when the home is too small, or there's not enough room to store items, this can quickly become a problem.
We've taken the time to provide some tips below that will help you to make your home feel less stuffy and more like the home you want it to be.
If you stick with us, that cramped feeling will quickly become a thing of the past.
Make Your Home Bigger
We know you might have read this header and thought to make the home bigger, but how? If you want your home to feel less cluttered, you might look into house additions to create larger rooms for everyone in your family to house their things.
If this is something you want to do, ensure you're taking the time to consider how much it will cost.
When you're adding to your home, not only is the cost something to consider, but where will the addition be made? Depending on the internal structure of your home and its framework, there are some cases when the additions you want to be made won't be possible without extensive work.
Therefore, you have to carefully consider the current blueprint of your home before making additional changes to it.
Consulting with a professional company that understands what goes into adding on to a home would be a wise decision. They understand how much it will cost for things like labor and materials.
They will also be able to provide you with some suggestions if this is the only solution you can find to make your space bigger than what it currently is.
Create New Storage
If adding on to your home isn't an option, you could always make room for more storage. When you consider this idea, you don't necessarily have to build storage areas, but you might consider buying furniture that is more functional in nature.
For instance, in a guest room, you could get a bed that folds into the wall and has additional shelving units.
When you don't have guests, the room can function as an office, but when you do, it can double as an extra room. This is clearing some of the clutter and creating a multipurpose room.
There are several types of furniture pieces out there that can be used in multiple ways, but you have to be ready to pay a little extra for the additional features, whether it's extra storage or allows for a room to have extra space within it. You also need to ensure you're able and willing to transform the furniture as needed.
If you do not want to continuously fold a Murphy bed, is it worth buying? No, because it will require more work from you than you're willing to put in, and this needs to be seriously weighed before you begin buying different multifunctional furniture.
Rethink Furniture Placement
Sometimes we buy items for rooms in our homes without considering the room's layout beforehand. This can cause a room to feel small, making everything in it seem as if it's too much to deal with.
If you're already in the home, it can be challenging to backtrack and redo some of the choices you've made for the room, but this doesn't have to be the case.
Instead, take a step back and evaluate the flow of the room currently. If the room feels small, it could be because you're not maximizing the space in the way that it should be.
Remove the items within the room and rethink how you can organize things to create a more free-flowing space.
For instance, if you have a living room connected to the kitchen, having a large sectional with its back to the kitchen can disrupt the continuity of the room. Instead, you should move the couch so that the front of it faces the kitchen.
This way, when people are sitting in the living room, you can carry on a conversation because you're able to make eye contact, and you're not talking to the back of someone's head.
It also makes the room appear bigger and allows for a more effortless flow back and forth.
Items you use for decor, such as tables or lamps, can also disrupt the room's space if they aren't placed with consideration.
Again, think about how people move in and out of the room as you make these changes to free up more space.
Getting Out of a Cramped Situation
When your home is cramped, it can quickly become uncomfortable, so it's only right that you begin searching for solutions.
We recommend adding on to your home and thinking about replacing items with multifunctional furniture.
Whatever you choose to do, don't forget to check our blog for more helpful tips and tricks to make your home the home you've always dreamed of.
Don't miss: The Ultimate Guide to Exterior Maintenance
The bottom line
Feeling cramped in your house can be a thing of the past with the right strategies.
Whether it's considering home additions, creating new storage solutions, rethinking furniture placement, or investing in multifunctional furniture, these changes can significantly enhance the functionality and comfort of your living space.
Remember, a well-organized and spacious home not only provides a more enjoyable living environment but also contributes to your overall well-being.

MUST SEE
From GPS units to emergency kits, this article outlines essential tools that every professional...

Navigating the legal system can be daunting, but this article outlines six critical scenarios...

Dive into the world of IP leasing, a digital frontier where technology meets smart...