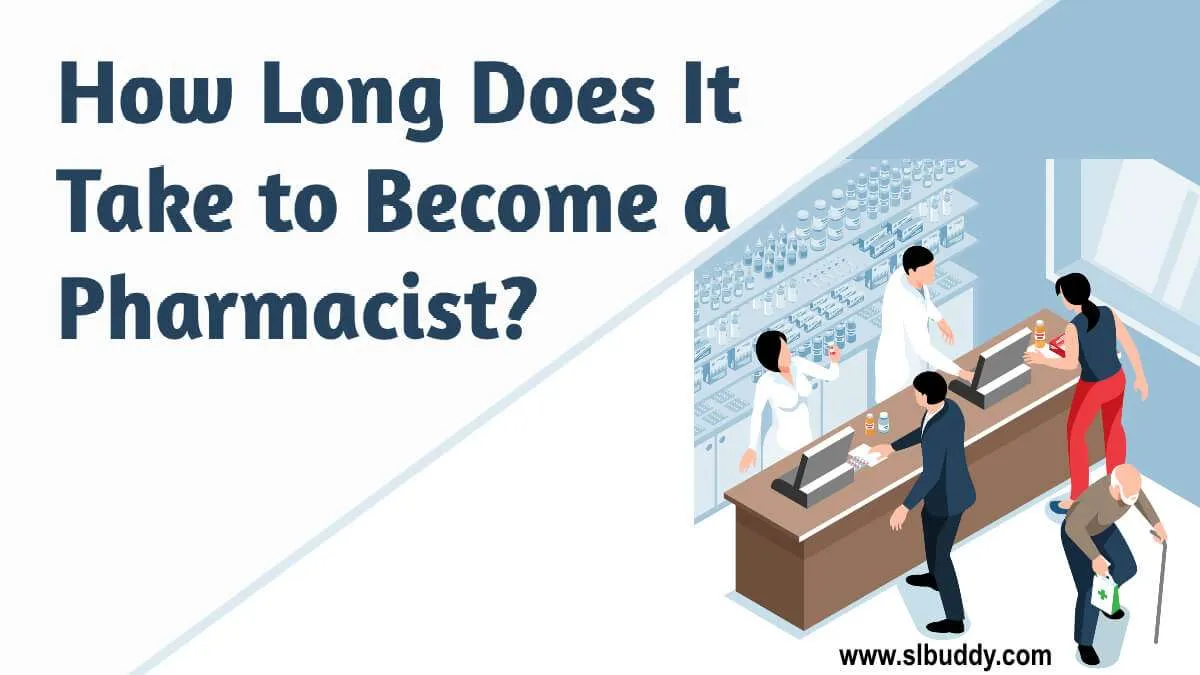 Do you know how long does it take to become a pharmacist? As a pharmacist, you make a difference in your community health and get paid for it. It will be your occupation to look over a patient's medicines and ensure they are given in the right amount.
You'll instruct folks on how to take their medications and educate them on any potential adverse effects or drug interactions. You may even take on the role of a coach to make sure your patients take their prescription drugs regularly and lead healthy lifestyles with a balanced diet and adequate exercise.
You might want to go into pharmacy as a career.
Read more: Top 5 Reasons Why People Love Pursuing a Nursing Career
What Responsibilities does a Pharmacist Have?
Most pharmacists are employed by commercial enterprises, such as pharmacies, grocery shops, and large-scale retail outlets. According to the Bureau of Labor Statistics, pharmacies and drugstores employ pharmacists for 42 percent of the workforce.
In these kinds of environments, pharmacists are responsible for a wide variety of tasks. It ensures the safe distribution of medication (for instance, ensuring that it won't interact negatively with the patient's existing medications or allergies).
And also educating patients about medicine and supervising a team of pharmacy technicians and aides.
According to the Bureau of Labor Statistics, hospitals are the other leading employer of pharmacists; these establishments employ 26 percent of the persons working in the trade.
It is projected that there will be an increase in the need for pharmacists in healthcare settings like hospitals as the population of the United States continues to age.
Hospital pharmacists are responsible for various tasks, including preparing medicine for patients, counseling staff members on available drug alternatives, and instructing patients regarding proper medication usage.
On the other hand, if you can enroll in free online childcare training courses with certificates, it is really worth it for your career. It makes significant remarks with you.
How Long Does It Take to Become a Pharmacist? Exclusive Facts You Should Capture!
After high school, becoming a pharmacist can take 6-8 years. But if you want to be in charge in a particular pharmacy area, it could take you longer.
For instance, if you want to work as a clinical or hospital pharmacist, you may be required to do an additional year or two of residency after you get your pharmacy degree.
How long it takes to become a pharmacist can also rely on other things.
Key Traits and Skills That a Good Pharmacist Needs to Have
A good pharmacist has a superior ethical character and is honest.
They also take responsibility for the patient's medications and pharmacy care, are mature, and are open to questions while giving information to meet their needs and preferences.
Characteristics
# A good memory
# Attention to detail, aptitude for science, interest in continual learning
# Empathy / Saltruism
Skills
# Communication between people on a team
# Leadership that is based on analysis, counseling, and problem-solving
Read more: Early Childhood Education Degree, Courses in High School, and Jobs
Important Educational Requirements Of The Pharmacist
How long it takes to become a pharmacist depends on how you go about getting your education. Becoming a pharmacist can speed up your education immediately after high school.
You can do a Pharm.D. program, which usually takes six years and includes pre-pharmacy investigations and professional pharmacy types.
Getting a bachelor's degree before applying to a four-year Pharm.D. program can take eight years of college after high school to become a pharmacist.
Follow Pre-Pharmacy Requirements
You don't have a certain undergraduate degree to attend pharmacy school. But if you want to work as a pharmacist, many colleges require you to take pharmacy technician courses online in the field.
Biochemistry, calculus, anatomy, and other classes may be needed to get into pharmacy school. People who major in pre-pharmacy or pre-medicine are often prepared for pharmacy school when they graduate.
You may also seek assistance from the academic consultant at your school if you are unable to complete the task.
Try to Get into Pharmacy School
If looking into pharmacy schools, you should ensure that the school is recognized by the Accreditation Council for Pharmacy Education.
Most of all, the pharmacy schools require you to take the Pharmacy College Admission Test to get into their program, but others don't. Your score can sometimes help your application.
After applying, the pharmacy education may request an interview. They may also inquire as to why you wish to work in a pharmacy and whether you have performed volunteer or paid work in a similar pharmacy.
Finish School for Pharmacists
There is a combination of classroom and hands-on learning in pharmacy degree programs and pharmacy technician programs online. In other terms, you'll learn the basics of pharmacy in school and then use what you've learned in a natural pharmacy.
These hours may be used towards clinical internship hours necessary to get a license from the state board and are eligible for credit in that regard.
Classes with names like "pharmacology," "pharmacotherapy," and "pharmacokinetics" are examples of how challenging pharmacy programs can be. When you have successfully completed all of the requirements, you will be awarded the "Doctor of Pharmacy" degree.
The required amount of postgraduate education is four years long and must include a clinical internship of 1,500 hours.
Get a Pharmacy License
You must meet your state's requirements to get a license to work as a pharmacist requirement may include:
# A Pharm.D. from a school that the ACPE has approved
# Having done a certain number of hours of clinical internship.
# Scores on the NAPLEX that are good enough to pass.
# Scores on the MPJE or another state pharmacy law exam are good enough to pass.
# The FPGEC must be passed by graduates of foreign pharmacy schools.
These rules can vary relying on the state where you want to get your license and work.
Pharmacists Need more Training
When most people hear the word "pharmacy," they think of a store that sells medicines. People may think a pharmacist spends all day counting pills and talking to insurance firms.
But there are several things to do. You might select to become a clinical pharmacist who performs in a hospital with other doctors and nurses. Like people who love pursuing a nursing career, there is a crowd involved with this career.
As a compound pharmacist, you might be interested in making particular drugs, or as a nuclear pharmacist, you might want to work with radioactive materials.
You may need more training if you wish to work in a hospital or somewhere else that requires special skills. For instance, you may need to complete an additional one to two years of training following graduation if you want to work as a pharmacist in a hospital.
After graduating from pharmacy school, you might apply for a residency for one to two years of specialized study if you wish to pursue employment in research or the pharmaceutical sector.
In total, it can take 8-10 years for someone who wants to specialize in becoming a pharmacist. One to two years of residency or fellowship are needed.
Getting Licensed
After getting your license, you can still learn about pharmacy. In most states, you must do a certain number of hours of continuing education every year to keep your license.
Most states require at least 30 hrs of approved continuing education credits for license renewal every two years.
Read more: Physical Therapy Assistant Programs Online
Significant Skills You Need to Be a Pharmacist
It is not always easy to be a pharmacist. Because of this, a pharmacy is a good place for a certain kind of person.
If you need to become a pharmacist, the mentioned skills can help you more than others.
Attention to The Exact Detail
Medication reviews and administration need a high level of reliability and precision. Making sure that patients are protected from the side effects of medications is a pharmacist's first priority.
When handling both over-the-counter and prescription medications, pharmacists must pay particular attention to the small print.
Communication
You will talk to patients or other health care providers daily as a pharmacist. Most of the time, pharmacists are the ones who tell patients how to operate their medicines or teach doctors about possible drug problems.
To teach well, you need to have good communication and people skills.
Think Carefully
Depending on the whole picture of the patient, you may find it hard to decide if you should recommend a particular drug or not.
There are recommendations for pharmacological therapy, but many therapies must be personalized to the individual depending on their medical records and any other drugs they may be receiving.
Management
Pharmacy technicians that assist you with your everyday tasks will be a member of your team when you work as a pharmacist.
You must possess the leadership and management skills necessary to direct your team members toward the proper tasks. Additionally, you could work with interns or students who respect you as a teacher.
You wish to be able to manage and lead people as a pharmacist.
Multitasking
You can be required to do a variety of duties during the day, including teaching patients, corresponding with healthcare professionals, administering screenings or immunizations to patients, and resolving insurance-related issues.
You must be organized and able to multitask effectively to succeed in a career in pharmacy.
Your abilities will vary depending on where you wish to work as a pharmacist. You could require more than one expertise in some areas of pharmacy, such as a hospital or community pharmacy.
For instance, you'll need to become a better leader if you wish to manage the hospital pharmacy.
Since you'll be working with radioactive materials, developing your focus on detail and chemical knowledge may be necessary if you want to become a nuclear pharmacist.
Read more: 45 and 90-Hour Child Care Course Online with Certification
How Likely are Pharmacists to Find Work?
Researches predict a 2% decline in pharmacist employment between 2020 – 2030.
To replace pharmacists who switch employment or retire, it is anticipated that around 11,300 new pharmacy positions will become an available year.
The average annual pay of a pharmacist is $128,710.
There is no doubt that pharmacy is becoming more competitive. You may increase your career prospects by succeeding in pharmacy school and networking with potential employers.
Numerous retail pharmacies, hospitals, and other institutions provide internships to pharmacy students. This may increase your chances of obtaining a position in a pharmacy after graduation.
As individuals age, they will continue to need medicine. Therefore, drug specialists such as pharmacists will remain necessary. If you are interested in or love pharmacy, working as a pharmacist may be a fulfilling career.
Read more: How to Become a Midwife Without a Nursing Degree
Conclusion
Now you may know how to become a pharmacist. A pharmacist is an integral part of helping people get better. The need for them keeps growing as our population ages and treatments get more complicated. Pharmacists are on the front lines of health care.
They make sure that drugs are given safely and effectively, whether through prescriptions, vaccinations, or questions about how to treat an illness.

MUST SEE
Navigating the hustle and bustle of office life while maintaining good health can be...

The article delves into the often-overlooked importance of hearing health in the healthcare industry,...

From GPS units to emergency kits, this article outlines essential tools that every professional...