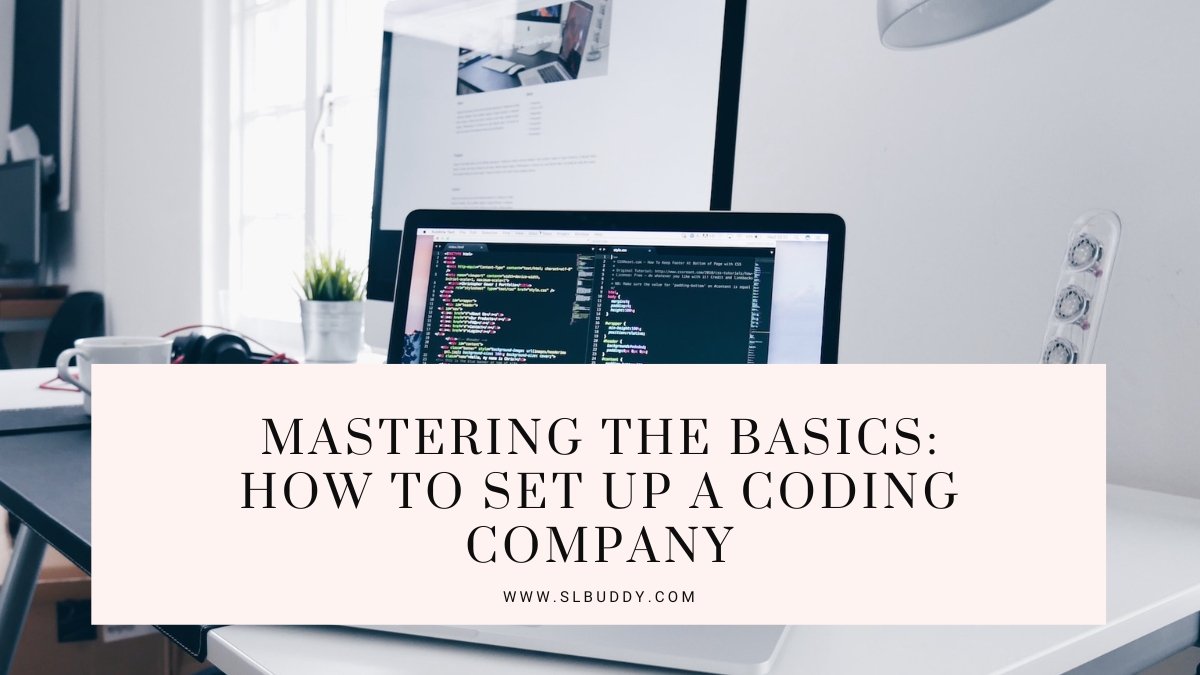 Are you considering setting up a coding company? If so, you're not alone. With the rising demand for software development and programming services, many entrepreneurs are looking to get into this lucrative industry.
But before diving in head first, it's important to understand the basics of how to set up a successful coding business.
Here's what is involved in starting a coding company including finding clients and hiring employees, creating an effective marketing plan, understanding legal requirements such as licensing and taxes, and more.
We'll also explore tips on developing your unique approach that can help make your new venture stand out from competitors.
So whether you're just getting started or already have some experience with running a business, read on for everything you need to know about mastering the basics of setting up a coding company.
01. Setting Up the Business Structure
The first step in setting up a coding business is to create a business structure. This could include registering as a sole proprietorship, creating an LLC, or filing for incorporation.
It's best to consult with an accountant or lawyer to help you choose the right legal structure for your business. Doing so will also ensure that you have all of the proper paperwork and licenses in place before starting operations.
Looking into the companies act of Singapore can help you gain insight into the requirements for company registration. Of course, any business structure you choose should also take into consideration the taxation, insurance, and other legal considerations that come with setting up a coding business.
02. Finding Clients and Hiring Employees
Finding clients is essential to running a successful coding business. You can start by leveraging your existing network of contacts and referring them to potential customers who may be looking for coding services.
Additionally, utilizing job boards like AngelList or LinkedIn can help you find freelance coders if you can't hire full-time employees.
Once you have some clients lined up, it's important to create an effective hiring process to bring on reliable coders who can meet your company's needs and expectations.
Developing a comprehensive interview process and onboarding plan can help ensure that you're bringing on the best talent for your coding business.
03. Developing Your Marketing Plan
Creating an effective marketing plan is essential for any successful business, including coding companies. You'll want to identify the most effective methods of getting your services out in front of potential customers and how to best reach them.
This could include developing a website, creating content such as blog posts or case studies to showcase your work, using social media channels like Twitter and LinkedIn, attending networking events or industry conferences, or utilizing SEO tactics to boost your online presence.
Utilizing all of these strategies together can help create consistent traffic and leads for your new coding business.
04. Understanding Legal Requirements and Finances
Before launching your coding business, it's important to understand the legal requirements and financial implications of setting up a business.
This includes researching any applicable licensing or permits required for your particular industry as well as preparing a budget that takes into consideration all of the expected costs associated with running the business.
Additionally, you should take the time to create contracts and agreements with clients that clearly define both parties' expectations and responsibilities.
Finally, once you are up and running, having an effective accounting system in place is essential for managing finances and staying organized.
05. Creating a Unique Value Proposition
The coding industry can be incredibly competitive and it's important to create a unique value proposition that helps you stand out from the competition.
Taking the time to develop an understanding of your target market and their needs will help you define what sets your business apart from other coding companies.
You can also look into ways to differentiate yourself with specialized services or additional features that make your offering more attractive than others in the market.
06. Staying Up to Date on Technology Trends
The coding industry is constantly evolving, so it's important to stay up to date on the latest technology trends and advancements.
Regularly researching the industry, attending workshops or conferences related to coding, and networking with other coders can help you stay ahead of the curve and ensure your business remains competitive in a crowded market.
Additionally, staying knowledgeable about the tools and techniques used by successful coding companies will help you better serve clients and understand their needs.
For some businesses, regularly investing in new technology or software can also be beneficial to keep their offerings up to date.
07. Establishing a Customer Service Strategy
Customer service can be essential for any successful business, and coding companies are no exception. Developing an effective customer service strategy from the start can help ensure that you're providing your clients with the best possible experience.
This includes addressing any questions or concerns promptly, responding to feedback, and setting appropriate expectations for each project.
Additionally, offering support after projects have been completed will help build trust with your customers and increase the likelihood of repeat business.
08. Growing Your Business
Finally, it's important to consider strategies for growing your coding business. Creating relationships with other businesses in the industry can help you expand your reach and create new opportunities.
Additionally, investing time and resources into marketing and promotion can be beneficial to drive awareness of your services.
Finally, staying agile and open-minded to new technologies or approaches will ensure that you remain competitive as the coding industry continues to evolve.
If your growth strategy is successful, you may even consider expanding your services or offering more specialized capabilities.
Don't miss: How To Become A Lead In Software Development
The bottom line
Utilizing all of these strategies together can help create a strong foundation for your new coding business and ensure it has the best chance for success.
From defining a unique value proposition to staying up to date on technology trends, taking the time to invest in each element of your business plan will help create consistent traffic and leads over time.
With proper planning and preparation, launching a successful coding business can be perfectly within reach!

MUST SEE
The world of real estate in this comprehensive article that explores various property types,...

The article introduces FlyFin's artificial intelligence self-employed quarterly tax calculator, a tool designed to...

The article serves as a comprehensive guide to jumbo mortgage loans, detailing their nature,...