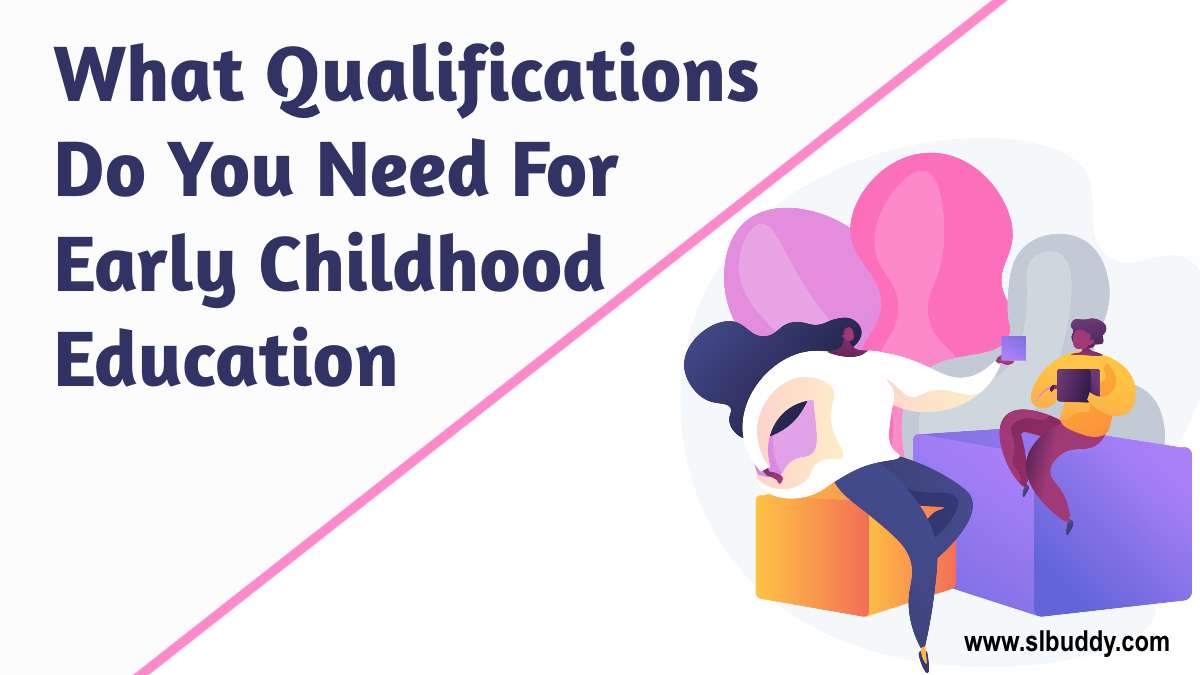 As a general rule, an early childhood educator works with children from birth to about age eight. They work in public or private schools and at elementary schools.
And in programs funded by the federal and state governments that help children from birth to kindergarten get ready for school, such as Head Start.
This guide tells you how to become an early childhood educator, what they do, how much they make, and how many jobs there are in this field.
What Is Early Childhood Education?
Early childhood education (ECE) is an education that occurs throughout a student's preschool years before entering kindergarten.
Pre-kindergarten children's cognitive, social, and physical abilities are emphasized in the curriculum. ECE focuses on teaching children the skills they need to be kindergarten ready. Each state in the United States takes a distinct approach to early childhood education.
However, Head Start, a government program that began in 1965, is one of the country's earliest and most well-known ECE efforts.
Early Childhood Educator Requirements And Common Tasks
State certification is often necessary to work as an early childhood worker in public schools.
Completing a conventional bachelor's degree program with a major in early childhood education is the most common route to getting this certification (ECE).
Then, you can enroll in free online master's degree courses with certificates as well.
One of the most vital responsibilities of early childhood instructors is to provide a safe and enjoyable learning environment for young children, which entails designing and organizing the learning environment(s) and attentive monitoring with a focus on safety.
In many classes with young children, an early childhood teacher will also oversee a teacher's aide or teaching assistant who will help with the physical and learning requirements of the children.
Educators must also prepare and provide developmentally appropriate learning sessions and organized activities to help youngsters master basic abilities.
Children learn through routines and develop comfortable learning and expressing themselves correctly in an early childhood learning setting, and this structure is extremely crucial.
Steps To Becoming An Early Childhood Educator
The criteria for becoming an early childhood educator vary from state to state.
However, you may obtain a good sense of what your state requirements could be by following these general guidelines:
Start with Babysitting
Make sure you get some experience working with kids by babysitting for friends and family before you go to school and start learning how to be a nurse.
You can babysit to see if you enjoy being around kids for a long time and have the right attitude to work in early childhood education.
It can also help you learn the skills you need to be a good early childhood educator and become more comfortable with kids. The confidence you gain from babysitting kids you already know can help you work in a professional job one day.
Select a Vocational Education Program
Typically, careers as early childhood educators need Vocational Education and Training (VET) credentials in early childhood education.
When choosing a program, seek an institution that is both accessible and cheap. Additionally, the program must provide approved courses that adhere to the Australian Qualifications Framework's childcare criteria.
And also, a Certificate III in Early Childhood Education and Care is an appropriate entry-level qualification for early childhood educators.
Your certificate program may take between six and eighteen months to complete, depending on whether you attend class full-time or enroll in a self-paced program with online courses.
Another option is to pursue a Diploma in Early Childhood Education and Care, which is often a more involved procedure that takes two years.
Additionally, early childhood educators must have computer knowledge. Computer literacy enables youngsters to gain a better and more rapid understanding of their global surroundings.
Children's critical thinking abilities will be strengthened due to their master computer science skills. So, it is highly recommended to enroll in free online computer courses with certificates.
Our cognitive growth is significantly aided by drawing. Especially, it may assist Children in developing their ability to write and think creatively, as well as our hand-eye coordination, analytic abilities, and ability to conceptualize concepts.
If you can engage with free online drawing classes for beginners, it is very valuable. Because it is the necessary beginning of everything, here, it will be very useful to get an idea about what does art block mean as well.
Thus, it is vital to follow early childhood education courses. Certain diploma programs demand an admission prerequisite of a certificate.
Attend Early Childhood Education Courses
Your VET certificate begins with classroom instruction in teaching, child development, behavior management, and safety.
Academic ideas behind various teaching methods may assist you in developing excellent teaching abilities that you can subsequently employ in a practical classroom situation.
On the other hand, there are thousands of free online childcare training courses with certificates. Its have great content and cover each aspect regards on.
Furthermore, you can grab them to get a 90-hour child care certification online and a 40-hours child care course online. Keep in mind that the time frame is very important.
If you wish to become an early childhood educator, it would be appreciated to have accounting knowledge. It demonstrates the ability to make deep decisions, including management decisions.
So, why are you yet getting late? Browse and grab free accounting courses online with a certificate and free training for administrative assistants at Udemy.
Your certificate comprises multiple core courses and optional credits devoted to early childhood education.
Complete a Work Placement in Early Childcare.
A work placement in an educational setting is usually required as part of your VET degree in early childhood education.
During this period, a supervisor oversees your progress and offers advice as you learn the principles of early childhood development.
You meet with your mentor regularly for evaluations and learn how to apply your classroom information while dealing with real children of all ages.
A Certificate III program requires 120 hours of work experience, while a Diploma in Early Childhood Education and Care may need significantly more.
Between 240 and 590 hours of supervised work as a trainee at a school or care center are required in certain programs.
Pass the Working with Children Check
A Working with Children Check may be required to work as an early childhood educator (WWCC). The WWCC is a typical screening technique for persons who work with children.
The WWCC also includes a National Police Check and job history. It's a vital tool in ensuring all children get quality care, most people who deal with children or teach them to require payment.
Applying for a WWCC check indicates you care about student safety and may speed up future job applications. To apply online, locate your state's WWCC website, collect your identity papers, and submit your information.
WWCC checks might take weeks to complete, so apply early. The checkups usually last five years.
Take a First-Aid Class
It's good to take extra safety and emergency first aid classes to improve your chances of getting hired as an early childhood educator.
Some education programs already include first aid classes. While looking after a class, learning how to give first aid can help you get ready for them in some emergencies.
Look for classes at the Australian Red Cross or a first aid training group in your area. First aid for children, like doing CPR safely on children and babies, is taught in some emergency response training courses.
Thus, you can browse many cheapest online courses for teachers regarding first aid classes.
Consider Pursuing a Higher Degree
Instead of or in addition to your certificate or diploma, consider pursuing a bachelor's degree.
Obtaining a bachelor's degree in education focusing on early childhood development will help you gain extra knowledge and experience, enabling you to apply for more advanced teaching jobs.
A bachelor's degree is also useful if you wish to specialize further in a field, such as early childhood special education.
A bachelor's degree may help you make more money in your job and build a solid foundation for being a better teacher for your pupils.
Furthermore, you can follow a 6-month master's degree online regarding early childhood. It inspires future educators and provides an atmosphere that fosters young learners' curiosity and pleasure in learning.
So, as mentioned above, it is worth following an early childhood education degree to become an early childhood educator.
Apply for Positions in Educational Institutions
Apply for permanent opportunities that interest you after completing your education and working training. Look for employment in your neighborhood that matches your credentials on the internet.
Make a list of local schools, daycares, and education centers and inquire about vacant employment working with children in your selected age range.
Prepare a CV that you can tailor to each position, emphasizing your experience working with children and any courses that focus on early childhood development.
As a plus point, early exposure to the English language is critical for a child's growth. It enables them to achieve more success later in life and experience other cultures.
You do not need a Bachelor's degree to teach early childhood education, so that you can teach English online without a degree.
Salary and Job Outlook
When we talk about early childhood education jobs, this topic should also be considered.
From 2018 to 2028, the Bureau of Labor Statistics says that kindergarten and elementary school teachers make a median annual salary of $58,980.
They also say that there will be 3 percent more jobs for teachers in this field. They make an average of $29,780 a year and have a job growth rate of 7% from 2018 to 2028. People who work in child care make an average of $26,210 a year.
Job prospects for early childhood teachers should stay good, even as schools work to reduce student-teacher ratios and more students come to school in most parts of the country.
Conclusion
As the name implies, Early Childhood Education focuses on a child's early learning phases.
Educators in this profession deal with children under the age of five, assisting them in their emotional, physical, and intellectual development.
To make sure that students have the knowledge and abilities to educate and engage with young children, ECE programs include theoretical and hands-on study.
You'll learn about children's developmental stages and learning processes and cutting-edge teaching methods and technology.

MUST SEE
Navigating the hustle and bustle of office life while maintaining good health can be...

The article delves into the often-overlooked importance of hearing health in the healthcare industry,...

From GPS units to emergency kits, this article outlines essential tools that every professional...